Gorgeous! The Queen of Illusions! (絢爛!幻の女王!, Kenran! Maboroshi no Joō!) is the seventeenth episode of Kamen Rider Ghost. It features the debut of Ghost Himiko Damashii and Necrom Specter (Specter Necrom Damashii).
Synopsis
Alain, now able to transform into Kamen Rider Necrom, makes easy work of fighting Ghost and Specter. However, for Takeru, it was Alain's words, not the defeat, that bothered him the most.
Strange incidents of young women being attacked within a thick mist have started to happen. A woman able to make predictions about the next attacks, Miwako, appears. Onari firmly believes her while Akari denies everything. All the same, they go to the predicted area. The prediction is fulfilled and a Gamma attacking women appears. Takeru is busy looking for the Newton Eyecon so Onari decides to confront the Gamma with his staff...
Plot
to be added
Cast
Guest Cast
Suit Actors
Ghost Eyecons
Eyecon Used:

Ghost
Specter

Specter, Nobunaga, Necrom

Necrom

Damashii Used:
Errors
Takeru is not seen pulling the trigger on the Ghost Driver, yet he is able to change into the Himiko Damashii.
Notes
Count at episode end
Takeru's days of life remaining: 73

Eyecons in Ghost's Possession: 10
Eyecons in Specter's Possession: 3
Eyecons in Necrom's Possession: 2
Eyecons connected: 4 (Ryoma, Musashi, Robin, Himiko)

This is the first time since its debut that Specter doesn't assume Houdini Damashii.
When Knife Gamma was shooting Onari, the scene resembled Neo's typical dodge scene in The Matrix.
Kanon can be seen wearing a Charmant sweater when she's in Makoto's room.
Like episode 7, during the episode, the movie ticket pre-order gift (a plastic toy of Kamen Rider 1 Power Up and Ghost Ore Damashii) are shown. Miwako Hino said she made them since she was able to predict that Takeru will meet a "great person in legend" later.
DVD/Blu-ray Releases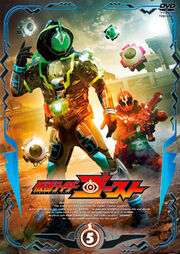 Kamen Rider Ghost Volume 5 features episodes 17-20: Gorgeous! The Queen of Illusions!, Reverse! Mysterious Science!, Explosion! Paint From Your Heart! and Explode! Flames of Friendship!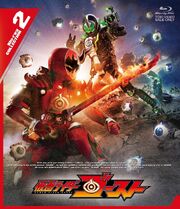 Blu-ray Collection 2 comes with 12 episodes.

External Links
References
Community content is available under
CC-BY-SA
unless otherwise noted.