Wiki Targeted (Entertainment)
Play Sound
Go·Babel·Da (ゴ・バベル・ダ, Go·Babel·Da)[1], known as Unidentified Lifeform #45 (未確認生命体第45号, Mikakunin Seimeitai Dai Yonjūgogō) and B12 (B群12号, Bīgun Jūnigō) by the police, is a buffalo Gurongi who assumes the form of a man with a headband and long hair.
History
When his turn came, Babel targeted underground centers and block all escape routes to ensure the police don't interfere in his game to kill 682 people within four plays. On the third day, Babel battles Kuuga and overwhelms him easily in his Herculean Form until Ichijo uses the Tranquilizer (筋肉弛緩弾, Kinniku Shikan Dan) to weaken the Gurongi as Kuuga takes him to the location to finish him with his aided Rising Beat Gouram.
Kamen Rider Decade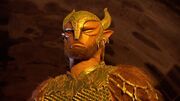 In the World of Kuuga, Babel is labeled Unidentified Lifeform #9 (未確認生命体九号, Mikakunin Seimeitai Kyūgō). After attacking the fourth "female Rinto warrior", Babel was forced by Decade to reveal the nature of the Gegel before being destroyed by Decade's Dimension Kick. The World of Kuuga
At least one Go·Babel·Da was part of a group of human-turned Gurongi created when they were exposed to N·Gamio·Zeda's miasma. Some were later absorbed by him in the last effort to defeat Kuuga and Decade. The remaining Gurongi died after Gamio was defeated. Transcendence
Kamen Rider × Super Sentai: Super Hero Taisen
To be added

Video Game appearances
Kamen Rider Agito & Kuuga Wild Battle
Go·Babel·Da (Herculean Form) is one of eight Gurongi who is playable in the Fighting, Training, and Survival Modes of Kamen Rider Agito & Kuuga Wild Battle.

Forms
As one of the three strongest Go Gurongi, the Gevagel, who modified themselves, Babel can alter his forms like Kuuga and Daguva.
Statistics:
Height: 213 cm
Weight: 223 kg
Group: Go
Grapple Form (格闘体, Kakutōtai) is Babel's default form, equivalent to Kuuga's (Rising) Mighty Form. In this form, he uses his natural strength and brass knuckles in combat.
Statistics:
Height: 201 cm
Weight: 248 kg
Group: Go
Herculean Form (剛力体, Gōrikitai) is Babel's form equivalent to Kuuga's (Rising) Titan Form. With the heightened defense in exchange for speed, he uses a war hammer as his weapon.
Behind the Scenes
Concept Art
Go·Babel·Da was designed by Koji Iida (飯田 浩司, Ida Koji).
Notes
Babel's Gurongi form was modified from Go·Jiino·Da's Gurongi form.
His name is based on the word "buffalo" (

バッファロー

,

Baffarō

).
Appearances
References
External Links