For giants monsters in Kamen Rider Den-O, see Gigandeath.
Gigantes (ギガンテス, Gigantesu) was Masafumi Saionji's inner Phantom which tries to makes its way to the real world by smashing the Gate's Underworld. Gigantes is also able to levitate and create an array of energy chains from it's body, which is weakens Winger Wizardragon. However, Wizard is able to counter the attack by assuming Flame Dragon Style and attacks the Phantom with Dragon Breath attack.
Gigantes' chains later were destroyed by Wizard All Dragon Style's All Drago Hell Claws. Both Gigantes' giant hands was destroyed by Wizard All Dragon Style's Strike Dragon attacks.
Profile
Episodes: 43
Destroyed by: Kamen Rider Wizard Flame Style's Strike End
Mythological Basis: Gigantes
Height:8.53 m
Weight:718 kg
Behind the scenes
Conception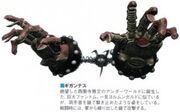 Gigantes was designed by Hiroshi Maruyama, who designed all of the Phantoms in Kamen Rider Wizard.
External links
Community content is available under
CC-BY-SA
unless otherwise noted.