Ghost Change (ゴーストチェンジ, Gōsuto Chenji, shortened to GC) is a toyline attached to Kamen Rider Ghost. Hosting a collection of the show's Kamen Riders' Transient suits and Parka Ghosts, it allows for simulation of any available Rider sporting any available Damashii form.
List of figures
Bikes
The line is also compatible with two DX sets:
Notes
The words "Ghost Change" are used in the TV series when the Riders change into a different Damashii.
As of the currently listed figures (including the DX bikes), all Damashii associated with the Fifteen Heroes' Ghost Eyecons, and all known forms of the Gan Gun Saber (seven), Gan Gun Hand (three), Sunglasseslasher (two) and Deep Slasher (two) have been included.
As of the currently listed figures, none of the Damashii introduced outside of the main series, including the Legend Rider Damashii, have been featured in the line yet. Also left out (so far) are Deep Specter Gekikou Mode's wings and the Gan Gun Catcher's Gun Mode.
All of the lines in Ghost Change series have a very fatal weakness: limited neck-articulation. When the Parka Ghosts are used in the Transient, it will completely stop any articulation in the neck. Even the inclusion of movable hoodie for Toucon Boost Ghost and Necrom don't help this problem very much. The is mostly because every Parka Ghosts have peg in the hoodie part, rendering the head completely frozen.

Houdini Damashii is the only one who could (seemingly) bypass this problem. As the hoodie part isn't attached to the clothes or the bike itself. As long as the pegs near the shoulder-area aren't used, it will get a much better range of neck-articulation. However, since the pegs aren't used, it will give insecure placement of the hoodie. The hoodie might also fall if there are too many extreme articulations in the neck.
There is, however, a slight workaround to this problem as shown in this video, by detaching the hood portion of the Parka Ghost and then attaching the various parts on the Transient separately, allowing for slight neck articulation.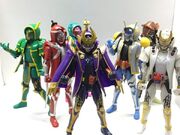 Due to their similar playability, the Parka Ghosts in the Ghost Change line can also be fitted onto the base figures of Kamen Rider Gaim's Arms Change series.
Community content is available under
CC-BY-SA
unless otherwise noted.