Wiki Targeted (Entertainment)
Play Sound
Gentoku Himuro (氷室 幻徳, Himuro Gentoku) is the former head of the Touto Institute of Advanced Matter Physics and son of the Prime Minister of Touto, Taizan Himuro. Gentoku was also the co-founder of Faust and was responsible for turning victims into Smash as Night Rogue. After his exile from Touto, he aligned with Seito as Kamen Rider Rogue (仮面ライダーローグ, Kamen Raidā Rōgu), later betraying them and allying with Team Build to fight Evolto. After he fell during the final battle, he is revived in the new world and regains his memories upon the appearance of Killbus.
History
Background
Gentoku Hiromu is the son of Taizan Himuro, who would become the Prime Minister of Touto. He was childhood friends with Koji Hotei from way back in elementary school. Back then before the Sky Wall Disaster, the two had expressed their interests in politics and wanted to change Japan. After Soichi Isurugi returned to Earth with the Pandora Box, Gentoku arrived in his father's place and was in the audience alongside with Yoshiko Tajimi and Masakuni Mido during the INSET ceremony. Suddenly, Isurugi ran over to activate the Pandora Box, triggering the Sky Wall to raise in Japan, dividing it into three regions, and exposing Gentoku, Tajimi and Mido with a blinding light.
"My name is...Night Rogue."
―Gentoku reintroducing himself as Night Rogue to the newly found Faust members.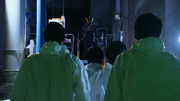 Seven years after the Sky Wall Disaster, Gentoku had been appointed director of the Touto Institute of Advanced Matter Physics. After having Takumi Katsuragi arrested for performing illegal experiments, Gentoku later recruited him to continue his Nebula Gas experiments on humans. Using resources by Namba Heavy Industries Ltd., Gentoku pressed on to create an underground organization to protect Touto and Japan. After meeting with Soichi Isurugi, Gentoku declared his organization shall be called Faust, deeming despite that the people may view them as devils with their hands in blood as he transformed into Night Rogue for very the first time.
Within three years following Faust's founding, he was promoted to the position as aide to the Prime Minister of Touto, overseeing research of the Pandora Box. In his time as Night Rogue, he oversaw the human experimentations, including the one that appeared in Sento Kiryu's mostly forgotten memories from before his escape, sitting atop a throne. According to Gentoku himself, the reason behind these experiments is to accomplish one of Faust's objectives: to create the "Ultimate Lifeform."
The Faust Conspiracy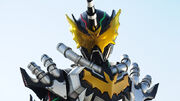 While Gentoku and his assistant Nariaki Utsumi were being interviewed by journalist Sawa Takigawa, he recalls the Sky Wall Disaster and the Institute's objective is to deciphering the Pandora Box before foreign countries attempt to seize any of the current three regions. He also hired Sento Kiryu to the research facility and placed him with the task of analyzing the Pandora Box, believing it is capable of producing energy that dwarfs nuclear energy itself. Gentoku later arrives with a group of Guardians ready to arrest Ryuga Banjo, an escaped convict who manages to escapes with Build in the Machine Builder. Gentoku orders his troops to capture them dead or alive. Utsumi attempts to reason with him, but Gentoku angrily silences him. During the chase, Gentoku turns into Night Rogue and spies on Sento and Ryuga driving by the Sky Wall, stating the war has begun.
In order to flush out Ryuga, Night Rogue captured his fiancé Kasumi Ogura and brought her to Faust's hideout, planning to turning her into Smash. When Ryuga called her, Rogue answered her phone to let him listen the Faust scientists prepping Kasumi for the Nebula Gas injection. Once Rogue told him about her location, Ryuga rushed over to find Kasumi transformed into the Burn Smash. After putting up with a fight with Build, he revealed that if he purifies the Burn Smash, Kazumi will die due to her frail health. Despite Sento and Ryuga's hesitation, they ended choosing to end Kasumi's suffering by purifying the Smash essence in her. Night Rogue then leaves, having seen enough.
In his position as the aide to the Touto Prime Minister, Gentoku continues to lead Touto officers and Guardians to apprehend Ryuga Banjo and Kamen Rider Build. He continues to propose to his father to expand their nation's militia to prevent Hokuto and Seito from potentially invade Touto, only to be shot down by the idea. As director of the Touto Institute, Gentoku continues to oversee the scientist's efforts to understand the Pandora Box's power. He would also impart Sento Kiryu advice with information regarding Takumi Katsuragi and his experimentations with the Nebula Gas.
As an high-ranking executive of Faust, Gentoku as Night Rogue continues to allow several individuals to be abducted and experimented with Nebula Gas. Seeing the prospect of the Build Driver, the peak of Takumi Katsuragi's Nebula Gas based weaponry, he sought to claim the Rider System to utilize it as a military weapon as Touto's defense against the other nations. Night Rogue often comes into conflict with his accomplice Blood Stalk, who would often let Build and Ryuga Banjo escape. Although Stalk claims that he has bigger plans for the both of them, Gentoku struggled to continue trusting him. This led to Rogue and Stalk often falling out and battle against each other.
Gentoku has a private meeting with one of Faust's investors, Juzaburo Namba, if he had convinced his father to militarize the Rider System and if he doesn't, he'll move over to Hokuto and Seito. As Gentoku became desperate to distribute the Rider System before the other nation does, he enacted a plan to seize the Pandora Box from the Touto Institute. As Build was distracted from pursuing a Smash, Gentoku allowed for Stalk an easy path to claim the Pandora Box.
When Stalk raided the Touto Institute, Gentoku notices on the monitor that his accomplice had shut down the security cameras. Confused by this, Gentoku confronts Stalk and demands him to hand over the Pandora Box. Night Rogue engages Blood Stalk, only to be interrupted by the arrival of Build and Ryuga Banjo. However, Rogue manages to best Build in battle and take all of his Fullbottles. After being assured that Stalk will bring the Pandora Box back to Faust, Gentoku went back to Touto Institute and discovered his father had a heart attack. As Taizan was carried by paramedics to the hospital, he tells Gentoku to take his place as Touto's Prime Minister in the meantime. Upon hearing his new position, Gentoku smiles maliciously after all the events that has transpired up to this moment.
As acting Prime Minister of Touto, Gentoku tries to deflect the Touto government's connections with Faust and tries to assure the other Prime Ministers that he will do whatever it takes to reclaim the Pandora Box. After the meeting ended, Stalk congratulated him for his new position and asks where he had hidden Pandora Box, only for Gentoku to keep silent as he did not fully trust Stalk. Night Rogue later flushes out Sento and Ryuga in a false Smash alert to force them to hand over the remaining Fullbottles, but Stalk later lets them get away. After Night Rogue had Sawa captured and turned her into the Stretch Smash, he continued to threaten Build to hand over the Fullbottles. However, the appearance of Ryuga as Kamen Rider Cross-Z, could caught him off guard and drove Night Rogue away, saving Sawa's life.
Using Sawa's knowledge about Faust, Sento and Ryuga storm into Namba Heavy Industries' science laboratory to find the location of the Pandora Box. Night Rogue confronts them but is interrupted by Blood Stalk who protects them for unknown reasons. While Night Rogue engages Stalk again, Sento and Ryuga managed to reclaim their Fullbottles and even new Fullbottles in Faust's possession. Stalk also leaves with the Pandora Box, infuriating Rogue. Although Gentoku curses Stalk for his betrayal, Namba later arrives and gives him the idea to have the Touto government take down Faust once and for all. Gentoku led Touto's forces while Utsumi took his place as Night Rogue in order to keep his cover. While Build confronts Utsumi at a bridge, Gentoku managed to fire a gun on his assistant's shoulder, causing him to fall off into the running waters.
In the woods, Gentoku meets up with Stalk demanding for the Pandora Box, but Stalk agreed in exchange for Gentoku's loyalty. Fed up, Gentoku transforms into Night Rogue, but Stalk doubts Rogue can beat him. Rogue makes the first move and gains the upper hand on Stalk, until he realizes Stalk's been holding back due to having more experience with the Transteam System than Rogue and overpowers him. Before leaving, Stalk confirms to Gentoku that he has partnered up with Namba, meaning the Pandora Box is in Namba Heavy Industries, making it complicated to infiltrate unnoticed.This led Gentoku to confide with Sento the Pandora Box's location, just so he can have Sento and Ryuga retrieve the relic for him.
Sometime after Soichi Isurugi revealed himself to Sento that he is Blood Stalk, he disclosed Night Rogue's true identity to him. After Sento retrieved the relic, Gentoku met him at Touto Institute's parking lot, where he finally dropped his act after Sento called him "Night Rogue". Gentoku revealed to Sento about Faust's objective to utilize the Rider System for militaristic endeavors and expressed his wishes for Sento to complete "Sclash". While Sento and Ryuga managed to escape with the Pandora Box, Gentoku would catch up to them and engages Build for the Pandora Box. Due to his grand delusions of ruling Japan, Rogue would get defeated by Build RabbitTank Sparkling. Taizen would arrived in a wheelchair and scolded Gentoku for his involvement with Faust. As Gentoku was being handed over by authorities, he revealed to Sento that the amnesiac scientist is actually Takumi Katsuragi the entire time.
Gentoku confirmed that Takumi Katsuragi had his memories erased by Blood Stalk and changed his appearance to resemble Taro Satou, hence "Sento Kiryu" was born. Gentoku mocked Sento as Katsuragi was the exact opposite of whom he is now: a person who scoffed at things like justice and would go to the extreme for his scientific ambitions. As he leaves, Gentoku promised he will return and when he does, Sento will be by his side.
The Japanese Civil War
After Taizan had collapsed once more, unaware Blood Stalk poisoned his father, Gentoku is still in power as acting Prime Minister of Touto. As new Hazard Smash were starting to surface despite Faust's apparent dissolution, the starving nation of Hokuto declared war on Touto by sending an army of forces to secure the Pandora Box. Sento and Ryuga joined up with the Touto's government to protect the nation, but are forced to comply with Gentoku Hiromu's orders as he finally has the perfect opportunity to utilize the Kamen Rider System as a weapon. He discloses to the duo that the six Pandora Panels had ten bottles each and two of the Panels are divided amongst nations. He later commanded Ryuga to use the Sclash Driver to combat Hokuto's forces, the Hokuto Sanbagarasu and Kamen Rider Grease.
At one night, Gentoku headed for Namba Heavy Industries building to confront Juzaburo Namba for producing the Sclash Driver to Hokuto. However, Gentoku was shocked to see Nariaki Utsumi standing before him. He learns Utusmi survived his apparent death thanks to Stalk and discovered he is representing Namba Heavy Industries from now on. Gentoku believed Faust is still active and relocated in Hokuto, enraging that the Rider System and the Nebula Gas research is being used against Touto.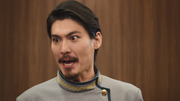 When Gentoku made the order Touto's forces heading towards the Sky Road to invade Hokuto, the other aides were surprised for him to make the decision without council. But an enraged Gentoku declared to everyone in the room that he is the leader of Touto. However, Taizan would entering the room, having fully recovered from his condition. Although Gentoku tried to justify his actions, Taizen silenced him by renounced Gentoku as his son and sentenced him to exile. Furious, Gentok transformed into night Rogue and tried to take Pandora Box, only to be intercepted by Build and defeated by RabbitTank Sparkling once more. Humiliated, Gentoku promised Build he will return with an even greater power before disappearing.
Gentoku made his way to Namba Heavy Industries in Seito, where he intercepted Utsumi, and demanded his former assistant to turn him into a Kamen Rider. Utsumi took advantage of the situation and made his beg to his knees. A few days later, upon the construction of the Sclash Driver was completed, Gentoku would later be imprisoned and tortured for days. Once he was finally administered enough with Nebula Gas and succumbing to his feelings of vengeance, Gentoku's Hazard Level eventually increased above 4.0. This allowed him to transform using the Sclash Driver and the Crocodile Crack Fullbottle to become Kamen Rider Rogue.
Once Kamen Rider Build and Grease's proxy battle to settle the war between Touto and Hokuto ended with Build's victory, Kamen Rider Rogue led a group of Seito Guardians to apprehend Hokuto's prime minister, Yoshiko Tajimi. He was the last to show up as the Seito Guardians surrounded and apprehended Taijimi, dragging the upper body of a Hokuto Guardian by its head. Blood Stalk introduces him to Taijimi as Seito's Kamen Rider.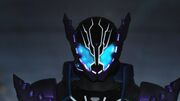 As the Washio brothers continued advancing on Hokuto territory, Gentoku proceed to a tunnel and transformed into Kamen Rider Rogue. He arrived to challenge Build and Cross-Z Charge as they gained the upper hand on the Washio brothers. As Build and Cross-Z Charge engaged Seito's Kamen Rider, Rogue was able to drive them back and defeated the two Riders. He announced himself the two as "Kamen Rider Rogue", revealing himself to be Gentoku Hiromu. Gentoku told Sento what it took for him to achieve such power and promises to make the Devil's Scientist to experience a similar hell.
"Vengeance...vengeance...I abandoned thoughts of that long ago. I became a Rider to defeat Touto. This time, I'll reunite the country with my own hands. That is all I want."
―Rogue's new resolve as he overpowers Build.
Serving under Masakuni Mido and the nation of Seito, he continued to lead the squad of Seito's forces to march the Touto to capture the Pandora Box. Entering the Prime Minister's office, Gentoku confronted his father for the first time since he had been exiled. As Taizan was forced to relinquish the Pandora Box, his father tried to remind Gentoku of the man he used to be before he was exposed by the Pandora Box's light. However, Build arrived to stop Gentoku, this forced Rogue to engage him and they moved elsewhere to battle. Although Build tries to access the Hazard Forms, Rogue manages to outmatch him even in his berserk state. Just as Rogue is about to finish Sento off, Misora suddenly appears and reveals the entity inside of her, Vernage, who uses her powers to force Rogue and the Washio brothers over the Sky Wall back to their own territory.
When Rogue discovered the true location of the Pandora Box, Akaba tried to stop him. This forced Gentoku to kill Akaba, much to Kazami Sawatari's displeasure. This led Kamen Riders Build, Cross-Z and Grease to join together and fight Rogue, but Gentoku is able to take on the three Riders. With no one left to challenge him, Rogue took the Pandora Box and left the warehouse, bursting through the front on his way out.
In the final stage of the war between Seito and Touto, an arrangement was reached by both governments where the two nations would pit their Kamen Riders against Seito's forces. After the battle ended with a tie, Rogue would have to battle Build in the battle to decide who will emerge victorious. Utsumi began uploading data to Gentoku's Sclash Driver to allow him to resist against Sento's new power-up. When Utsumi reminded him of his vengeance, but Gentoku stated he doesn't care about vengeance anymore, and will fights any opponent and proceeded to the arena.
As he fought Build, Rogue continued fighting Build RabbitTank Sparkling. When Rogue questioned his own motives of creating weapons of destruction, Sento admitted that how he understood Takumi Katsuragi indirectly caused war because of his Rider System inventions and felt it was in his responsibility as Sento Kiryu to end it. Build then reveals the FullFull RabbitTank Bottle and transforms into RabbitRabbit, granting extra armor into the Hazard Form.
Although Build's new form was able to keep up against Rouge, Gentoku used the data from the RabbitRabbit uploaded by Utsumi to use countermeasures against it. However, what Rogue did not expect is that Sento and Sawa had been colluding from behind the scenes and kept the plans of a second form a secret. Build immediately transforms into TankTank Form and outwits Rogue, reaffirming his goals to fight for "love and peace". Rogue would be defeated by Build once more and led Touto to win the proxy battle, with the war with Seito had came to a close. After Taizan congratulated Sento for his efforts, Gentoku was shocked to hear his father tell him to return to Touto, but he rejected his father's offer and left.
Road of Redemption
Although the war between Touto and Seito had come to a close with the proxy battle, Blood Stalk decided to press on used the completed Pandora Box to transfigure Sky Wall into the Pandora Tower. Gentoku would learn that Masakuni Mido had been killed and replaced by Namba assuming his appearance. He becomes noticeably becomes conflicted as the nation of Seito is continuing to invade Touto despite Gentoku's previous loss, only to be shut down by Utsumi who reminded him of the chip implanted to his brain that could kill him if he betrays Stalk and Namba.
When Build alongside Cross-Z and Grease engaged Seito's forces in order to reclaim the Pandora Box, Blood Stalk arrives and creates a new battlefield using the Pandora Box. Although Ryuga never forgave him for turning Kasumi into a Smash that led to her death, Gentoku revealed that he was requested to do so by Stalk as it was his idea to increase Ryuga's Hazard Level from his grief. He also secretly informed Build about Namba has taken Mido's identity and he is unwillingly against them because of the chip implanted to his brain. He allows Build to defeat him in order for him, Ryuga and Kazumi to confront Stalk.
After the Kamen Riders retrieved back the Pandora Box, Utsumi held Kazumi Sawatari's farm workers hostage in exchange for the Pandora Box. Waiting until night, Gentoku stood behind Utsumi as he surmised that Kazumi isn't coming, forcing Rogue to execute the hostages. However, Gentoku would instead free them as he told Utsumi there's no point in killing them. Although he knocked the remote from his hand and destroyed the Guardians, Utsumi managed to retrieve the switch and activated the chip, shocking Rogue out of transformation and kicked his face in retaliation. To make up for his defiance, Gentoku, as Rogue, attacked the Touto government building with Blood Stalk to take Taizan Himuro hostage.
"Gentoku...Atone for your crimes...and rebuild...the country. You can do it."
"Father..."
"I'm counting on you...my foolish son."
―Taizan's final words to Gentoku.
While his father held hostage in exchange for the Evol-Driver, Gentoku tried to free Taizan. However, the chip in his brain was hindering his chances to save his father and escape from Utsumi's grip on him. This caused him to form an alliance with Sento Kiryu for his assistance to free Taizan. After Sento deactivated his chip, Gentoku was able to rebel against Stalk and Seito's forces. However, Evolto managed to gain possession of the Evol-Driver and transformed into Kamen Rider Evol. Rogue tried to engage but finds himself overpowered by Evol. As Evolto began to lay the killing blow, Taizen suddenly shielded him from his blast. Gentoku was forced to hold his father in his final moments and Taizen in his final breath request his son to atone for his crimes and assures him he can reunite Japan. With his father's body lying in his arms, Gentoku screamed as he cried in agony.
"I can't bring the country together. But I can lay the foundation for it. For love and peace..."
―Rogue's new resolve as he joins the Kamen Riders in the fight against Evolto.
With Evolto posing as a much bigger threat than expected, Sento called upon Gentoku for his assistance to help them stop Evolto as he had possessed Ryuga. But even the combined forces of Rogue, Build, and Grease weren't able to stop Evol as their foe managed to complete the Pandora Tower, the destruction of Earth appeared to be imminent. At the last second, Evolto chose to stand down in the meantime as his Evol Trigger is yet to be completed.
Later, Gentoku is brought to an abandoned field by Kazumi and admitted that he never forgave him for killing Akaba. Grease engages Rogue in a sparring match, with him emerging victorious as Gentoku chose to not avoid his Scrap Finisher. Satisfied, Kazumi asks Gentoku to join forces. Despite having not forgiven Gentoku for Akaba's death, Kazumi acknowledged it would be better to move on rather than keep hating him.
Eventually, Ryuga was finally free from Evolto's influence, only to have possessed Sento instead and can access Evol's Rabbit-based Phase 3 form.. When Ryuga lost his ability to transform with the Build Driver, he requested for Gentoku to administer him with Nebula Gas. Gentoku admitted he is not a scientist and even if they could get him a Nebula Gas chamber, he cannot transform without Evolto's genes. Rogue joined with Grease to fight Evol Phase 3, and Ryuga joined in the battle by transforming into Great Cross-Z. However, Evolto manages to complete the Evol Trigger from the Kamen Riders' powers, allowing him to achieve his complete form, Black Hole Form.
After Sento is free from Evolto's influence, he had lost all memory of being Sento Kiryu and restored back as Takumi Katsuragi. Gentoku reunited with Katsuragi and apologized to him for trying to take his life's work for military gain, which Katsuragi refusing to accept his apology having realized the aftermath of the war that Gentoku had a hand in creating. After forming a truce with Utsumi, Rogue joined the Kamen Riders charge in after Evolto, but still defeated by Evol Black Hole's might. Gentoku was present when Utsumi apparently broke down over the loss of Namba and the Washio brothers, having sided with Evolto as Kamen Rider MadRogue.
"I used you to cause a war. No matter what I couldn't make things up... For now, let me fight to bring this country together! I must ask you... To believe in me just this once...!"
―Gentoku's apology to Katsuragi
Gentoku fought against MadRogue, but was overwhelmed by his strength and suffered serious injuries. While treated by Sawa Takigawa at Nacista, he confesses to her his regret for dropping Utsumi into an evil path and blamed himself for his breakdown. When the Touto government was attacked by the Seito's forces led by Utsumi, he tried to go to battle despite being barely able to stand. As Katsuragi went to confront MadRogue, Gentoku took the opportunity to apologize to the Devil's Scientist one last time and although he cannot redeem himself for what he did, he would at least want to atone for his mistakes. Although Katsuragi left without saying a word, Gentoku's words to him is what allowed him to remember his life as Sento Kiryu and would allow him to become Kamen Rider Build Genius Form.
Gentoku's Atonement
With Sento's memories been restored back to normal, Gentoku greets him in the cafe in a set of denim clothes. His sudden fashion sense repulsed everyone in Nacista, with Misora being the most disgusted over the mismatch of clothes that Gentoku wore. He tried to wore a set of flashy pink clothes and later a rainbow poncho, both of which were rejected by Misora. Eventually, Gentoku settled in wearing a black jacket but wearing shirts printed with multiple messages.
Gentoku joined with the Kamen Riders to fight against another invasion by Seito. Gentoku and Sento head to confront Evolto, only to witness a building destroyed by one of his black holes. Noticing Sento is conflicted over the possibility his father could be working with Evolto, Gentoku confided with him how he was still proud of his father, yet he felt couldn't do anything to live up to his expectation. As MadRogue launched an attack to the city, Build and Rogue arrive to stop him. While Utsumi mocked him for failing carry out his father's wishes, Gentoku found himself re-motivated by Sento's speech to keep fighting for the sake of those who entrusted them their duty, allowing for Build and Rogue to overwhelm MadRogue together.
Sento's biological father, Shinobu Katsuragi, would eventually resurface as another Kamen Rider Build and working with Evolto in his quest to gather the Lost Bottles. Gentoku remarked that Sento is letting any his hope of father blinding him of his actions he committed. While Gentoku left Sento to figure out what to do on his own, Kazumi confides with Gentok at the Nacista rooftop that he still intended to stop Evolto so Shinobu would finally come into his senses. Gentoku remarked that they both cannot fight Evolto at their current strengths and the two needed to find a way to increase their Hazard Levels.
Gentoku and Kazumi later raided a Faust human experimentation site in Seito, but were easily caught by Nariaki Utsumi. Once they were put into Nebula Gas chambers, it was revealed part of their plan to increase their Hazard Level and escape from the facility with Sento and Ryuga's aid. When Sento berated the two over this as the Nebula Gas overdose would put major risks to their bodies, both Gentoku and Kazumi defended their actions in order to keep up with the raising threat with Evolto. Gentoku along with Ryuga and Kazumi followed Sento as he was going to confront Evolto using the Blizzard Knuckle. In the ensuing fight, Rogue manages to help restrain Evol and allowing Build to use his Genius Finish and defeat Evolto. But this still did not defeat Evolto for good.
Evolto continued to collect the Lost Bottles to complete the Black Panel to evolve into a more monstrous form. Gentoku would join Sento's plan to use the White Panel to fuse their world with another Earth with Sky Wall, using Evolto as a catalyst for the merger. Once Evolto finally revealed his true colors and his intent to destroy the Earth publicly on live television, the Kamen Riders arrived at the Pandora Tower to challenge Evolto and his army of Hard Guardians, they climbed up to the tower and are ambushed by Smashes. Sento and Ryuga continued to run up to the height of the tower while Kazumi and Gentoku stayed behind to handle replicants created by Evolto.
After being ambushed by the Hell Bros clones, Gentoku found himself unexpectedly aided by Utsumi, who feigned his alliance with Evolto in order to avenge Juzaburo Namba's death, with Gentoku remarking how "mad" he really is. As Evolto appeared before the two Rogues, he was present to witness Utsumi to overwhelm Evol with the Evol-Driver's full potential, only to see him short-circuit. It was revealed Evolto turned Utsumi into a cyborg after Gentoku shot him, making a distraught Rogue charging in but knocked aside by Evol. After Utsumi saved him at the last minute, Gentoku teleported himself and Sawa elsewhere with the Nebulasteam Gun. Upon arriving on top of the Pandora Tower, Sawa bandaged his wounds. However, when Misora arrived with word that Kazumi had died, Gentoku screamed in sadness over the loss of his friend and comrade.
Final Battle and Death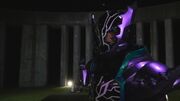 "I finally understand... It's not the strongest who could build a country, but the one who is entrusted that power... This is the end, be a sacrifice for the greater good!"
―Gentoku's apology to Katsuragi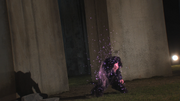 Although still injured during the raid of Pandora Tower, Gentoku joins with Sento and Ryuga as they charge at Evolto. However Evol managed to overwhelm the three of them. Once Evolto regained his monster form and evolved by his Evol Trigger's Feverflow, Rogue continued to fight him even as he tried to absorb the moon. Gentoku thought back to one of his final conversations with Kazumi, how he forgave him and believed he had already atoned for his crimes. Upon hearing the voices of the people cheering for the Kamen Riders, he continues fighting Evolto as his Hazard Level keeps rising and tries to employ a desperate Rider Kick, but to no avail as Evol easily brushes the Rider aside into a nearby pillar. Having exhausted the last of his strength, Gentoku entrusts Sento with defeating Evolto. In his last moments, Gentoku ponders if he had lived up to his dad's legacy before disintegrating into purple embers.
Legacy
Thanks to Gentoku's persistence, Evol became paralyzed as Rogue's last attack managed to break the Evol Trigger apart. This allowed Sento to extract the Black Pandora Panel and the ten Lost FullBottles from Evolto, and fuse them with the White Pandora Panel, opening the path for the new world that Sento would build.
New World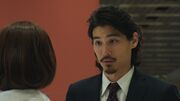 After Evolto was defeated for good and the new world had been created, Gentoku is still working for his father, the Prime Minister of Japan, as an aide and politician. Gentoku then meets Sawa, now a Central Politics and Economics journalist and asks her if they could continue the interview in his office, which Sawa agrees.
Other Events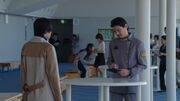 During the Enigma crisis, Gentoku provided Sento Kiryu information on Kaisei Mogami, a researcher who left the Touto Institute and pursued studying parallel dimensions and the Bugster Virus that was looming in Sky Wall. Soon after, Mogami's plot to smash the two Earths was thwarted by Build's intervention.
Gentoku Hiromu's backstory is further expanded during the events of founding Faust and his evolution into Kamen Rider Rogue. Before he became aide to Touto's Prime Minister, his childhood friend Koji Hotei assumed the role. Gentoku tried to request Hotei to convince his father to expand Touto's militia to no avail. This led him to founding the Faust organization with financial backing from Namba Heavy Industries, and cooperating with Takumi Katsuragi and Soichi Isurugi over their knowledge with Pandora Box and the Nebula Gas. Isurugi later kills Hotei to secure Gentoku's position as the Touto Prime Minister's aide. Gentoku became Night Rogue as he sought to change Japan to build the ultimate Nebula Gas technology to advance Touto's defense.
Right after Gentoku's exile from Touto, he made his way to Namba Heavy Industries in Seito, where he intercepted Utsumi and demanded him to turn him into a Kamen Rider, even going as far as to beg on his knees. After the new Sclash Driver was created, Gentoku was refused the Nebula Gas administration and locked into Namba Heavy Industries' underground detention facility for those who have lower Hazard Levels. Blood Stalk had set his sights on Gentoku as his ideal candidate as Seito's Kamen Rider, believing he had enough strong emotion to use the belt, despite Utsumi's believing the contrary. While Gentoku had to endure being beaten senselessly by the other prisoners, it still did not take away his desire to become a Kamen Rider as he finally got his wish to undergo the Nebula Gas administration.
As the experimentation only increased his Hazard Level to 3.5, Gentoku was dragged into an isolated section of the laboratory where prisoners had to fight each other and survive as a means to increase their Hazard Levels. Surmising the possibility of death, Gentoku apologized to Utsumi for his actions under the influence of the Pandora Box's light. Gentoku engaged the prisoners and managed to held on his own, knocking them out all cold. When two Kaisers, Remocon and Engine Bro's entered the battlefield, Gentoku's Hazard Level was finally raised enough to reach 4, allowing him to finally transform into Kamen Rider Rogue to vanquish the Kaisers, despite being aware that they were his former subordinates, Kakizawa and Matsui, under the armor and believed they served their purpose. As he tried to attack Blood Stalk, Rogue's body reached its limit and reacted violently to the belt, cancelling his transformation. Clutching the fence in anger, Gentoku watched Stalk and Utsumi leave as they have much planned for Gentoku in the future. Falling down briefly and climbing back up, Gentoku claimed he'll free himself someday.
One day, Gentoku is forced to go clothes shopping with Misora. While Misora tries to have him dress more conservative, Gentoku continues to elect wearing a mismatch of clothes. He also meets a little boy named Sho who wears a black jacket that is too big to fit him, but was a keepsake of his late father. As the city is being attacked by Kamen Rider Evol and his Hard Guardians, Gentoku witnesses Build being defeated once the Genius Bottle is out of his hands. Deciding to use Sento's new power-up item, Gentoku transforms using the Prime Rogue Fullbottle with the Build Driver to become Kamen Rider Prime Rogue and managing to force Evol to retreat. Gentoku was given Shou's jacket as a token of appreciation but dismayed when Sento reveals that the Prime Rogue Fullbottle would take a month to repair.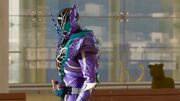 During the Build Annihilation Plan, Rogue attempted to protect Sento Kiryu from the amassed populace of Japan, who had been compelled to eliminate him, only to be overwhelmed by the angry mob. Along with Kazumi, Gentoku was stripped of his Sclash Driver and kept in confinement before being set free by Utsumi, who made them beg him to return their Drivers. Making their return, Rogue joined in the final battle against the Blood Tribe with the Kamen Riders and defeated the Scissors Lost Smash.
Gentoku temporarily reclaims his memories and powers from Build's world as a result of the Imagin Futaros using his powers to grant Ataru Hisanaga's wish of meeting Kamen Riders. Rogue and Grease reunite with Team Build to fend off Another Double and protect the little boy named Shingo he was chasing, though Gentoku loses his memories shortly thereafter.
Gentoku and Kazumi later regain their memories again and become Rogue and Grease once more to protect Misora and other civilians from Tid's forces.
Due to the appearance of Killbus, the memories of Gentoku from the previous world have eventually merged with this world's Gentoku due to Killbus using Ryuga Banjo and the White Panel to restore the Pandora Box. Gentoku was the one who called his team to go to the government office via Nariaki Utsumi's commercial on television, in which Sento watched it. He, along with Misora, Sawa and Kazumi, who have just regained their memories from the old world, reunites with Sento in order to discuss a plan to defeat Killbus. Gentoku and Kazumi helps Ryuga battle Killbus and his Smash monsters.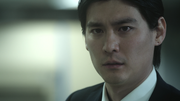 Sometime after the incident with Killbus, Gentoku continues to act as the aid to Japan's Prime Minister, Taizan Himuro, and had notably shaved his beard. He was presenting to London Prime Minister, Simon Marcus, of Japan's newest defense against potential threats and, along with Shinobu Katsuragi, presented the Build Driver. Upon the appearance of the terrorist organization Down Fall, Gentoku battles the group but his Hazard Level was absorbed, rendering him incapable of fighting after a sudden blank point shot from Simon Marcus as a Phantom Crusher.
After he was captured by the terrorist group, he called Sawa to overhear the conversation of Down Fall. Sawa later finds his location and doses him with a Phantom Liquid elixir to replenish his Hazard Level. Gentoku later teams up with the Riders to battle the terrorist group as he transforms into Kamen Rider Prime Rogue using the new Build Driver.
After the battle, Sento asked Gentoku why he called Sawa instead of him and Ryuga. As Ryuga asked Gentoku what happened to his beard, he revealed Gentoku and Sawa were once a couple by showing off their written outfit, revealing Sawa is the one who told him to shave.
Video Game Appearances
Night Rogue and Kamen Rider Rogue are both a playable characters in Kamen Rider Buttobasoul. Furthermore, Rogue is the only Build Rider's identity that can be revealed by players themselves before episode 23 aired. Players can scrape the 'PR036' medal's Night Rogue sticker off to reveal the Kamen Rider Rogue sticker hidden at the bottom.

Personality
Family
Powers and Abilities
Powers
Artificially Enhanced Physiology: After Gentoku was injected with a certain amount of Nebula Gas, his physical condition was enhanced to a certain degree. To be noted that as his Hazard Level increases, his physical condition increases as well. According to Gentoku as Night Rogue, his level was stated to be above Hazard Level 3, but due to the Transteam Gun's limitations, his Hazard Level becomes capped and does not reflect his actual level. Sometime after being exiled from Touto, Gentoku underwent cruel experimentation in order to raise his Hazard Level to above 4 in order to utilize the Sclash Driver.

Nebula Gas Shockwaves: Prior his debut as a Kamen Rider, Gentoku was able to unleash shockwaves which can reduce Guardians into nothing. The principle of it is currently unknown.
Abilities
Skilled Combatant: Though briefly, he was seen to easily block and counter Ryuga Banjo's punches, who himself was a professional fighter.
Bilingualism: Gentoku speaks his native Japanese, and has a certain level of fluency in English, as he is seen speaking it with Simon Marcus during the events of Build NEW WORLD: Kamen Rider Grease.
Former Weaknesses
Kill Switch: Due to his alliance with Seito, he has a chip inside of his chest that could detonate if he showed any signs of betrayal. The chip is also capable of emitting a a painful electric shock, triggered by Utsumi's device that can force Rogue out of his transformation. It seems Utsumi's device is able capable of setting the level of electric shock that Gentoku receives, and if Utsumi switch is broken, Evolto had a spare switch. With Sento's help, this chip was deactivated.
Forms
Equipment
Devices
Weapons
Steam Blade - Night Rogue standard sidearm knife. Can combine with the Transteam Gun to form the Steam Rifle, or with the Nebulasteam Gun to form the Nebulasteam Rifle.
Nebulasteam Gun - Rogue's personal weapon. Can combine with the Steam Blade to form the Nebulasteam Rifle.
Legend Rider Devices
Rogue Ridewatch (ローグライドウォッチ, Rōgu Raido Wotchi): Based on Kamen Rider Rogue, this Ridewatch would provide access to the RogueArmor. It is dated 2017.
Relationships
Allies
Team Build - Teammates and Friends
Enemies
Evolto: He knew Evolto as Blood Stalk while possessing Soichi Isurugi. He questions his motives with Sento and Ryuga. When he killed his father, he was lost and later swore revenge.
Juzaburo Namba: Once served under him during his time in Touto before joining Seito. Now later enemies after realizing the situation he's in after Namba replaced Mido as him.
Behind the Scenes
Portrayal
Gentoku is portrayed by Kensei Mikami (水上 剣星, Mikami Kensei). As Night Rogue and Kamen Rider Rogue, his suit actor is Jun Watanabe (渡辺淳, Watanabe Jun), who played Secondary Riders since Kamen Rider Drive.
Etymology
Night Rogue's name is formed from the English words "Night" and "Rogue." The name as a whole seems to be a pun of the word "Nitro", possibly referencing Night Rogue's Steam Engine Motif.
His Rider name, Rogue, while borrowing part of his previous Form's name, is appropriate to his current status as a defector from Touto, as well as defining his behavior up to his introduction as a Rider.
Meme
In some episodes (including the one of V-Cinema films), Gentoku's comments are labeled on his shirts he made to satisfy/apologize the members of Team Build, which later used often as a running gag.
Notes
Night Rogue's bat motif, along with Blood Stalk's cobra motif, is part of the recurring bat/cobra/spider trio in the Kamen Rider franchise, a tribute to the first two Shocker monsters as well as the first monster to be upgraded.
Night Rogue's undersuit inexplicably changes from black to brown in later episodes during certain scenes.
Kamen Rider Rogue has a fragile warning label pasted onto the back of his helmet.
Appearances
See Also
References