Geiz Myokoin (明光院 ゲイツ, Myōkōin Geitsu)[1] is a member of the Resistance from the dark future of 2068 ruled by Oma Zi-O. He has time traveled with another Resistance member, Tsukuyomi, to the year 2018 to kill Oma Zi-O's present day self.
Using the Ziku-Driver and his personal Geiz Ridewatch, Geiz transforms into Kamen Rider Geiz (仮面ライダーゲイツ, Kamen Raidā Geitsu). In an alternate future, Geiz became GeizRevive (ゲイツリバイブ, Geitsu Ribaibu) and defeated Oma Zi-O on Oma's Day, according to White Woz, who sought to expedite the appearance of GeizRevive for his own agenda until his disappearance from the timeline.
History
Background
Geiz comes from 50 years in the future where he fought as a resistance fighter against the evil tyranny of the demonic king, Oma Zi-O. After Oma Zi-O kills many of the resistance fighters, he decides to travel back in time to kill Oma Zi-O before he can become the king destined to enslave the future, much to Tsukuyomi's ire. Tsukuyomi later discreetly follows Geiz.

Traveling to the Past
Using his personal Time Mazine, Geiz manages to find the possible identity of Oma Zi-O, in the form of Sougo Tokiwa. Geiz spent no time trying to chase the young man. However, he was intervened by the timely arrival of Tsukuyomi, who saved Sougo. Geiz then chases them to both the Prehistoric & Edo era, although he lost track of them after Tsukuyomi's Time Mazine accidentally ejects Sougo to the World of Build in 2017.
Geiz later finds Sougo once again, this time already transformed into Zi-O. After he berates Tsukuyomi for her failure in changing history, he proceeds to ask why did Sougo transform into Zi-O. Sougo replied that it was probably his fate since he was born, in which Geiz was somewhat reminded of Oma Zi-O's declaration of his tyranny. Deeming Sougo as irredeemable, Geiz transforms into Kamen Rider Geiz Ghost Armor, and addresses Sougo as Oma Zi-O before lunging at him.Kingdom 2068
Zi-O obtaining Build's power
Geiz proceeds to summon four parka ghosts (Ore, Musashi, Edison, and Newton) to attack Zi-O. Geiz then attacks Zi-O relentlessly and proclaim that while Sougo had done nothing wrong in the present, Geiz will kill him for the sake of a brighter future. Geiz then attempts to kill Zi-O using Omega Time Burst, though Tsukuyomi intervened using her Time Mazine. After Tsukuyomi tells Zi-O to run away, Zi-O proceeds to summon his Ride Striker and flee from the scene. Geiz then summons his own Ride Striker to chase Zi-O. However, Geiz lost Zi-O track after a lengthy bike chase. Geiz then cancels his transformation and angrily questions Tsukuyomi for her motive in helping Zi-O. After Tsukuyomi replied that she didn't know either, Geiz orders Tsukuyomi to not interfere with his quest to kill Zi-O.
Geiz and Tsukuyomi later continue their search for Sougo when they notice Another Build appearing once again, even though Zi-O had defeated him before. Another Build then absorbs an nearly athlete into a Fullbottle, and Geiz deduced that the Time Jackers had also appeared in this era. Geiz decides to leave it be and focus on the mission. However, Tsukuyomi stops him as Another Build is about to absorb another athlete. Left without another choice, Geiz proceeds to transform and battle the Another Rider, to no avail. 
Just before Another Build could deliver a finishing blow to both Geiz and Tsukuyomi, Zi-O appeared and counter the attack using the Zikan Girade and proceed to ask them if they are okay, much to both Geiz and Tsukuyomi's shock. Tsukuyomi starts to doubt whether Sougo is really Oma Zi-O or not as Zi-O manages to defeat Another Build, while Geiz is also rendered speechless for Sougo's sincere actions. However, Another Build somehow respawned again, to the trio's shock. As Zi-O deduces that only the real Kamen Rider Build could defeat Another Build permanently, he quickly goes to nascita, while Geiz vents his frustration to Another Build, and manages to defeat him. However, the Another Rider respawns once more.
Geiz proceeds to defeat Another Build again, for the Another Rider to respawn yet again. Geiz's transformation is then cancelled due to exhaustion. Just then, Sougo appeared while holding the Build and Cross-Z Ridewatches. Sougo gives the Cross-Z Ridewatch to Geiz and tells him that they must go to 2017 and defeat Another Build permanently using their newly acquired Ridewatches. They then travel back to 2017 using their Time Mazines. 
Sougo and Geiz manage to arrive at the very scene in 2017, only to be interrupted by Heure of the Time Jackers. After Sougo and Uhr exchanged their arguments about the Another Rider, Uhr left the scene. The two Riders then transform and join up with Build and Cross-Z to take down Another Build. However, the change of events in the timeline has caused Build's and Cross-Z's powers to disappear, seemingly transferred into the Cross-Z and Build Ridewatches. Woz later appeared and tells Zi-O that using the Build Ridewatch will make Zi-O able to defeat Another Build, but Sento's memories as Build will be gone. Zi-O steels his resolve and transformed into Zi-O BuildArmor. Woz then joyfully remarks this moment. Zi-O Build Armor is now able to damage the monster, with Geiz subduing him with his Zikan Zax in Yumi Mode. Zi-O uses Vortex Time Break to finish the monster with Geiz utilizing the Zax's finisher equipped with the Cross-Z Ridewatch. As a result of their actions, Another Build does disappear for good, but Sento, now christening himself as Takumi Katsuragi, completely forgets about Sougo as the latter gives two blank Ridewatches for Takumi and Ryuga to safekeep. Geiz demands to know what's with the sudden anomalies in the timeline, but Sougo himself is confused about it as well, only exclaiming that Sento and Ryuga will choose to become Kamen Rider Build and Cross-Z in the future.
The next day, both Tsukuyomi and Geiz decide to rent Junichiro's spare room. Tsukuyomi explains that Sougo's actions make them reaching an agreement to keep an eye on him. Geiz himself says despite Sougo's sincere actions, his vendetta towards him hasn't ceased.
Zi-O obtaining Ex-Aid's power
After moving into Junichiro Tokiwa's shop, Geiz and Tsukuyomi enroll in Sougo's school to better monitor his activities and be prepared to take him down should he become Oma Zi-O. Sougo is then confront by Geiz when he questions about his friends and what he's sacrificed to get where he is. Eventually, Another Rider attacks Sougo and they learn that this is in link with a series of events that have caused an unknown illness to spread to various individuals who have been playing a particular game: one that cannot be beaten. They eventually learn of the Genius Gamer M and seek him out, finding their way to Seito University Hospital and meet with Hiiro Kagami who learn that who they suspect to be M, Emu Hojo, has been missing for a while since the mysterious disease started taking people, leaving only a handheld game console and a note written in German.  Geiz manages to translate it into a code that is supposed to be inputted into the game and he, Sougo, and Tsukuyomi are transported into what appears to be the Game World where they confront the Another Rider, Another Ex-Aid.  They transform, fight, and manage to defeat him, but then out of nowhere, a mysterious doctor appears and transformers into Kamen Rider Ex-Aid and proceeds to fight them as well.  Eventually, Ora appears and reactives the Anotherwatch inside the man she made a contract with, Ida, and erases Ex-Aid's existance and the Game World stage.  
After learning of Another Riders and their correlation with the Rider of that time, Geiz goes back to 2016 to defeat Another Ex-Aid, only to keep fighting him due to Another Riders immunity to total defeat unless they are defeated by the Rider they represent or at least have their power.  Sogou comes back in time and tells Geiz that they will fight together and beat Another Ex-Aid and proceed to do so.  Eventually, Sogou obtains the power of Ex-Aid and defeats Ida once and for all, restoring the victims of his hunt.
Obtaining Fourze and Faiz's powers
After the Another Ex-Aid incident, Geiz and Tsukuyomi begin investigating other incidents thinking that they will lead to Another Riders. They happen upon a case where 18 year old Libras have gone missing for a long while dating back since 2011. They eventually find their way to Amanogawa High School where they find Another Fourze and meet the Kamen Rider Club and get the Fourze Ridewatch. Geiz and Sougo eventually find Another Fourze again and battle him, with Sougo transforming into Kamen Rider Zi-O Fourze Armor and defeating him, but once defeated Another Fourze molts into Another Faiz and proceeds to escape the two Riders.
Returning to 9 5 DO, they meet Takumi Inui who intends to help find Another Fourze/Faiz with the intent of stopping his 'friend,' Masato Kusaka, from getting himself killed. They eventually learn of Another Fourze/Faiz's identity, Ryuichi Sakuma, and his connection with Karin Yamabuki, how Sakuma obtained both Faiz's and Fourze's powers, and how he's been using them to keep Karin alive: by taking the lives of people of the same Zodiac sign and age. He eventually escapes the group, but Sougo and Geiz prepare to go back to each Rider's respective years and defeat the Another Riders respectively. To aid in this, Takumi gives Sougo the Faiz Ridewatch to combat Another Faiz, but gives it to Geiz so he can go back to 2003 and defeat him while Sougo goes to 2011 to defeat Another Fourze. There, he confronts Sakuma and Ora and explains how he knows about Sakuma gaining Faiz's powers and how he eventually obtained Fourze's powers with Ora being in shock and asking if Swartz had anything to do with it. Eventually, using the power of Faiz Armor, Geiz defeats Sakmua and returns to 2018.
Obtaining Wizard's Power
Obtaining OOO and Genm's powers
Sometime after the events of Another Wizard, it's announced that the Dan Foundation has ceceded from Japan to become its own independent nation. During the televised broadcast, the founder, Kuroto Dan, takes members of the Diet hostage until his demands are met and transforms civilians into Yummies. He comments on how Kuroto and Oma Zi-O are similar which peaks Sougo's curiosity to the point where he needs to meet Kuroto. They eventually infiltrate his base where they transform to fight off some of Kuroto's Yummies. Eventually, Kuroto appears and reveals that he has obtained the power of Another OOO and proceeds to fight him and Sougo, but are saved by the appears of a Taka Watchroid carrying the Gemn Ridewatch. Geiz theorizes that this Watch is needed to beat Another OOO since it was assumed that the number on OOO's back was 2016, coincidentaly the same year as Ex-Aid's story (which Tsukuyomi points out the similarities between this watch and the Ex-Aid Ride Watch). Geiz goes back to 2016 and tries to defeat Kuroto, but fails since the year and Ridewatch are a bad match. He returns to 2018 to be confronted by Sougo who has seemingly joined Kuroto and his crusade against the world.  Geiz takes this as Sougo's way of saying he will become Oma Zi-O and proceeds to transform and fight him, only to be beaten by him and forced to retreat back to 9 5 DO. He gets angry, believing his attachment to staying with Sougo has damped his desire to rid the world of the most evil demon king and proceeds to leave, but not before aiding Sougo in battling Kuroto and Ora (seemingly) one last time.
Zi-O obtaining Gaim's power
After leaving 9 5 DO, Geiz has nowhere else to go. He runs into Ora and Swartz, wanting to team up and take down Zi-O together. Geiz initially accepts the offer, but goes against them once they start attacking civilians. However, Asura, a former Team Baron dancer, uses his powers as Another Gaim to transport him to Helheim Forest. There, he meets Kaito Kumon, former leader of Team Baron, and insists on leaving Helheim and defeat Sogou. Kaito can't help but laugh at his statement, saying that it's all talk on his part. Geiz denies this, but begins to slowly realize that he's right. Soon after, though, with the aid of a Kodama Sukia Arms, and talking with both Sougos, Geiz begins to have a bit more faith in himself when Kaito tells Geiz of a way he may be able to escape. He leads him to a slightly opened crack in the middle of a large pit, pointing out that Geiz would have to reach that to make it back to their world. Using his bike, Geiz transforms and ride toward the crack, taking a huge leap of faith and almost shorting the fall, but manages to make it to the crack and escape Helheim.  
Soon after his adventure through the forest, Geiz returns to 9 5 DO, reaffirming his desire to defeat Sougo should he ever come close to becoming Oma Zi-O, unknowing that there is an attack going on being made by a mysterious assailant where a familiar Driver.
Zi-O obtaining Ghost's power
Zi-O obtaining Decade's power
Woz obtaining Shinobi's power
Woz obtaining Quiz's power
Becoming GeizRevive
Possible Futures (nullfied)
GeizRevive's Timeline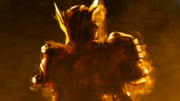 In this timeline, Geiz defeated Oma Zi-O and became known as the world's savior, later evolving into GeizRevive. White Woz describes this timeline to be "at peace, like time itself has stopped". This timeline is likely erased after the fated duel between Zi-O and Geiz that took place in Oma's Day was averted. 

Prophesied Vision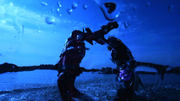 In a version of Oma's Day, seen by Sougo through the use of the Zi-O II Ridewatch, he sees a future of a fated duel between Zi-O II and Geiz to declare which future will be secured. While the dream did not reveal the outcome of the fated battle, it was likely erased after Oma's Day had passed and such battle didn't happen. Another Zi-O 2019

Personality
The majority of Geiz's personality was formed following the death of someone close to him during the war against Oma Zi-O, and became incredibility determined to kill Sougo, as he is destined to become Oma Zi-O in the future. However despite these intentions, Geiz becomes extremely conflicted throughout the series due to him being unable to see Sougo actually become Oma Zi-O, and sincerely pleads with Sougo to throw away his Ziku Driver, to prevent Oma Zi-O to rise to power, and so he doesn't have to kill him. However seeing that Sougo has not only given up being a Kamen Rider but also his dream of becoming a king, Geiz encourages him to take up arms once again and remind him of his dream of becoming a good demon king, taking up a promise instead of a vow to stop Sougo in the event Sougo does embark on a dark path. This conviction wavered slightly upon Sougo's acquisition of Zi-O II and Tsukuyomi's sudden paranoia of his powers, but he stood by his original promise to Sougo when Tsukuyomi returns from the future saying it can be changed for the better. He discreetly declares that no matter where his conviction goes, his vendetta will never fade away completely.
Geiz is also extremely stubborn and arrogant and often wants to resolve problems on his own, but has softened a bit to the idea of Zi-O helping him stop various Another Riders despite their tense relations. Still, this hasn't ceased Geiz's hostility towards Sougo, which worsens when Geiz acquires GeizRevive, which he comes much more cocky and overconfident with his abilities that he underestimates his opponents and becomes determined to the point he is willing to ignore the side effects that using GeizRevive will inflict on him.
Power & Abilities
Stealth Proficiency: Geiz is able to discreetly follow a target or arrive where said target will appear without notice.
German Language Interpretation: Geiz has knowledge of German language as seen when he read Emu's note of the bug of the Another Ex Aid's gate to come inside the game.
Genius-Level Intellect: At the very least, his use of BuildArmor and his finisher, Vortex Time Burst, indicate that Geiz is proficient in equation and scientific formulae.
Knowledge of past Kamen Riders: Geiz is one of two known people (the other being Black Woz) to have knowledge of the past Kamen Riders that came before Zi-O and himself.
Weaknesses
Power Reflection: Geiz will die if his own powers are reflected against him. This is due to the same Riders' powers destroying its corresponding Ridewatch.
GeizRevive Ridewatch: Geiz's continued usage of the GeizRevive Ridewatch puts a strain on his body, since the extraordinary power and speed from GeizRevive Goretsu and Shippu are more that what Geiz's body can handle, as they literally compress and re-stretch his time. This is severe enough to the point that he will bleed from certain points of his body after canceling his transformation. However as of Episode 31, it seems Geiz has pushed his body past the physical strains and no longer suffers from the side effects.
Forms
Like Zi-O, Geiz transforms by inserting the Geiz Ridewatch into the right-hand side of the Ziku-Driver and rotating the Driver 360 degrees. He accesses Rider Armor (ライダーアーマー, Raidā Āmā)[2] forms based on previous Kamen Riders by inserting Ridewatches into the left-hand side of the Ziku-Driver.[3]
Kamen Rider Zi-OTrinity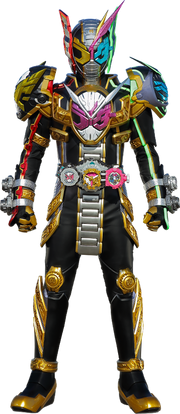 "Rider Time! Kamen Rider Zi-O! Trinity Time! Mitsu no chikara! Kamen Rider Zi-O! Geiz! Woz! T~ri~ni~ty~! Trinity![21]"
―Transformation announcement
Rider Statistics
Ability Parameters
Kamen Rider Zi-OTrinity[22] (仮面ライダージオウトリニティ, Kamen Raidā Jiō Toriniti) is Zi-O's fusion form accessed with the Zi-OTrinity Ridewatch, combining his power with that of Geiz and Woz, with all three of their bodies being merged as well.
As a result, Zi-OTrinity's power surpasses Zi-O II's in every stat. However, it still loses to GeizRevive Goretsu's punching power and GeizRevive Shippu's running speed. Like Zi-O II, this form can destroy Anotherwatches without the need of the corresponding Ridewatch. Zi-OTrinity also has the power to destroy Another Riders who have absorbed the powers of other riders, such as Another Blade, who had also absorbed Chalice's power.
Once this form has been accessed, Sougo, Geiz, and Black Woz appear in a dark room with a large clock. Whoever the clock's hand points to is able to assume full control of Zi-OTrinity. The hand moves automatically, but Sougo can move it himself in order to take control at any time.
Zi-OTrinity is able to summon any of the weapons wielded by Zi-O, Geiz, or Woz.
Zi-OTrinity consists of the following parts:
This form has three finishers:
Equipment
Devices
Weapons
Handheld weapons:
Suit-equipped weapons:
Vehicles
Rider Cards
KamenRide: Geiz: A Rider Card containing the power of Kamen Rider Geiz. Used by Diend to summon Kamen Rider Geiz.

Relationships
Time Jackers
Behind the Scenes
Portrayal
Geiz Myokoin is portrayed by Gaku Oshida (押田 岳, Oshida Gaku). As Kamen Rider Geiz, his suit actor is Yuya Nawata (縄田 雄哉, Nawata Yūya). Geiz is the first Secondary Rider since Zeronos not to have either Eitoku and/or Jun Watanabe as his suit actor.
Etymology
"Geiz" is a German word which means "stinginess" or "miserliness", although the German word is actually pronounced to rhyme with "Fights". However, according to Woz, Geiz actually means "King" (王, Ō) in their series as a counterpart to "Zi-O". It is a pun on English word "Gates" since in Japanese and Ancient Egyptian culture, Emperor of Japan (Mikado) and Pharaoh both having "gate" etymologies: "a gate connects god and human" or "a gate connects humanity and future". The reason why using "Gates" instead of "Gate" is because of Toei staff's superstition. Mystery of Naming. It is later implied another reason for his name being "Gates" instead of "Gate" is due to the already existing use of the word Gate back in Kamen Rider Wizard.
Notes
Geiz's suit design is based on military-style watches.
Geiz and his first two forms were revealed accidentally by a Chinese printing industry staff unintentionally during Kamen Rider Battle: Ganbarizing posters making.[25]
Contrasting with Zi-O's katakana, Geiz bears hiragana on all of his visors and gear.

Geiz's boots have "kick" (

きっく

kikku

) written phonetically in hiragana on the soles.

Geiz breaks the record of the most-earliest secondary rider to debut in the "second phase" of the Heisei era, being debut as a civilian and as a Rider within the first half of the first episode. This broke the record of the previous holder Hiiro Kagami who debuted as a civilian on the first episode of Kamen Rider Ex-Aid and as a Rider one episode later.
Geiz's personality is similar to Hiiro Kagami in the first half of Ex-Aid series, as lampshaded by Emu and Hiiro himself, which seemed to offend Geiz.
The prefixes added to Geiz's Time Burst for Rider Armor finishers are all taken from the original Riders' finishers:
Unlike Zi-O's, all of Geiz's primary Armor forms have no arm mounted weapons of any kind and has either red and black color scheme all them.
GeizRevive was mentioned in Uchusen vol. 164, equal to the word Resuscitation (

蘇生

Sosei

).
GeizRevive bears similarities to previous Riders as follows:

GeizRevive Goretsu and Shippu appear to be a nod to the Survive Rekka and Survive Shippu Advent Cards that Kamen Riders Ryuki and Knight use respectively. The name is also similar.
GeizRevive is similar to Parado/Kamen Rider Para-DX's Level 50 Gamer forms as both could switch between either form by spinning their collectible (Ex. Parado could switch from Puzzle Gamer Level 50 to Knockout Gamer Level 50 and vice versa by turning the knob on the Gashat Gear Dual to the required game and GeizRevive could switch from GeizRevive Goretsu to GeizRevive Shippu and vice versa by spinning the GeizRevive Ridewatch.) the only difference between them is that Geiz can spin the GeizRevive Ridewatch while in the belt and Parado needs to take out the Rider Gashat out of the holder on his belt to do it.
The two may also be a reference to Kamen Rider Build RabbitRabbit and TankTank forms as they were a pair of forms (one strength, and one speed) that could be accessed with the same device, and were both some shade of red and blue.

The shift from GeizRevive Goretsu to Shippu is likely a reference to Geiz's butterfly motif and how a butterfly emerges from its chrysalis.

Coincidentally, it resembles Inazuman although his power form is brown instead of orange.

GeizRevive, strangely, draws elements from the Riders/Miridewatches used to access the form:

Shinobi's speed.
Panels similar to Futurering Quiz.
A weapon with the same metal found in Kikai's armor.

The idea of Geiz overcoming his weakness to the GeizRevive Ridewatch was based on, as confirmed by Shinichiro Shirakura on Twitter , a story where he had a nosebleed that went away after exercising for a week.
If one were to add up the numbers of the future Riders from the year they originated from to obtain the GeizRevive Ridewatch, it becomes 666, also known as the Number of the Beast; which is an ironic number for Geiz who is considered to be the "savior" of an alternate timeline defeating a "demon king".

Shinobi is from 2022 (2+0+2+2 = 6)
Quiz is from 2040 (2+0+4+0 = 6)
Kikai is from 2121 (2+1+2+1 = 6)

Surprisingly enough,Kamen Rider Genm's stats through the use of Dangerous Zombie indicates his punching power of 66.6 tons (Zombie Gamer Level X) and 66.6 meter jump height (Zombie Action Gamer Level X-0). Both are an allusion to the aforementioned Number of the Beast.
Appearances
References
Community content is available under
CC-BY-SA
unless otherwise noted.