"It's a Popipipopanic condition!"
This article is in need of cleanup. You can help us out by editing it!
Reason: Huge chunk of character history missing
Geiz Myokoin (明光院 ゲイツ, Myōkōin Geitsu) is a member of the Resistance from 2068 who fights against the reign of Ohma Zi-O as Kamen Rider Geiz (仮面ライダーゲイツ, Kamen Raidā Geitsu). In an effort to change his apocalyptic future, he travels to 2018 with Tsukuyomi in an attempt to defeat Sougo Tokiwa before he could become Ohma Zi-O.
In an alternative series of events during Oma's Day, he defeated Sougo and became GeizRevive (ゲイツリバイブ, Geitsu Ribaibu), which was expedited by White Woz until his disappearance from the timeline.
After Sougo rewrote the timeline, he was revived and is currently living in 2018 with the name Keito Myokoin (明光院 景都, Myōkōin Keito)[2], with the affectionate nickname Geiz given by his close friends.
History
Background
Much about Geiz's origin is unknown. He hails from the future where Ohma Zi-O rules with an ironfist. He later joins the Resistance and fights against Ohma Zi-O after obtaining Geiz Ridewatch and stealing Ghost and Drive Ridewatches from Zi-O. During one of Resistance's battles, he witnessess arrival of Zi-O from year 2019 right after Ohma Zi-O kills a number of Resistance members. Zi-O's time travel encourages him to travel to past and kill Ohma Zi-O and create a bright future. Though his Resistance ally, Tsukuyomi disagrees with his plan, she discreetly follows him to 2018.

Traveling to the Past
Using his personal Time Mazine, Geiz manages to find the possible identity of Ohma Zi-O, in the form of Sougo Tokiwa. Geiz spent no time trying to chase the young man. However, he was intervened by the timely arrival of Tsukuyomi, who saved Sougo. Geiz then chases them to both the Prehistoric & Edo era, although he lost track of them after Tsukuyomi's Time Mazine accidentally ejects Sougo to the World of Build in 2017.
Geiz later finds Sougo once again, this time already transformed into Zi-O. After he berates Tsukuyomi for her failure in changing history, he proceeds to ask why did Sougo transform into Zi-O. Sougo replied that it was probably his fate since he was born, in which Geiz was somewhat reminded of Ohma Zi-O's declaration of his tyranny. Deeming Sougo as irredeemable, Geiz transforms into Kamen Rider Geiz Ghost Armor, and addresses Sougo as Ohma Zi-O before lunging at him.Kingdom 2068
Zi-O obtaining Build's power
Geiz proceeds to summon four parka ghosts (Ore, Musashi, Edison, and Newton) to attack Zi-O. Geiz then attacks Zi-O relentlessly and proclaim that while Sougo had done nothing wrong in the present, Geiz will kill him for the sake of a brighter future. Geiz then attempts to kill Zi-O using Omega Time Burst, though Tsukuyomi intervened using her Time Mazine. After Tsukuyomi tells Zi-O to run away, Zi-O proceeds to summon his Ridestriker and flee from the scene. Geiz then summons his own Ridestriker to chase Zi-O. However, Geiz lost Zi-O track after a lengthy bike chase. Geiz then cancels his transformation and angrily questions Tsukuyomi for her motive in helping Zi-O. After Tsukuyomi replied that she didn't know either, Geiz orders Tsukuyomi to not interfere with his quest to kill Zi-O.
Geiz and Tsukuyomi later continue their search for Sougo when they notice Another Build appearing once again, even though Zi-O had defeated him before. Another Build then absorbs an nearly athlete into a Fullbottle, and Geiz deduced that the Time Jackers had also appeared in this era. Geiz decides to leave it be and focus on the mission. However, Tsukuyomi stops him as Another Build is about to absorb another athlete. Left without another choice, Geiz proceeds to transform and battle the Another Rider, to no avail.
Just before Another Build could deliver a finishing blow to both Geiz and Tsukuyomi, Zi-O appeared and counter the attack using the Zikan Girade and proceed to ask them if they are okay, much to both Geiz and Tsukuyomi's shock. Tsukuyomi starts to doubt whether Sougo is really Ohma Zi-O or not as Zi-O manages to defeat Another Build, while Geiz is also rendered speechless for Sougo's sincere actions. However, Another Build somehow respawned again, to the trio's shock. As Zi-O deduces that only the real Kamen Rider Build could defeat Another Build permanently, he quickly goes to nascita, while Geiz vents his frustration to Another Build, and manages to defeat him. However, the Another Rider respawns once more.
Geiz proceeds to defeat Another Build again, for the Another Rider to respawn yet again. Geiz's transformation is then cancelled due to exhaustion. Just then, Sougo appeared while holding the Build and Cross-Z Ridewatches. Sougo gives the Cross-Z Ridewatch to Geiz and tells him that they must go to 2017 and defeat Another Build permanently using their newly acquired Ridewatches. They then travel back to 2017 using their Time Mazines.
Sougo and Geiz manage to arrive at the very scene in 2017, only to be interrupted by Heure of the Time Jackers. After Sougo and Uhr exchanged their arguments about the Another Rider, Uhr left the scene. The two Riders then transform and join up with Build and Cross-Z to take down Another Build. However, the change of events in the timeline has caused Build's and Cross-Z's powers to disappear, seemingly transferred into the Cross-Z and Build Ridewatches. Woz later appeared and tells Zi-O that using the Build Ridewatch will make Zi-O able to defeat Another Build, but Sento's memories as Build will be gone. Zi-O steels his resolve and transformed into Zi-O BuildArmor. Woz then joyfully remarks this moment. Zi-O Build Armor is now able to damage the monster, with Geiz subduing him with his Zikan Zax in Yumi Mode. Zi-O uses Vortex Time Break to finish the monster with Geiz utilizing the Zax's finisher equipped with the Cross-Z Ridewatch. As a result of their actions, Another Build does disappear for good, but Sento, now christening himself as Takumi Katsuragi, completely forgets about Sougo as the latter gives two blank Ridewatches for Takumi and Ryuga to safekeep. Geiz demands to know what's with the sudden anomalies in the timeline, but Sougo himself is confused about it as well, only exclaiming that Sento and Ryuga will choose to become Kamen Rider Build and Cross-Z in the future.
The next day, both Tsukuyomi and Geiz decide to rent Junichiro's spare room. Tsukuyomi explains that Sougo's actions make them reaching an agreement to keep an eye on him. Geiz himself says despite Sougo's sincere actions, his vendetta towards him hasn't ceased.
Zi-O obtaining Ex-Aid's power
After moving into Junichiro Tokiwa's shop, Geiz and Tsukuyomi enroll in Sougo's school to better monitor his activities and be prepared to take him down should he become Ohma Zi-O. Sougo is then confronted by Geiz when he questions about his friends and what he's sacrificed to get where he is. Eventually, Another Rider attacks Sougo and they learn that this is in link with a series of events that have caused an unknown illness to spread to various individuals who have been playing a particular game: one that cannot be beaten. They eventually learn of the Genius Gamer M and seek him out, finding their way to Seito University Hospital and meet with Hiiro Kagami who learn that who they suspect to be M, Emu Hojo, has been missing for a while since the mysterious disease started taking people, leaving only a handheld game console and a note written in German. Geiz manages to translate it into a code that is supposed to be inputted into the game and he, Sougo, and Tsukuyomi are transported into what appears to be the Game World where they confront the Another Rider, Another Ex-Aid. They transform, fight, and manage to defeat him, but then out of nowhere, a mysterious doctor appears and transforms into Kamen Rider Ex-Aid and proceeds to fight them as well. Eventually, Ora appears and reactivates the Anotherwatch inside the man she made a contract with, Ida, and erases Ex-Aid's existence and the Game World stage.
After learning of Another Riders and their correlation with the Rider of that time, Geiz goes back to 2016 to defeat Another Ex-Aid, only to keep fighting him due to Another Riders immunity to total defeat unless they are defeated by the Rider they represent or at least have their power. Sogou comes back in time and tells Geiz that they will fight together and beat Another Ex-Aid and proceed to do so. Eventually, Sogou obtains the power of Ex-Aid and defeats Ida once and for all, restoring the victims of his hunt.
Obtaining Fourze and Faiz's powers
After the Another Ex-Aid incident, Geiz and Tsukuyomi begin investigating other incidents thinking that they will lead to Another Riders. They happen upon a case where 18 year old Libras have gone missing for a long while dating back since 2011. They eventually find their way to Amanogawa High School where they find Another Fourze and meet the Kamen Rider Club and get the Fourze Ridewatch. Geiz and Sougo eventually find Another Fourze again and battle him, with Sougo transforming into Kamen Rider Zi-O Fourze Armor and defeating him, but once defeated Another Fourze molts into Another Faiz and proceeds to escape the two Riders.
Returning to 9 5 DO, they meet Takumi Inui who intends to help find Another Fourze/Faiz with the intent of stopping his 'friend,' Masato Kusaka, from getting himself killed. They eventually learn of Another Fourze/Faiz's identity, Ryuichi Sakuma, and his connection with Karin Yamabuki, how Sakuma obtained both Faiz's and Fourze's powers, and how he's been using them to keep Karin alive: by taking the lives of people of the same Zodiac sign and age. He eventually escapes the group, but Sougo and Geiz prepare to go back to each Rider's respective years and defeat the Another Riders respectively. To aid in this, Takumi gives Sougo the Faiz Ridewatch to combat Another Faiz, but gives it to Geiz so he can go back to 2003 and defeat him while Sougo goes to 2011 to defeat Another Fourze. There, he confronts Sakuma and Ora and explains how he knows about Sakuma gaining Faiz's powers and how he eventually obtained Fourze's powers with Ora being in shock and asking if Swartz had anything to do with it. Eventually, using the power of Faiz Armor, Geiz defeats Sakmua and returns to 2018.
Obtaining Wizard's Power
Obtaining OOO and Genm's powers
Sometime after the events of Another Wizard, it's announced that the Dan Foundation has ceceded from Japan to become its own independent nation. During the televised broadcast, the founder, Kuroto Dan, takes members of the Diet hostage until his demands are met and transforms civilians into Yummies. He comments on how Kuroto and Ohma Zi-O are similar which peaks Sougo's curiosity to the point where he needs to meet Kuroto. They eventually infiltrate his base where they transform to fight off some of Kuroto's Yummies. Eventually, Kuroto appears and reveals that he has obtained the power of Another OOO and proceeds to fight him and Sougo, but are saved by the appears of a Taka Watchroid carrying the Gemn Ridewatch. Geiz theorizes that this Watch is needed to beat Another OOO since it was assumed that the number on OOO's back was 2016, coincidentaly the same year as Ex-Aid's story (which Tsukuyomi points out the similarities between this watch and the Ex-Aid Ride Watch). Geiz goes back to 2016 and tries to defeat Kuroto, but fails since the year and Ridewatch are a bad match. He returns to 2018 to be confronted by Sougo who has seemingly joined Kuroto and his crusade against the world. Geiz takes this as Sougo's way of saying he will become Ohma Zi-O and proceeds to transform and fight him, only to be beaten by him and forced to retreat back to 9 5 DO. He gets angry, believing his attachment to staying with Sougo has damped his desire to rid the world of the most evil demon king and proceeds to leave, but not before aiding Sougo in battling Kuroto and Ora (seemingly) one last time.
Zi-O obtaining Gaim's power
After leaving 9 5 DO, Geiz has nowhere else to go. He runs into Ora and Swartz, wanting to team up and take down Zi-O together. Geiz initially accepts the offer, but goes against them once they start attacking civilians. However, Asura, a former Team Baron dancer, uses his powers as Another Gaim to transport him to Helheim Forest. There, he meets Kaito Kumon, former leader of Team Baron, and insists on leaving Helheim and defeat Sogou. Kaito can't help but laugh at his statement, saying that it's all talk on his part. Geiz denies this, but begins to slowly realize that he's right. Soon after, though, with the aid of a Kodama Sukia Arms, and talking with both Sougos, Geiz begins to have a bit more faith in himself when Kaito tells Geiz of a way he may be able to escape. He leads him to a slightly opened crack in the middle of a large pit, pointing out that Geiz would have to reach that to make it back to their world. Using his bike, Geiz transforms and ride toward the crack, taking a huge leap of faith and almost shorting the fall, but manages to make it to the crack and escape Helheim.
Soon after his adventure through the forest, Geiz returns to 9 5 DO, reaffirming his desire to defeat Sougo should he ever come close to becoming Ohma Zi-O, unknowing that there is an attack going on being made by a mysterious assailant where a familiar Driver.
Zi-O obtaining Ghost's power
Zi-O obtaining Decade's power
Woz obtaining Shinobi's power
Woz obtaining Quiz's power
Becoming GeizRevive
Possible Futures (nullfied)
Main Article: Oma's Day
GeizRevive's Timeline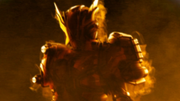 In this timeline, Geiz defeated Ohma Zi-O and became known as the world's savior, later evolving into GeizRevive. White Woz describes this timeline to be "at peace, like time itself has stopped". This timeline is likely erased after the fated duel between Zi-O and Geiz that took place in Oma's Day was averted.

Prophesied Vision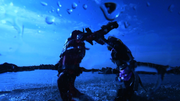 In a version of Oma's Day, seen by Sougo through the use of the Zi-O II Ridewatch, he sees a future of a fated duel between Zi-O II and Geiz to declare which future will be secured. While the dream did not reveal the outcome of the fated battle, it was likely erased after Oma's Day had passed and such battle didn't happen. Another Zi-O 2019

Death
"Zi-O...become Ohma Zi-O...be the king of time..."
"But..."
"You can do it. Become the greatest, kindest demon king..."
"Geiz...don't die!"
"I was so happy to come to this time period. Sougo...being your comrade...and becoming your friend."
―Geiz's final words to Sougo
Geiz ultimately sacrificed his life to prevent Another Decade from killing Sougo. In his last moments, Geiz confessed how happy he was to have met Sougo, and encouraged him to become the greatest and kindest demon king.Losing his only nemesis permanently,Sougo use his powers to upgrade his driver into Ohma Zi-O Driver and furiously use it to transform into Ohma Zi-O.
New Timeline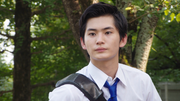 In the new timeline, that was ultimately created, Geiz, Tsukuyomi, Heure, and Ora are all ordinary people attending Hikarigamori High School with Sougo. Now renamed Keito Myokoin and a member of the judo club, offered to wake Sougo up from his dream of becoming king and gave him a judo throw, only to be promptly thrown by Tsukuyomi.
Watching the trio, Heure says he believes that someday Sougo believes that he'll be able to make his dream come true, only for Ora to share some very bad news with the group: they're going to be late for school!
Other Events
NOTE: The following events take place in an alternate timeline following episode 43
Main article: Geiz Myokoin/Over Quartzer
In an alternate timeline, Geiz would travel back in time with Sougo, Woz, and Tsukuyomi under the request of Go Shijima and Krim Steinbelt to protect Krim's ancestor from being killed. In 1575, during the prelude of the Battle of Nagashino, Sougo and Geiz infiltrate Oda Nobunaga's ranks, but Geiz ends up taking Nobunaga's place as Nobunaga runs off and tries to court Clara Steinbelt.

NOTE: The following events take place in an alternate timeline after the events of Over Quartzer
to be added

Kamen Rider Zi-O NEXT TIME: Geiz, Majesty
"I will become a savior."
"A savior?"
―Geiz to Junichiro.
Appearances in other media
Video Games
Kamen Rider Geiz is a playable character alongside the other Kamen Riders.
Personality
Geiz is extremely stubborn and arrogant, often wanting to resolve problems on his own. This stems from the fact that he lost someone close to him during the war against Ohma Zi-O, which left him very distrustful towards others. Because of his rage and desire for vengeance towards Ohma Zi-O, he became incredibly determined to kill Sougo and stop Ohma Zi-O's rise to power. However, as the series progressed, Geiz began to feel extremely conflicted due to his inability to actually see Sougo as Ohma Zi-O due to his kind-hearted nature, and sincerely pleaded the latter to give up being a Kamen Rider, so Geiz didn't have to kill him. However, after seeing that Sougo had not only given up being a Kamen Rider, but also his dream of becoming a king, Geiz was the one who encouraged him to take up arms once again and remind him of his dream of becoming a good demon king, taking up a promise instead of a vow to stop Sougo, in the event that the latter does embark on a dark path. This conviction wavered slightly upon Sougo's acquisition of Zi-O II and Tsukuyomi's sudden paranoia of his powers, which later worsened upon acquiring GeizRevive. He became more cocky and overconfident with his newfound abilities that he underestimated his opponents, and becomed very determined to kill Sougo again, to the point he was willing to ignore the side effects that the Ridewatch inflicted upon him. However, after reconciling with Sougo, he re-stood upon his original promise to Sougo when Tsukuyomi returned from the future, saying it can be changed for the better. He discreetly declared that no matter where his conviction goes, his vendetta will never fade away completely.
Geiz's personality can be likened to the Japanese term "tsundere", which refers to the initial stage of coldness and occasional hostility against a person, a trait that Geiz highly displayed towards Sougo during the beginning of the series, and had only referred to him by his Rider designation instead of his real name. However, as the series progressed, Geiz showed less hostility and began to warm up to Sougo. This is fully shown when Geiz rejects an opportunity to return to 2068, because he wanted to stay in the past and create a new future alongside Sougo. Initially, Geiz was unable to admit this, and instead attacked Sougo for never being able to understand living in 2068, as revealed in his Another World. As Geiz passed away due to Swartz's attempt on Sougo's life, he called Sougo by his name and confessed that he truly did see Sougo as a friend.
After realizing that Sougo's future as Ohma Zi-O can be indeed changed, Geiz finally began to be open with his feelings, with an example being when he and Sougo laughed at Tsukuyomi stopping their seemingly fated clash, rubbing it off as just a mere joke. This sense of humor was again shown when he grappled Black Woz after finding out the latter was now his roommate, much to his dismay. Like Sougo, Geiz began showing his kindness more openly towards others, to the point of showing empathy towards Chase (Zi-O) in his final moments and calling him a friend.
Family
Abilities
Expert Combatant: As member of Resistance, he was trained to fight against the Ohma Zi-O. Without transformed, he was able to briefly fight against Another Faiz and knock him back with two kicks. He also land a jumping hit on Another Zi-O and knocked him back, albeit his hands bled in the process.
Stealth Proficiency: Geiz is able to discreetly follow a target or arrive where said target will appear without notice.
German Language Interpretation: Geiz has knowledge of German language as seen when he read Emu's note of the bug of the Another Ex Aid's gate to come inside the game.
Knowledge of Past Kamen Riders: Geiz is one of two known people (the other being Black Woz) to have knowledge of the past Kamen Riders that came before Zi-O and himself. However, he is still less knowledgeable than Black Woz, as he wasn't shown to have any knowledge regarding Faiz (when asked by So Okuno about the Faizphone, he said he doesn't know Faiz), OOO (as he saw Another OOO, he read 2016 instead 2010 (because of a scar on the Another Rider skin) proving that he doesn't know him), Genm (in the same way as OOO, he wasn't aware of Genm), and A.R. World Riders like Decade and Diend, who are obviously unknown to his world. #5.5 Tokiwa-sōGO and the Mysterious Phone #9 Genm Master 2016
Weaknesses
Power Reflection: Geiz will die if his own powers are reflected against him. This is due to the same Riders' powers destroying its corresponding Ridewatch.
GeizRevive Ridewatch (Formerly): Geiz's continued usage of the GeizRevive Ridewatch puts a strain on his body, since the extraordinary power and speed from GeizRevive Goretsu and Shippu are more that what Geiz's body can handle, as they literally compress and re-stretch his time, like a wave (like sound or light). This is severe enough to the point that he will bleed from certain points of his body after canceling his transformation (nose, ears, eyes). However as of Episode 31, it seems Geiz's body has becomed accustomed to the physical strains and no longer suffers from the side effects.
Heavy Acceleration: Another Drive's Heavy Acceleration ability that is derived from Roidmudes can counter GeizRevive Shippu's High Speed Movements, making him vulnerable towards any attack due to having low defence power.
Phasmophobia: Geiz developed an extreme fear of ghosts after viewing a horror film. When fighting Another Gaim, Ghost and Hibiki, all of which are ghosts, he is visibly shaking in fear and can't fight properly until his fear causes the Ghost Ridewatch to temporarily transform into the Bibill Ridewatch.
Forms
Like Zi-O, Geiz transforms by inserting the Geiz Ridewatch into the right-hand side of the Ziku-Driver and rotating the Driver 360 degrees. He accesses Rider Armor (ライダーアーマー, Raidā Āmā)[3] forms based on previous Kamen Riders by inserting Ridewatches into the left-hand side of the Ziku-Driver.[4]
Kamen Rider Geiz's ending theme is entitled "FUTURE GUARDIAN", and is performed by Geiz (Gaku Oshida) himself.
Kamen Rider Zi-OTrinity
"Rider Time! Kamen Rider Zi-O! Trinity Time! Mittsu no chikara! Kamen Rider Zi-O! Geiz! Woz! T-rin-i-ty~! Trinity![25]"
―Transformation announcement
Rider Statistics[26]
Rider Height: 203.6 cm
Rider Weight: 116.4 kg
Ability Parameters[26]
Punching Power: 37.4 t
Kicking Power: 86.8 t
Maximum Jump Height: 98.5 m
Maximum Running Speed: 100 m per 1.6 seconds
Kamen Rider Zi-OTrinity (仮面ライダージオウトリニティ, Kamen Raidā Jiō Toriniti)[26] is Zi-O's fusion form accessed with the Zi-OTrinity Ridewatch, combining his power with that of Geiz and Woz, with all three of their bodies being merged as well.
As a result, Zi-OTrinity's power surpasses Zi-O II's in every stat. However, it still loses to GeizRevive Goretsu's punching power and GeizRevive Shippu's running speed. Like Zi-O II, this form can destroy Anotherwatches without the need for the corresponding Ridewatch. Zi-OTrinity also has the power to destroy Another Riders who have absorbed the powers of other riders, such as Another Blade, who had also absorbed Chalice's power.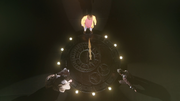 Once this form has been accessed, Sougo, Geiz, and Black Woz appear in a dark room with a large clock. Whoever the clock's hand points to is able to assume full control of Zi-OTrinity. The hand moves automatically, but Sougo can move it himself in order to take control at any time.
Zi-OTrinity is able to summon any of the weapons wielded by Zi-O, Geiz, or Woz.
Zi-OTrinity consists of the following parts:
Trinity Caliber (

トリニティキャリバー

Toriniti Kyaribā

) - The helmet.

Trinity Clock Blade (

トリニティクロックブレード

Toriniti Kurokku Burēdo

) - The clock hands. They serve as a sort of data acquisition system. The pink long Trinity Baryon Hand (

トリニティバリオンハンド

Toriniti Barion Hando

) predicts temporal information, such as enemy timing. Meanwhile, the short golden Trinity Meson Hand (

トリニティメソンハンド

Toriniti Meson Hando

) measures spatial information, such as the distance between Zi-OTrinity and the enemy as well as landing points of finishers. Because both hands are integrated with the Indication Trinity Eye visor, accumulated data can be transferred, which, in addition to visual information, can greatly reduce errors of a prediction.
Sona Crest (

ソナクレスト

Sona Kuresto

) - An information aggregation unit located within the 'Kamen' symbol on the forehead. It integrates and analyzes information received from various sensors, derive optimum solutions, adjust the system step of Zi-OTrinity.
Indication Trinity Eye (

インジケーショントリニティアイ

Injikēshon Toriniti Ai

) - The visor which spells out "Rider". Sensors with a 270° viewing angle is built into the compound eye and displays the current state of Zi-OTrinity. The visor is split into three colors to represent the three Kamen Riders that compose Zi-OTrinity: Zi-O (magenta; center), Geiz (yellow; right), and Woz (cyan; left). Each color glow independently when a certain Rider's power is used (For example, the yellow portion of the visor will glow if Geiz's power is used).
Orb Bezel (

オーブベゼル

Ōbu Bezeru

) - The frame that encloses the face part. The frame is made of the special metal alloy Graphenium (

グラフェニウム

Gurafeniumu

), which, while flexible, maintains rigidity. The Orb Bezel is linked with the Cerberus Armor Liners to receive a soft impact.

Breaster Zi-O (

ブレスタージオウ

Buresutā Jiou

) - The chest armor emblazoned with Kamen Rider Zi-O's face. Zi-O's consciousness is stored within it via biophoton extraction (

バイオフォトン抽出

baiofoton chūshutsu

), and it also functions as a communication device in the state where Zi-O is inactive of control over his body.
Shoulder Geiz (

ショルダーゲイツ

Shorudā Geitsu

) - the right shoulder armor emblazoned Kamen Rider Geiz's face. Geiz's consciousness is stored within it via biophoton extraction, and it also functions as a communication device in the state where Geiz is inactive of control over Zi-O's body.
Shoulder Woz (

ショルダーウォズ

Shorudā Wozu

) - the left shoulder armor emblazoned with the Kamen Rider Woz's face. Woz's consciousness is stored within it via biophoton extraction, and it also functions as a communication device in the state where Woz is inactive of control over Zi-O's body.
Trinity Time Arm (

トリニティタイムアーム

Toriniti Taimu Āmu

) - The arms. Because they contain three times the amount of "Nanotube Muscle" (

ナノチューブ筋

Nanochūbu-kin

) tubing, the strength of three Kamen Riders can be put behind one punch. Additionally, the "Arrow Integrator" (

アローインテグレーター

Arō Integurētā

) device within the Trinity Time Arms allow Zi-OTrinity to easily pulverise an Another Rider.
Trinity Hand (

トリニティハンド

Toriniti Hando

) - The hands. An inbuilt power energy conversion mechanism dramatically improves the grip during transformation and gives it a mysterious power. In addition, the metal Sona Bite (

ソナバイト

Sona Baito

) armor that covers the fingertips punches and chops an additional cutting power.
Cerberus Arm Liner M (

サーベラスアーマライナーM

Sāberasu Āma Rainā M

) - The silver band in the middle representing Zi-O himself that serves as a bio-enhancement device. It is a soft metal armor made of High Smooth Graphenium (

ハイスムースグラフェニウム

Hai Sumūsu Gurafeniumu

) connecting from the head to the Ziku-Driver to strengthen the midline protection without obstructing movement. There is an energy path inside, which converts the energy generated by the driver into bioenergy and supplies it to each part.
Cerberus Arm Liner R (

サーベラスアーマライナーR

Sāberasu Āma Rainā R

) - The red and black band on the right side representing Geiz. Serves as a bio-enhancement device. It is a type of soft metal armor made of High Smooth Graphenium (

ハイスムースグラフェニウム

Hai Sumūsu Gurafeniumu

), and runs from the head to the wrist, strengthening the protection of the right side without obstructing movement. It has an energy path inside and has the role of supplying bioenergy to each part.
Cerberus Arm Liner S (

サーベラスアーマライナーS

Sāberasu Āma Rainā S

) - The green and black band on the left side representing Woz that serves as a bio-enhancement device. It is a type of soft metal armor made of High Smooth Graphenium, and runs from the head to the wrist, strengthening the protection of the left side without obstructing movement. It has an energy path inside and has the role of supplying bioenergy to each part.
Recon Strike Suit (

リコンストライクスーツ

Rikon Sutoraiku Sūtsu

) - The bodysuit. By condensing particles from three bodies into one, it is possible to create a strong body with three times the internal density. In addition, golden armor pieces dubbed the Calligraphy Sona Frame (

カリグラフィーソナフレーム

Karigurafī Sona Furēmu

) is placed on each part of the body, and it interferes with each other to form a powerful defensive field called Trinity Shielder (

トリニティーシールダー

Torinitī Shīrudā

).
Trinity Time Leg (

トリニティタイムレッグ

Toriniti Taimu Reggu

) - The legs. Because they contain three times the amount of Nanotube Muscle tubing, the strength of three Kamen Riders can be put behind one kick. Additionally, the Arrow Integrator device within the Trinity Time Arms allow Zi-OTrinity to easily pulverise an Another Rider.
Sona Count Pad (

ソナカウントパッド

Sona Kaunto Paddo

) - The kneepads. It is installed at various places in the body, and instantaneously measures the received impact and information of the object, and sends it to the head Sona Crest.
Cubic Leg Armor (

キュービックレッグアーマー

Kyūbikku Reggu Āmā

) - The shin guards. Within the Graphenium alloy armor, the Cubic Arts (

キュービックアーツ

Kyūbikku Ātsu

) device that can combine every kicking technique in existence is installed. In addition, when a special move is initiated, the 'Trinity Shielder' defensive field formed by the golden Calligraphy Sona Frame can be redirected as an attack to increase destructive power.
Trinity Shoes (

トリニティシューズ

Toriniti Shūzu

) - The feet. The speed energy conversion mechanism dramatically improves agility during transformation and increases jumping and running ability. In addition, the Sona Bite (

ソナバイト

Sona Baito

) armor that covers the toes produces increases kicking power by adding a sharpness factor.
Ziku-Driver finishers

Solo Time Break (

ソロタイムブレーク

Soro Taimu Burēku

):
Duo Time Break Burst (

デュオタイムブレークバースト

Dyuo Taimu Burēku Bāsuto

):
Trinity Time Break Burst Explosion (

トリニティタイムブレークバーストエクスプロージョン

Toriniti Taimu Burēku Bāsuto Ekusupurōjon

):
A green energy cube and a series of magenta "Kick" (

キック

Kikku

) characters appear and circle the enemy. Zi-OTrinity then leaps into the air as a series of yellow "Kick" (

きっく

Kikku

) characters line up with his foot, and the magenta characters merge into one imprint. His Rider Kick sends the enemy flying into the energy cube which then turns into a timer that detonates the instant it hits zero.
Zi-O Trinity runs toward the enemy as three Riders projection merge into one imprint and release a side Kick.
Zi-OTrinity leaps into the air, followed by three Riders projection merge into one imprint, as he accelerates his body towards the target, a series of yellow "Kick" (

きっく

Kikku

) characters line will appear around the target. His Rider Kick then destroys the target instantly.
Zi-O performing a 360 degree horizontal slash on surrounding enemies with the pink characters also left behind like a trail. 2001: Unknown Memory
Zi-O performs a extended version of King Giri Giri Slash.2068: Ohma Time
Appearances: Zi-O Episodes 30-32, 34-35, 38-39, 46, 48, Reiwa The First Generation
Equipment
Devices
Weapons
Handheld weapons:
Suit-equipped weapons:
Legend Rider weapons used by GeizMajesty:
GM-01 Scorpion
GG-02 Salamander
GS-03 Destroyer
GA-04 Antoures
GX-05 Kerberos
GK-06 Unicorn
Darkvisor
Winglancerd
Dark Blade
Wingwall
Dark Arrow
Ongekikan Reppuu
Ongekibou Yamase
ZeroGasher
Denebick Buster
Meteor Galaxy
Meteor Storm Shaft
Bana Spear
Mango Punisher
Sonic Arrow
Apple Reflecter
Gan Gun Hand
Deep Slasher
Beat Closer
Twin Breaker
Cross-Z Magma Knuckle
Vehicles
Rider Cards
KamenRide: Geiz: A Rider Card containing the power of Kamen Rider Geiz. Used by Diend to summon Kamen Rider Geiz.

Relationships
Time Jackers
Behind the Scenes
Portrayal
Geiz Myokoin is portrayed by Gaku Oshida (押田 岳, Oshida Gaku). As Kamen Rider Geiz, his suit actor is Yuya Nawata (縄田 雄哉, Nawata Yūya), while Kosuke Asai (浅井宏輔, Asai Kosuke) portrayed Kamen Rider Geiz from Episode 47 to 49. Geiz is the first Secondary Rider since Zeronos not to have either Eitoku and/or Jun Watanabe as his suit actor. Oshida himself personally suit-acted as Geiz in Kamen Rider Zi-O: Final Stage.
Etymology
"Geiz" is a German word which means "stinginess" or "miserliness", although the German word is actually pronounced to rhyme with "Fights". However, according to Woz, Geiz actually means "King" (王, Ō) in their series as a counterpart to "Zi-O". It is a pun on English word "Gates" since in Japanese and Ancient Egyptian culture, Emperor of Japan (Mikado) and Pharaoh both having "gate" etymologies: "a gate connects god and human" or "a gate connects humanity and future". The reason why using "Gates" instead of "Gate" is because of Toei staff's superstition. Mystery of Naming. It is later implied another reason for his name being "Gates" instead of "Gate" is due to the already existing use of the word Gate back in Kamen Rider Wizard.
Notes
Geiz's suit design is based on military-style watches.
Geiz and his first two forms were revealed accidentally by a Chinese printing industry staff unintentionally during Kamen Rider Battle: Ganbarizing posters making.[28]
Contrasting with Zi-O's katakana, Geiz bears hiragana on all of his visors and gear.

Geiz's boots have "kick" (

きっく

kikku

) written phonetically in hiragana on the soles.

Geiz breaks the record of the most-earliest secondary rider to debut in the "second phase" of the Heisei era, debuting as a civilian in the first half of the first episode, and as a Rider on the latter half of the same episode. This broke the record of the previous holder Hiiro Kagami who debuted as a civilian on the first episode of Kamen Rider Ex-Aid and as a Rider one episode later.
Geiz's personality is similar to Hiiro Kagami in the first half of Ex-Aid series, as lampshaded by Emu and Hiiro himself, which seemed to offend Geiz.
Geiz's transformation poses seems to be a combination of Ryuki's Final Vent Pose and Shinnosuke Tomari's transformation pose prior to setting his hands to rotate the Ziku Driver.
The prefixes added to Geiz's Time Burst for Rider Armor finishers are all taken from the original Riders' finishers:
Unlike Zi-O's, all of Geiz's primary Armor forms have no arm mounted weapons of any kind and has either red and black color scheme all them.
GeizRevive was mentioned in Uchusen vol. 164, equal to the word Resuscitation (

蘇生

Sosei

).
GeizRevive bears similarities to previous Riders as follows:

GeizRevive functions similarly to Parado/Kamen Rider Para-DX's Level 50 Gamer forms as both could switch between either form by spinning their collectible.
The two may also be a reference to Kamen Rider Build RabbitRabbit and TankTank forms as they were a pair of forms (one strength, and one speed) that could be accessed with the same device, and were both some shade of red and blue.

The shift from GeizRevive Goretsu to Shippu is likely ties into Geiz's butterfly motif and how a butterfly emerges from its chrysalis.
GeizRevive, draws elements from the Riders/Miridewatches used to access the form:

Shinobi's speed.
Panels similar to Futurering Quiz.
A weapon with the same metal found in Kikai's armor.

The idea of Geiz overcoming his weakness to the GeizRevive Ridewatch was based a story where Shinichiro Shirakura had a nosebleed that went away after exercising for a week.[29]
Geiz is the only rider in series to use Hiragana instead of Katakana.
Geiz's last act in final episode somewhat closed a loop of resolve he had about Ohma Zi-O: he arrived to the past in order to destroy Sougo before he become the tyrannical ruler of time, but as time passes his resolution is slightly reduced to only prevent Sougo from fulfilling his destiny and, ultimately, acknowledging him as a friend; Geiz's death finally ignited Sougo's anger and triggered his transformation into Ohma Zi-O, even before his own death, Geiz begged for Sougo to become Ohma Zi-O.
GeizMajesty's shoulder pads are retooled and repainted from Kamen Rider Zamonas, his helmet is repainted from Kamen Rider Geiz's normal helmet, and his chest armor is retooled and repainted from WizardArmor.

Like Kamen Rider GrandZi-O, GeizMajesty draws similarities to the Final Forms of his predecessors.

Just like Kamen Rider Diend's Complete Form, both are movie-exclusive forms that are similar in design to the Final Forms of the Main Riders of their respective shows but with some differences.

In Chou Eiyuu Sai 2020, GeizMajesty is implied to display the power to summon any Secondary Rider.[30]
Appearances
References
Community content is available under
CC-BY-SA
unless otherwise noted.