Wiki Targeted (Entertainment)
Play Sound
For the original version, see Jiro.
Garulu (ガルル, Garuru) of the Wolfen Race (ウルフェン族, Urufen Zoku) was one of the Arms Monsters, the servants of Kiva, each the last of his kind. They support Kiva by turning into the weapons that allow Kiva to change form. 「Second Movement ♬ Prince Kiva」 They were absorbed into Beetle Fangire's breast plate and shoulder armor when they question their new king's intentions of removing the human/Fangire coexistence law. 「The Biting King's Qualifications」

Forms
Garulu Saber

The Demon-Beast Sword Garulu Saber (魔獣剣ガルルセイバー, Majūken Garuru Seibā) is a weapon that Garulu assumes for Kiva to change into Garulu Form. Though in a statuette form when summoned, the Garulu Saber assumes a Kris form once in Kiva's hand. One of its abilities is to fire a shockwave named Howling Shock (ハウリングショック, Hauringu Shokku) from the hilt. The Garulu Saber can be use for the finishing attack Garulu Howling Slash (ガルル・ハウリングスラッシュ, Garuru Hauringu Surasshu). This is done by first having Kivat perform a Garulu Bite (ガルルバイト, Garuru Baito) on the blade of the Garulu Saber after which Kiva holsters, by way of "biting", the weapon in his mouth as he charges at the Fangire, jumping in the air to slash the Fangire into two as he lands in front of it. [1]
Fuestle
Garulu Fuestle (

ガルルフエッスル

,

Garuru Fuessuru

): Kiva uses this Fuestle to summon Garulu from Castle Doran.
Behind the scenes
Portrayal
This version of Garulu is voiced by Isshin Chiba (千葉 一伸, Chiba Isshin) and portrayed by an unidentified suit actor.
Concept Art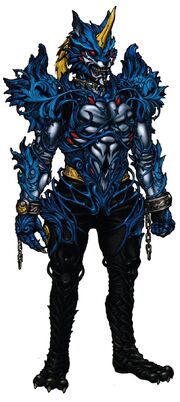 Garulu was designed by Tamotsu Shinohara (篠原 保, Shinohara Tamotsu).

References