Wiki Targeted (Entertainment)
Play Sound
This article is about a/an monster in Kamen Rider, the original series.
Gamaguiler (ガマギラー, Gamagirā, 34, Rider vs Shocker) – A toad monster. His personal emblem was a silhouette of his own head. He was able to release nerve gas and fought with a chain weapon. He was tasked with killing Dr. Origuchi as well as his witness, Kinuko, and destroying the documents connected to Shocker's secrets. Kamen Rider 2 cut through a Cessna airplane which exploded afterward with Gamaguiler inside with his Rider Jump. Gamaguiler made a brief return appearance in the monster army of the Kamen Rider vs. Shocker movie but did not actually have an active participation there.

Appearances in other media
Kamen Rider Manga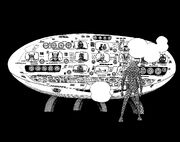 Gamaguiler briefly appeared in Shotaro Ishinomori's original Kamen Rider manga, appearing on one of Big Machine's monitors.

Kamen Rider
Kamen Riders
Takeshi Hongo - Hayato Ichimonji
Movie/Special Exclusive Riders
Kyoichiro Kuroi - Kamen Rider 4
Manga/Novel Exclusive Riders
Taki Rider - Kamen Rider Gaia
Gear
Typhoon - Cyclone - New Cyclone - TriCyclone - Sky Cyclone - Neo Cyclone
Allies
Tōbei Tachibana - Kazuya Taki - Ruriko Midorikawa - Hiromi Nohara -Mari - Yuri - Michi - Goro Ishikura - Mayu Tachibana
Kamen Rider
Shiro Kazami - Yuki Joji - Keisuke Jin - Daisuke Yamamoto - Shigeru Jo - Hiroshi Tsukuba - Kazuya Oki - Ryo Murasame - Kohtaro Minami - Momotaros - Kotaro Nogami - Tsukasa Kadoya - Eiji Hino - Gentaro Kisaragi - Kouta Kazuraba - Takeru Tenkuji - Makoto Fukami
Other Heroes
Ultraman

- Ressha Sentai Toqger

Shocker
Great Leader of Shocker
Colonel Zol -

Doctor Death

- Ambassador Hell - Shocker Combatmen
Shocker Kaijin
Spider Man - Bat Man - Scorpion Man - Sarracenian - Mantis Man - Grimreaper Chameleon - Bee Woman - Cobra Man - Gebacondor - Yamogeras - Tokageron - Sabotegron - Phirasaurus Human - Hitodanger - Kanibubbler - Dokugandar - Amazonia - Musasabeedle - Kinokomorgu - Antlion Thunder - Mukaderas - Mogurang - Kuragedarl - Zanburonzo - Arigabari - Dokudahlian - Armadillong - Gamagirah - Arikimedes - Egyptus - Torikabuto - Eiking - Experimental Wolf Man - Snowman - Ghoster - Fly Man - Pranodon - Kabibinga - Namekujira - Bearkonger - Todogirah - Hiruguerrilla - Isoginchak - Kamestone - Unicornos - Gilgalass - Zanjioh - Jaguarman - Sea Snake Man - Cockroach Man - Gireera - Dokumondo - Poison Lizard Man - Earthworm Man - Owl Man - Namazugiller - Harinezuras - Saigang - Semiminga - Kabutorong - Kamikirikid - Girizames - Gillerkorogi - Elekibotaru - Abugomens - Mosquiras - Shiomaneking - Shiracuras - Bararanga - Seadragons - Imoriges - Unidogma - Poison Scorpion Man
Gel-Shocker
General Black - Doctor D - Gel-Shocker Combatmen
Shocker Riders: Shocker Rider No.1 - Shocker Rider No.2 - Shocker Rider No.3 - Shocker Rider No.4 - Shocker Rider No.5 - Shocker Rider No.6
Ganikomol - Sasoritokages - Kuragewolf - Inokabuton - Isoginjaguar - Utsubogames - Washikamagiri - Kumolion - Nekoyamori - Canarycobra - Nezucondor - Mukadetiger - Haetoribachi - Eidokugar - Namekujikinoko - Garaox - Sabotenbat
Nova Shocker
Urga - Igura - Buffal - Nova Shocker Combatmen
View • Edit