"Wait, this Shift Car is not yet complete!"
This article is a stub, meaning it needs more info. You can improve this Kamen Rider Wiki article by expanding it.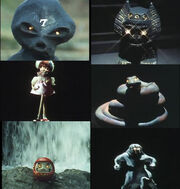 G.O.D. General Commander (GOD総司令, Goddo Sō Shirei): A mystery man who commands the monsters using various objects with tape recorders which record his commands.
Behind the scenes
Portrayal
The G.O.D. General Commander was voiced by Osamu Saka (阪 脩, Saka Osamu).
Identity
Though directing G.O.D.'s monsters in the first half of the series, the true leader of the organization was ultimately revealed to be King Dark, which was itself revealed to be merely a mecha piloted by Dr. Noroi (Ayao Wada (和田 文夫, Wada Ayao)). Though the earlier General Commander's relationship with Dr. Noroi is never defined in the TV series, the SIC Hero Saga novel Kamen Rider X: Son of Zeus takes the view that the two leaders are one and the same.
Alternative names
In the draft scripts for X, the G.O.D. General Commander was alternately known as Demon Zeus (デーモンゼウス, Dēmon Zeusu), befitting the Greek mythology motif of G.O.D.'s earlier monsters, and Demon Commander (デーモン司令, Dēmon Shirei).[1] The former name was adopted by Mitsuru Suguya's adaptation of X.
Appearances
References
Community content is available under
CC-BY-SA
unless otherwise noted.