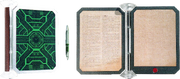 The Future Note (未来ノート, Mirai Nōto) is a notebook from the alternate 2068 which was held by White Woz, both as a civilian and as Kamen Rider Woz.[1]
It is White Woz's version of the Ohma Advent Calendar that belongs to Black Woz.
After White Woz's disappearance in Episode 30, the Future Note went into the possession of Daiki Kaito (Kamen Rider Diend) as a part of his Treasure Collection.
A new copy of Future Note was created in episode 45 when White Woz was revived through the creation of Another World by Swartz out of the lost possibility of emergence of GeizRevive's Timeline. However, in the very next episode, it vanished along with its revived user due to Another World's destruction.
In Kamen Rider Zi-O NEXT TIME: Geiz, Majesty, a new White Woz owned an alternate version of the book named as The Legend of Savior (救世主伝説, Kyūseishu Densetsu).

Overview
The notebook's main ability is to manipulate the future events to his desire just by writing or speaking a short description of it. This ability is powerful enough to influence both humans and inanimate objects alike, as well as cancelling a Time Jacker's temporal freezing.Happy New Woz 2019 When influencing humans, the target in question has no awareness of what they were doing until the event was completed.The Quiz Shock 2040 However, this ability can be countered if an opponent stops Woz from writing or turning on the voice recognition system. The Future Note possesses a major drawback in the fact that vague wording or ambiguous syntax can create loopholes which others can exploit. This allowed Black Woz to steal his Kamen Rider powers with the aid of Heure and Hiryu Kakogawa, thanks to White Woz losing the Miridewatch and trying to reclaim it by writing "The powers return to Woz" in the Future Note without specifying which Woz. The Beginning of Everything 2009
Notes
The Future Note is left unnamed throughout the entire show until it is mentioned by Daiki Kaito in episode 29.
Appearances
References
Community content is available under
CC-BY-SA
unless otherwise noted.