Boba Fett Returns - The Loop
Play Sound
Foras (フォラス, Fuorasu) was the leader of Team Green Dolls who was able to transform into Kamen Rider Proto Gridon (仮面ライダープロトグリドン, Kamen Raidā Puroto Guridon), however Foras was over thrown by Yukimura who was also able to transform into an Armored Rider. Foras later uncontrollably transformed into an Inves and started on a rampage, later Foras was stabbed by Aym with only saying his one final word "Aym".
History
to be added
Powers and Abilities
to be added
Personality
to be added

Forms
Donguri Arms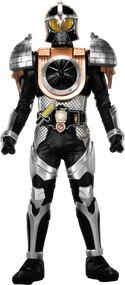 "Come On! Donguri Arms! Never give up!"
―Transformation announcement
Donguri Arms (ドングリアームズ, Donguri Āmuzu, lit. "Acorn Arms") is Proto Gridon's default acorn-based armored Medieval Squire form. Accessed through the Donguri Lockseed, this form bears the Dome Casque (ドームカスク, Dōmu Kasuku) helmet with the Nut Eye (ナットアイ, Natto Ai) visor.
While assuming Donguri Arms, Proto Gridon dons the Donguri Armor Part (ドングリアーマーパート, Donguri Āmā Pāto, lit. "Acorn Armor Part") and his Arms Weapon is the Donkachi.
Appearances:
Kamen Rider Zangetsu Stage -Gaim Gaiden-
Equipment
Devices
Weapons
Behind the scenes
Portrayal
Foras was portrayed by Ketsuya Uno (宇野 結也, Uno Ketsuya).
Appearances