Wiki Targeted (Entertainment)
Play Sound
"I shall become the first Kamen Rider!"
―Finis
"Aren't the powers of Riders derived from evil itself?"
―Finis to Sougo, referring to the Cross of Fire
Finis (フィーニス, Fīnisu) is a Time Jacker from the World of Zero-One and the main antagonist of Kamen Rider: Reiwa The First Generation who created Another Zero-One and prevented the Daybreak Town Accident from happening. Wanting all of the Rider powers, Finis transformed into Another 1 (アナザー1号, Anazā Ichigō), an Another Rider derived from Kamen Rider 1.
History
Finis is a Time Jacker seeking to destroy the history of Kamen Riders. To do so, Finis successfully changes the past by aiding Will in helping the Ark realize its goal to terminate all of humanity. Finis divulges the fact that Soreo Hiden managed to create a self-destruct sequence that would prevent the satellite Ark from launching into space. Using that knowledge, Will prevents the events that predate the original timeline and he succeeds in changing history, giving HumaGears the opportunity to rule the Earth.
Finis's goal was to draw out Sougo and steal his powers, attaining the power of Another 1, becoming the First Rider to change the history of the Kamen Riders which Finis viewed to be a mistake. Upon returning into the present Sougo would confront Finis about this, Finis states that the power of Riders is evil and since its birth, the power of evil is used for good before transforming into Another 1 and battles Sougo as Zi-O II before Sougo replied that the power of the Kamen Rider is not for Finis to decide. Another 1 dominates most of the fight and combines with Geiz's Time Mazine, transforming into Another New 1 and causes Sougo to revert to his base form. Sougo then deduces that if they destroy the Time Mazine, history will revert back to normal. Sougo and Aruto then destroy Another 1 and save the timeline.
Personality
Finis has a strong similarity to Swartz and Tid for having their mind is the truth and must what has to become. Finis has a strong view that Kamen Riders are evil and should have been like that, this view pushes the Time Jacker to recreating the history of the Kamen Riders.

Powers and Abilities
Time Manipulation: Finis possesses the Time Jackers' ability to freeze time, immobilizing enemies once this power is activated.
Teleport: Finis is able to teleport in a small distance.
Weaknesses
Geiz's Time Mazine: Because Finis stole Geiz's Time Mazine to travel back in time, the destruction of the Time Mazine in the present would cause a ripple effect and reverse the alterations made by the Time Jacker, since Finis wouldn't have something to travel in time with.
Forms
Another 1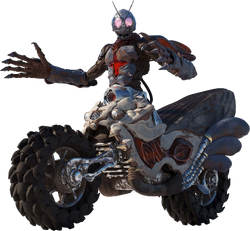 "Ichigō!"
―Transformation announcement
Height: 10.19 m
Weight: 9.1 t
Creator: Finis
Year of Origin: 2007
Ability Parameters
Punching Power: 65.1 t
Kicking Power: 92.4 t
Maximum Jump Height: 86.5 m
Maximum Running Speed: 500 m per 4.6 seconds
Another 1 (アナザー1号, Anazā Ichigō) is the Another Rider form of Finis after the Time Jacker absorbed a portion of every Kamen Rider's power from Sougo Tokiwa. Due to its massive size, Another 1 possesses both monstrous strength and durability. Its lower body, which is based on a Rider Machine, allows Another 1 to move at high speed.
Because of this, in this form, all of Another 1's stats surpasses all Kamen Riders in the movie, and is even stronger than Another Zero-One, an Another Rider whom it created earlier.
Powers and Abilities:
Energy Balls: Another 1 can fire red fire balls of energy at the enemy from its mouth.
Appearances: Kamen Rider: Reiwa The First Generation
Another New 1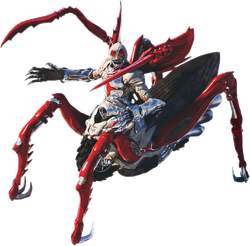 Height: 12.75 m
Weight: 10.8 t
Creator: Finis
Year of Origin: 2019
Ability Parameters
Punching Power: 116.5 t
Kicking Power: 165.3 t
Maximum Jump Height: 177 m
Maximum Running Speed: 500 m per 2.4 seconds
Another New 1 (アナザー新1号, Anazā Shin Ichigō) is the evolved form of Another 1 after absorbing Geiz's Time Mazine. Another 1 gains grasshopper-like appendages on their lower body and back in this form.
In this form, all of Another New 1's stats are significantly strengthened, with its punching and kicking power almost doubled, making it slightly stronger than Kamen Rider Grand Zi-O in terms of physical stats. Its jumping height is also doubled, but most likely due to its heavy weight, it does not rely on this stat.
Powers and Abilities:
Energy Balls: Like its previous form, Another New 1 can fire red fire balls of energy at the enemy from its mouth.
Energy Slashes: Another New 1 infuses its back mantis arms with energy to perform a powerful slashing attack charged with red energy.
Time Leap: Due to Another New 1 having power of Geiz's Time Mazine, it can leap through time freely, but was never demonstrated.
Appearances: Kamen Rider: Reiwa The First Generation
Equipments
Behind the Scenes
Portrayal
Finis is portrayed by Rina Ikoma (生駒 里奈, Ikoma Rina). As Another 1, the monster is voiced by Kouji Ishii (石井 康嗣, Ishii Kōji).
Etymology
Finis's name is from the Latin word "Finis", which means "end". "Finis" could also from "Finish" in English.
Concept Art
Another 1 was designed by Tamotsu Shinohara (篠原 保, Shinohara Tamotsu).
Notes
Finis' goal of becoming the "first Kamen Rider" is not only a reference to Kamen Rider 1, who their Another Rider form is based on, but also their desire to become the only Kamen Rider in existence, thus also making them the first by default.

As with most Another Riders, Finis is the opposite to Takeshi Hongo in that Hongo was kidnapped by Shocker to be remodeled into a cyborg but escaped and has since fought the forces of evil as a Kamen Rider, whereas Finis stated that Kamen Riders are flawed creations derived from evil and justified their action by altering the history of the World of Zero-One.
Her goal is somehow similar to Tid's.

Another 1 is the first Another Rider to be derived from a Showa Rider.

Another 1's design is based on the Original 1 (

旧1号

Kyu Ichigo

) form of Kamen Rider 1 and the reboot Kamen Rider 1.
Although Another New 1 is named after Kamen Rider 1's New 1 form, its color scheme matches the Cyclone and is a homage to Cross Fire and Skull Man, as well as featuring a possible arachnid motif with its limbs, which may reference the first Kamen Rider monster, Spider Man.

Finis shares many similarities with Tid, the main antagonist of Kamen Rider Heisei Generations FOREVER.

They are both Time Jackers and the main antagonists of their respective films.
They both became CGI-rendered Another Riders towards the climax of their films.
The Another Riders they became are the first of each of their eras.
Both received upgrade forms after absorbing a special catalyst.

However, while Another Kuuga upgraded himself after his defeat, Another 1 upgraded themselves during battle.

Another 1 also shares similarities with Kamen Rider Core Bike State.

As movie-exclusive Riders, they are both rendered completely in CGI.
Both resemble the design of Kamen Rider 1 from the waist-up while lower body is based on a motorcycle.

The existence of Another 1 was accidentally spoiled by producer Shinichiro Shirakura on Twitter, when he was replying to a question in Korean on November 13, 2019, four days before the official poster reveal.[2]
Another 1 is created by absorbing all the Rider powers from Sougo, who has already achieved the power of Ohma Zi-O in Zi-O's finale. In the same episode, Sougo stated that Ohma Zi-O has the powers of "all the Riders", which explains why Another 1 can be based of a Showa Rider.
According to actress Rina Ikoma, the director of the film revealed to her that Finis is described to be a "genderless" character.[3][4]

In their civilian form, Finis uses 僕 (

Boku

), which is a masculine pronoun. However, when Finis transforms into Another 1, they instead use 私 (

Watashi

), which is gender-neutral.
This makes Finis the first monster to change pronouns between transformation.

Another 1 is the only Another Rider not to have their name and date visibly seen.
Appearances
See Also
References
Community content is available under
CC-BY-SA
unless otherwise noted.