Obi-Wan Finale - The Loop
Play Sound
Father and Child Weaving Together! The Ultimate Revice! (父と子が紡ぐ!究極のリバイス!, Chichi to Ko ga Tsumugu! Kyūkyoku no Ribaisu!) is the thirty-eighth episode of Kamen Rider Revice. It features the debut of the Giffard Rex Vistamp and Ultimate Revice.[1]
Synopsis
The mission to rescue Akemi was a complete failure due to Akaishi's clever scheme. Even though the Giffdemos was no longer a threat, Daiji lashes out at Ikki with deep anger.
Then Hiromi returns and asks Ikki to allow him to handle Daiji. Everyone is excited for his return, and gets to work in helping out with the battle against Giff. At that moment, Genta appears in front of his children as well as Karizaki.
"If you need to use Giff's cells, then use mine."
Plot
to be added
Cast
Guest Cast
Suit Actors
Forms and Collectibles Used
Stamp Used:

Revi

Thunder Gale, Ptera, Giffard Rex

Vice
Jeanne
Over Demons
Aguilera

Form Used:

Revi

Ptera Genome, Ultimate Revi

Vice

Ptera Genome, Ultimate Vice

Revice
Jeanne
Lovekov
Over Demons
Aguilera

Remixes Used:
Errors
As the five Riders head to the front of the staircase, Ikki and Hana are standing far enough apart for Vice to stand in between them. However when Vice disappears to facilitate Ikki's transformation, the distance between Ikki and Hana has closed.
When Revice performs a finisher using the Thunder Gale Vistamp with the Ohinbuster50 in Axe Mode, the finisher is announced as "Stamping Strike" instead of "Stamping Slash".
Notes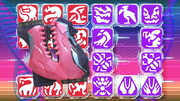 Closing Screen

Kamen Riders: Revice
Vistamps: Giffard Rex

Count at episode end

Vistamps in Revi's possession: Rex, Eagle, Mammoth, Megalodon, Ptera, Lion, Kong, Kamakiri, Brachio, Neo Batta, Kangaroo, Barid Rex, Volcano, Rolling, Thunder Gale, Giffard Rex (Side N)
Vistamps in Vice's possession: Giffard Rex (Side S)
Vistamps in Live's possession: Bat, Jackal, Holy Wing
Vistamps in Jeanne's possession: Cobra, Kujaku, Turtle, Hashibiroko
Vistamps in Over Demons' possession: Kuwagata, Mogura
Vistamps in Aguilera's possession: Queen Bee
Vistamps in George's possession: Spider, Batta, Condor, Scorpion, Anomalocaris
Vistamps in Vail's possession: Buffalo
Vistamps in Fenix's possession: White Leo, Quetzalcoatlus, Triceratops, Giff Junior
Vistamps in unknown possession: Kabuto
Proto Vistamps in Fenix's possession: Cheetah, Koala, Elephant, Shark, Rafflesia, Planarian, Sabertiger, Chameleon, Kajiki
Proto Vistamps in unknown possession: Wolf, Daiouika

The flashbacks of the Igarashi children that appear during Genta's goodbye message are directly taken from the show's opening theme sequence.
As of this episode, the second sheet of closing screen Stamps has been filled.
Vice announces two references to the Super Sentai series, specifically series from Revice's Super Hero Time line-up: Avataro Sentai Donbrothers and Kikai Sentai Zenkaiger.

When Vice praises Yukimi, he says "Yo! Nipponichi!" which is a reference to Don Momotaro's transformation announcement, one of the main protagonists in Donbrothers.
Before Ikki, Vice, Hana, and Hikaru transform, Vice utters "Zenryoku Zenkai!", which is the catchphrase of Zenkaizer, the main protagonist of Zenkaiger.
References
External links