Explosion! Paint From Your Heart! (爆発!絵を描く心!, Bakuhatsu! E o Kaku Kokoro!) is the ninteenth episode of Kamen Rider Ghost. It features the debut of Ghost Toucon Benkei Damashii and the only appearance of Igor's Gamma Superior Machine Gun form.
Synopsis
Alain has turned Makoto into Necrom Specter and now has full control of him, calling him the "perfect friend". Takeru immediately denies this and promises to get Makoto back.
Igor, using a Gamma's special powers, has infiltrated a company building. Meanwhile, numerous objects have become drawings in the city. It seems that a new Gamma has appeared. Takeru locates it, transforms into Ghost, and attacks but the Gamma does something nobody could expect...
Kanon, wanting to save her brother, searches for Alain by herself.
Plot
to be added
Cast
Guest Cast
Suit Actors
Ghost Eyecons
Eyecon Used:
Damashii Used:
Gamma Eyecons
Eyecon Used:
Gamma Form Used:

Igor

Gamma Superior Perfect, Gamma Superior Machine Gun
Errors
Notes
Closing Screen Ghost Eyecon
Count at episode end

Takeru's days of life remaining: 70
Eyecons in Ghost's Possession: 10
Eyecons in Specter's Possession: 3
Eyecons in Necrom's Possession: 3
Eyecons connected: 6 (Ryoma, Musashi, Robin, Himiko, Newton, Benkei)

This episode marks the first time a Damashii normally used by Ghost in Ore Damashii is used in Toucon Boost Damashii (Benkei Damashii)).
Despite being credited, Ryosuke Yamamoto does not appear in this episode (as Makoto remains transformed and silent throughout).
DVD/Blu-ray Releases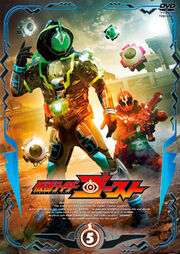 Kamen Rider Ghost Volume 5 features episodes 17-20: Gorgeous! The Queen of Illusions!, Reverse! Mysterious Science!, Explosion! Paint From Your Heart! and Explode! Flames of Friendship!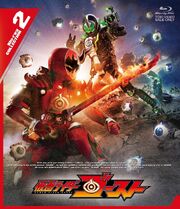 Blu-ray Collection 2 comes with 12 episodes.

External Links
References
Community content is available under
CC-BY-SA
unless otherwise noted.