"I will destroy this world... and build a paradise."
―Esu's proclamation to create a paradise on Earth
Esu (エス, lit. "S") is the main antagonist of Kamen Rider Zero-One: REAL×TIME who transforms into Kamen Rider Eden (仮面ライダーエデン, Kamen Raidā Eden).[1]
History
TV Series
Azu gives Esu a new Driver and Zetsumerisekey to transform into Kamen Rider Eden. He proclaims his wish to destroy the current world to build a "paradise" on Earth.

Personality
To be added
Powers and Abilities
To be added

Kamen Rider Eden
Kamen Rider Eden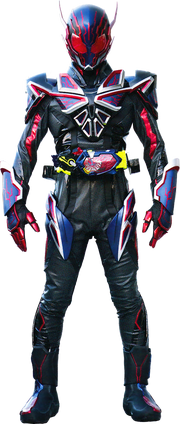 "Progrise! Imagine! Ideal! Illusion! Eden the Kamen Rider! The creator who believes in paradise, and charges."
―Transformation announcement
Rider Statistics
Rider Height:
Rider Weight:
Ability Parameters
Punching Power:
Kicking Power:
Maximum Jump Height:
Maximum Running Speed:
Esu transforms into Kamen Rider Eden by using the Eden Zetsumerisekey in the Eden Driver.
Eden's finisher is the Eden Impact (エデンインパクト, Eden Inpakuto):
Appearances: Zero-One Episode 45, Kamen Rider Zero-One: REAL×TIME

Equipment
Devices
Weapons
Behind the Scenes
Portrayal
Esu is portrayed by Hideaki Ito (伊藤 英明, Itō Hideaki). As Kamen Rider Eden, his suit actor is Yuji Nakata (中田 裕士, Nakata Yūji), who previously served as the suit actor for Kamen Rider Thouser.
Concept Art
To be added
Etymology
This character's various names appear to have ties to the concept of the Bible:
Kamen Rider Eden's name comes from the Garden of Eden.
His given name, Esu, may have been derived from the Japanese pronunciation for Jesus Christ (イエス・キリスト Iesu Kirisuto, "Jesu Christo").
Also the alternative reading of his given name, S, is the first letter of Satan and Serpent, the antagonistic figures on the Garden of Eden.
Notes
Eden's suit, with the exception of his thigh armor, chest, and helmet, shares the same base design as Kamen Rider Zero-One & Kamen Rider Thouser, and his eyes almost resemble that of Kamen Rider Vulcan.
Eden's suit is primarily a dark metallic blue with a black undersuit, in addition to having white and dark red accent lines across his armor. However, the lines on his suit illuminate in a uniform magenta color instead, giving the illusion of the suit appearing more purple than black and blue.
The ending part of Kamen Rider Eden's transformation announcement is similar to Kamen Rider Heart & Brain from Kamen Rider Drive.
Eden is the only Rider of the series to be based on a plant (dead tree) in addition to an animal (human).
Esu's trait of having a messiah complex is similar to the following:
Appearances
References
See also
Community content is available under
CC-BY-SA
unless otherwise noted.