Wiki Targeted (Entertainment)
Play Sound
For the Amazon codenamed "M", see Mamoru (Amazons).
"I will change (the patient name)'s fate!"
―Ex-Aid's proclamation before transforming
"I'll clear this with No Continues!"
―Ex-Aid's proclamation before the battle
"Dai(x Level number) Henshin!"
―Ex-Aid's pre-level up transformation catchphrase.
"D~a~i Henshin!"
―Ex-Aid's pre-Level XX (and sometimes pre-Level X) transformation catchphrase.
"Let's clear it together with super co-op play!"
―Ex-Aid's proclamation in Level XX before battle
"Max Dai Henshin!"
―Ex-Aid's pre-Level 99 phrase
"Hyper Dai Henshin!"
―Ex-Aid's pre-Muteki Gamer phrase
"I'll make this game with No Continues!"
―Ex-Aid's Creator Gamer proclamation
"No matter whose fate it is... I will change it!"
―Muteki Gamer proclamation while fighting Gamedeus
"Your game is already over."
―Muteki Gamer's proclamation after a Critical Sparking lands, but before the damage takes effect
Emu Hojo (宝生 永夢, Hōjō Emu) is the main protagonist of Kamen Rider Ex-Aid. He is a 24 year-old pediatrician and surgical resident at Seito University Hospital who is also secretly the genius gamer M. As a doctor of CR, he is tasked as Kamen Rider Ex-Aid (仮面ライダーエグゼイド, Kamen Raidā Eguzeido) with eliminating the Bugster Virus from infected patients in order to save their lives.
History
Early Life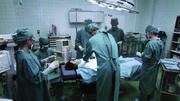 Emu Hojo was born an only child to his father Kiyonaga Hojo and an unknown woman. As a child, he grew up lonely without the company of his father, as his mother died from an illness when Emu was still very young. To ease his loneliness, Emu found love with video games, leading to the creation of Mighty Brothers XX that Emu sent to Genm Corp. in a fan letter. After Kuroto Dan replied with Mighty Action C, the young Emu had been infected with a strain of the Bugster Virus, and birthing Parado. As he succumbed to its effects, Emu was involved in a traffic accident. After receiving emergency surgery from Kyotaro Hinata, Emu was given a WonderSwan handheld video game device by Dr. Hinata as a reward for hanging on. This event would inspire Emu to become a doctor and help children like the one who saved him.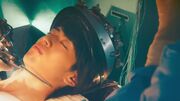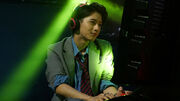 During his teenage years, Emu was abducted by the Next Genome Institute, who had been hired by Kuroto to extract the now-mature Parado from Emu's body, which caused the doctors operating on Emu to vanish. However, the leftover residue of the virus in Emu's body created a split personality that represented his love for gaming, while the portion that was extracted would be used to execute Zero Day a year later. Emu would believe that the operation was nothing more than a dream as an adult. While continuing his medical studies, Emu's split personality would continue winning numerous gaming tournaments under the gaming alias of M, Sometime in 2010, Emu trained vigorously for a gaming tournament that he had participated in, at the cost of his health. Unknown to him, Kuroto watched his victory in the shadows, having watched Emu for over a decade.
Becoming Kamen Rider Ex-Aid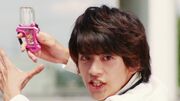 During his first year residency at Seito University Hospital, Emu's patient Sota Suyama was diagnosed with the Bugster Virus and transformed into a golem-like creature. Emu receives a Gamer Driver from Asuna Karino and transforms into Kamen Rider Ex-Aid to combat the Buster, later joining CR due to his skills. As his battle against the Bugsters continue, Emu would meet several Riders like him such as genius surgeon Hiiro Kagami/Kamen Rider Brave, disgraced radiologist Taiga Hanaya/Kamen Rider Snipe, and medical coroner Kiriya Kujo/Kamen Rider Lazer. Emu would have frequent run-ins with the mysterious Kamen Rider Genm, who allied himself with the Bugsters. Although Emu tried to fight alongside the other three Riders, he is constantly at odds with them as each had their own viewpoints and ulterior motives, though this changes after their final battle with Graphite.
The Patient Zero Revelation
Following the death of Kiriya Kujo, Emu completed his pediatrics training and entered a surgical internship, with Hiiro overseeing him. However, the grief of his Kiriya's death had affected both his performance in the operating table and his prowess in fighting the Bugster. After Hiiro suspended him and confiscated his Gashats, Parado approaches Emu and gives the young doctor access to Mighty Brothers XX. From behind the scenes, Hiiro and Taiga would become aware that Emu had been infected with Game Disease since his childhood. They both agreed to keep Emu in the dark in order to not risk him from becoming stressed and worsening his condition. While Brave and Snipe attacked an unaware Emu, it attracted the attention of Parado, who became Kamen Rider Para-DX at at level outclassing Ex-Aid.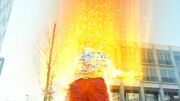 Kuroto finally revealed to him about Emu's true background as Patient Zero of the Bugster Virus, which erratically brought M out. Although Emu became frightened to continue fighting the Bugsters, Taiga helped him clear his doubts. Emu would later learn that Kuroto's ultimate plan was Kamen Rider Chronicle, and gets his Gamer Driver destroyed in his final battle against Genm. This doesn't deter Emu at all as he takes Kiriya's Gamer Driver and obtains Maximum Mighty X, allowing him to defeat Kuroto and strip him of his powers. However, Emu's efforts were all for naught when Parado killed him with Dangerous Zombie's own power.
Kamen Rider Chronicle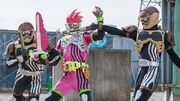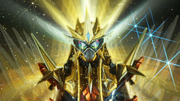 After Emu horrifyingly witnesses Kamen Rider Chronicle's public release and Poppy's brainwashing, he and the team attempt to save the Ride-Players and save Poppy. However, Parado reveals his identity to Emu and duels him as the two halves of Mighty Brothers XX. Emu also discovers that Parado saved his life from the moment he discovered he had game illness. This motivated Emu to fight Parado properly until his reprogramming attack actually allowed Parado able to use the Gamer Driver and evolve Para-DX into Level 99. However, Kuroto returns after Poppy revives him, and Emu is forced into an uneasy alliance with him to clear Kamen Rider Chronicle. As the game continues, they encounter Kuroto's father Masamune Dan who reveals himself to be the true mastermind of Chronicle and transforms into Kamen Rider Cronus. To fight against him, Kuroto creates Hyper Muteki for Emu, who gains access to Muteki Gamer just in time for the final battle with Gamdeus.
The Gamedeus Pandemic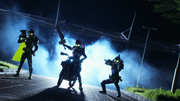 With Gamedeus and his Bugster Virus pandemic spreading rapidly, Kiriya and Kuroto develop Doctor Mighty XX to cure the infected, while Masamune merges with Gamedeus to become Gamedeus Cronus, proclaimed to be Chronicle's true final boss. Returning to the basics, the Riders use their Level 1 forms to separated him from Masamune. In their final confrontation against Cronus, Masamune kills himself with the Master Gashat, this removing the only way to rescue the data of the patients within the Proto Gashats. Despite that, Emu remained confident that people trapped in the data will one day return. As Emu returns to ER, he rejoices as he reunites with Poppy and Parado.
Other Events
While Takeru Tenkuji and his friends were pursued by the Gamma, Ex-Aid arrived and extinguished the Gamma Commandos upon landing. He introduced himself to Takeru before performing a successive punch and kick to destroy a pair of Gamma Superiors. Allowing Takeru and his companions to get away, Ex-Aid faced off against Kamen Rider Dark Necrom Blue, whom he overpowered with a series of kicks and punches while empowered by the green Ex-Aid medals that accompany him before defeating the Dark Necrom with the Mighty Critical Strike.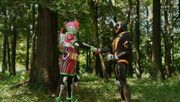 While pursuing the "Black Ex-Aid" and the Shakariki Sports Gashat, Ex-Aid arrived to fight a pack of Bugster Viruses. He was mistaken as an enemy by Ghost and tried to engage him to defend Ayumu, the mysterious boy who held the Gashat. Despite being mistaken as the one who attacked Specter and Necrom, Ex-Aid told Ghost that he is fighting to save lives and change their fates, a similar sentiment which was respected by Ghost. When the Black Ex-Aid attacked Ayumu and reclaimed the Shakariki Sports Gashat, Ex-Aid and Ghost rushed to his side to tend him. After an apology from Ghost, Ex-Aid fought alongside him to defeat a group of Bugster Viruses together. Ex-Aid predicted to Takeru that they would meet again soon before leaving him an Ex-Aid Ghost Eyecon as a gift as he took his leave.
Following the intrusion of the Next Genome Institute into Genm Corp. headquarters, Emu would meet Takeru again as the two Riders face off against the threat of the Pac-Man Virus. The two would, later on, be aided by Wizard, Gaim, and Drive in defeating the Institute. During the battle, Michihiko Zaizen revealed that he was the one who operated on Emu as he was Patient Zero of the Bugster virus. His Gamer Driver was forcibly inserted with both the Mighty Action X Gashat and its prototype counterpart, which combined the Gashats into Mighty Brothers XX. This allowed Emu to transform into his Level XX form for the first time. The memories of the final battle along with the revelation would be erased from Emu, due to the trance-like state. Emu would later re-learn the truth about his Bugster infection much later.
Following the Dr. Pac-Man incident, Emu was on his way to Genm Corp. with Asuna to return the Kaigan Ghost Gashat. When he encounters the Collabos Bugster wielding the power of the Proto Gashats, Ex-Aid Ghost Gamer engages the Bugster. Kuroto Dan arrived and gave him more Kamen Riders' Gashats, proving Emu with Full Throttle Drive and Toukenden Gaim. After disabling the Bugster, Ex-Aid was confused to see the Black Ex-Aid assuming a Kamen Rider Wizard based form. With the Black Ex-Aid seemingly completing his collection of Legend Rider Gashats, he completed the Ganbarizing Gashat. Ex-Aid found himself facing manifestations of Kamen Riders Double, OOO and Fourze.
Emu finds himself saved by the sudden appearance of Dr. Pac-Man, who also presented him the three Bandai Namco Gashats. After regrouping with Hiiro and Taiga, Emu takes the Pac Adventure Gashat to become Ex-Aid Pac Action Gamer. Ex-Aid engages in a skirmish Kamen Rider Double in battle and taking Pac-Man's ability of turning Double into a vulnerable ghost to defeat his opponent. Returning back to reality, Ex-Aid saved Poppy from the Collabos Buster and claimed the Ganbarizing Gashat. However, the game is not over as Kamen Rider Hibiki began to emerge.
After Dr. Pac-Man gave Ex-Aid the Taiko no Tatsujin Gashat, he challenges Hibiki in a taiko battle that ends in the victory with the Genius Gamer. While he recovers the Ganbarizing Gashat, Brave and Snipe demanded the Gashat for themselves only for all three Riders to be swiftly eluded by "Dr. Pac-Man" who recovered all the Bandai Namco Gashats and the Ganbarizing Gahsat. It is this point where the Kamen Riders realized they are being manipulated by Dr. Pac-Man and the Black Ex-Aid. Ex-Aid was defeated by the Black Ex-Aid's Critical Strike using the seventeen Heisei Rider predecessors, allowing him to defeat all three Riders with a single Rider Kick. The Black Ex-Aid then took his leave with the Gashats as Emu wondered what exactly was going on.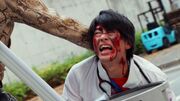 At Seito University Hospital, Emu bumped into an unidentified man. Unbeknownst to him, he had been caught up in the plot of the enigmatic Foundation X, having had their own Level 4 Gashat, Night of Safari, slipped into his pocket. This led Emu to be confronted by the revived serial killer, Takeshi Asakura, who was after the Gashat as part of his sick "game" before becoming bored and proceeding to give Emu a savage beating. Emu would be found unconscious and badly injured by Hiiro, who took the Gashat which was still in his hand, using it to assume Brave Safari Quest Gamer Level 4 with which he defeated Kamen Rider Ouja and his Beast Rider Squad.
Space.7: Take Back the Birthday!
Through the use of an Ex-Aid Kyutama

that inexplicably had been acquired by Shou Ronbou

, Kamen Rider Ex-Aid was summoned to a version of the world which had been occupied by the Space Shogunate Jark Matter

, coming to the assistance of the Kyurangers

Shishi Red

and Sasori Orange

whose battle against Jark Matter forces had been interrupted by Space Ika Devil, a cyborg monster of Shocker. First appearing as Action Gamer Level 1, Ex-Aid fought off Space Ika Devil, allowing Sasori Orange to get away. Switching to Level 2, Ex-Aid joined forces with Shishi Red and together they used their respective slash attacks to destroy Space Ika Devil. Canceling their transformations, Emu and Lucky introduced themselves before wishing each other luck in saving many patients and liberating the universe from Jark Matter before Emu was returned to his world.
As video game characters began crossing over the real world, Emu arrives to protect Poppy Pipopapo from being captured by the Kyurangers

. He fights alongside Brave and Snipe against the Kyurangers but is interrupted by the appearance of several Riders and Sentai appearing from another game, "Chou Super Hero Taisen", including an alternate version of Hiiro and the now deceased Kiriya Kujo, who manage to repel the Galaxian forces.
As Emu enters the tournament as part of "Team Ex-Aid", including himself, Kamen Rider Den-O, AoNinger

, Beet Buster

and Kamen Rider Zolda. The tournament ends with Team Ex-Aid's victory, the members receiving the powers of all the Sentai and Riders in history to transform into the Goriders, and using their new power to destroy the Xevious Armada for good. However, this triggers Chou Super Hero Taisen's bonus stage, materializing several villains who were defeated by the Kamen Riders and Super Sentai, led by a man who calls himself "Shocker Leader III", who proceeds to destroy the world.
As Ex=Aid continued playing the game, he would continue to fight alongside his fellow Kamen Riders and the Super Sentai against the forces of Shocker. As the Shocker Leader summons a spaceship from Jark Matter that transforms into a massive robot. In response, Brave grants Ex-Aid uses a Giant Energy Item to enlarge himself and fight alongside the KyurenOhs. Together, Ex-Aid and the Kyurangers destroy the enemy in a combined effort.
Set after the Kamen Riders defeated Kamen Rider Cronus, Emu is assigned to his latest patient Madoka Hoshi, a 7-year old girl who needs daily treatments. However, new outbreak of the Bugster virus occurs that rainy day as Kamen Rider Fuma storms Seito University Hospital with his Ninja Gamers. With most of his teammates incapacitated, Kuroto creates the Mighty Creator XX for Emu to free the people trapped inside the Game World. While Ex-Aid Creator Gamer succeeds, Madoka refuses to leave the Game World.
While confronting Kagenari Nagumo on his actions and learning that he is Madoka's father, the true threat arises when Johnny Makishima reveals himself as the "true last boss" and transforms into Gamedeus Machina. While Emu joined with the Kamen Riders to combat the Bugster, he was able to overwhelm all of the six that were present. When Madoka Hoshi's condition was getting worse from her Game Illness, Emu joined with Hiiro and Asuna to operate on her. After the operation ended, Ex-Aid convinced Nagumo to be at his daughter's bedside. In the end, Ex-Aid Muteki Gamer manages to vanquish Gamedeus Machina and peace has finally returned.
One year later, Emu and Parado as the Double Action Gamers Level XX against a group of Bugsters. Suddenly, they encounter Kamen Rider Build defeating the Bugster Viruses assuming the GorillaMond Form. With Build declaring he's going to take Ex-Aid's powers, Parado rushed in to protect his friend but Build manages to get past him and takes away Emu's powers using a Fullbottle. As the two stood confused over what had happened, Build takes his leave.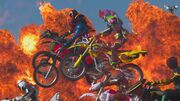 One week after
Kamen Rider Build
stole Emu's powers, Nebula Bugsters start to appear due to the effects of
Enigma
, an inter-dimensional gateway connecting his reality to the
Build's world
. This alerts the
CR
, who attempt to solve the issue without Ex-Aid, but they are also rendered powerless due to the effects of Enigma, controlled by
Right Kaiser
.
While treating the injured in the aftermath of that event, Emu notices the Build Driver on Ryuga Banjo, who was transported from the World of Build, and demands him to return Ex-Aid's powers, which Banjo dismisses. Emu is suddenly contacted by Parado and Sento Kiryu, who managed to use the Game Fullbottle to communicate between the two worlds. The conversation confirmed a time difference between the two worlds and that Enigma was able converge the two time zones into one linear flow, and to Sento's acknowledgement that Ryuga was in Ex-Aid's world.
Emu was accompanied by Ryuga as they fought against Right Kaiser. As he continued to put a stop of his plans, they would run into previous Riders like Takeru Tenkuji (Ghost), Eiji Hino (OOO), and Gentaro Kisaragi (Fourze). Emu would remain in contact with Parado and Sento Kiryu in Build's world, while he and Ryuga confront Mogami as they learn of his intentions of smashing their two Earths with his alternate doppelgänger, Left Kaiser.
As the two Earths were vast approaching, Emu would finally meet Sento for the first time as he is given back the Doctor and Game Bottles to restore his powers. Ex-Aid and Build joined up with OOO, Fourze, Gaim, and Ghost as they cycled against the Foundation X Guardians, until the two managed to reach the interlocked Engima to confront Bikaiser. Ex-Aid assumes the Muteki Gamer form as he fights alongside Build RabbitTank Sparkling to turn the tide and vanquish Bikaiser together. After Build and Cross-Z say their goodbyes to the Kamen Riders, Emu returns back to his normal life as a doctor and a Kamen Rider with Parado beside him.
Among the first 18 Heisei Riders, Ex-Aid fought against numerous monsters in a melee briefly witnessed by Sento Kiryu, who recognized Ex-Aid, before being caught in the crossfire as Kamen Rider Zi-O BuildArmor used his Vortex Time Break to wipe out his enemies.
However, Ex-Aid eventually manifested in the
World of Ataru
due to the memories from the fans of
Kamen Rider Ex-Aid.
First appearing along Ghost to save 2 kids from some monsters, he later rode
Lazer
Bike Gamer
Level 2
and participated in the final battle against
Another Ultimate Kuuga
along with the other 19 main heisei riders, attacking the giant monstrosity with his
Mighty
Critical Strike
in order to destroy it.
Video Game Appearances
Taiko no Tatsujin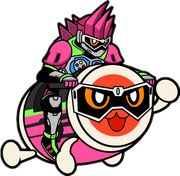 Ex-Aid
appears as a costume of
Don Wada
in the arcade versions of
Taiko no Tatsujin
, obtained by playing
EXCITE
.
Personality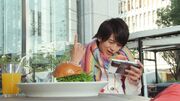 Emu Hojo is a very clumsy and yet a serious doctor to take on his job. However, his thirst for playing video games has a problem of Emu being absent-minded at times. An example of this is he sometimes fails to remember his work schedule properly and it makes the nurses scold him. He also has a habitual quirk of tumbling down in various comical ways.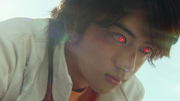 As "M", his alias that he uses when playing video games, he shows a completely different side of himself. He displays a focused, calmer, and more confident demeanor. His grammatical persona also changes from 僕 (, Boku) into 俺 (, Ore), proving to be extremely skillful at video games, to the point where he has come to be known as the "genius gamer" who never leaves any game unfinished. This carries over to his battles as Ex-Aid, as his knowledge of video games has proven to be a definite advantage. Originally, when shifting to his Genius Gamer M personality, a wind blows through his hair and he makes a cocky smile. But during episode 10, Emu's eyes instead flash pink before turning a less intense, glowing red, after which, his eyes turn back to normal. Though he still makes the same cocky smile as before, showing that he can actually shift into his gamer persona at will. In the past, Emu's normal and "M" personalities were once one and the same, though following his surgery by the Next Genome surgeons, the leftover Bugster Virus in his body caused him to develop a case of dissociative identity disorder, constantly switching from his naive side to his predative "M" persona. After learning that he was infected with the Bugster Virus, Emu's gamer persona took over as the dominant one, showing no concern for his patients and was instead only interested in playing the game, something which greatly angers Hiiro. However, after Hiiro states what it means to be a doctor, Emu regains control over himself and becomes terrified of transforming into Ex-Aid. After he gains his resolve, he loses his fear of becoming Ex-Aid.
Emu has a very idealistic attitude towards being a doctor: he invests himself in the well-being of his patient, hoping to help them both physically and personally. He will always try to help a patient in need, even if they are a criminal, an enemy, or refuse to get help. For him, life is a life and it's worth saving, fitting the morality of a true doctor and their devotion to the Hippocratic Oath. This mindset helped him connect stress as a catalyst for Bugster infection but also hinders him if the enemy is smart enough to threaten the patient's life. His firm idealism has led to clashes with his fellow CR Rider, Hiiro. Hiiro views Emu as naive and inexperienced, while Emu openly opposes Hiiro's detached and callous approach, going as far as to say Hiiro is not a real doctor.
However, Emu is not without a dark side. When pushed too far, Emu can lose control of his temper and when that happens his Gamer side becomes as vicious and selfish as his rivals. This was shown when Kyotaro is infected by Graphite. Emu becomes so frustrated into believing that he's the only one who can save Kyotaro, to the point that he'll do anything to capture the Hunter Gamer using a stolen Gashacon Sword. While this shows that Emu takes pride in his beliefs as a doctor, at the same time it demonstrates that as a Gamer he shares Genm's and even Taiga's ideals to some extent. However, after some enlightenment from his idol, Kyotaro Hinata, Emu decides to trust his fellow doctor Riders, while also gaining respect from them over time.
Often after transforming, he says his catchphrase I'll clear this with No Continues! (ノーコンティニューでクリアしてやるぜ, Nōkontinyū de kuria shite yaru ze).

Family
Powers and Abilities
Powers
Original Bugster Virus: Being a Patient Zero (along with Masamune Dan), Emu was host to the virus for a prolonged period of time. This allowed the virus to fuse with and alter his DNA granting him Rider and possibly even Bugster-like powers and abilities that, by standard, require external intervention to acquire.

Natural Game Disease Immunity: Unlike the other Riders, but later like Masamune, Emu can utilize the Gamer Driver and Rider Gashats without the need of the compatibility surgery. Also, his immunity is absolute, unlike the other Riders' acquired immunity which can still be overwhelmed by a large dose of Bugster virus, as he was unaffected when using the Mighty Brothers XX Gashat for the first time. However, he may still be prone to suffering from bouts of symptoms either due to stress, or due to Parado consciously activating the virus within him.

Game Disease Cancellation: According to Episode 29 and the fact that Parado doubles as Emu's natural immunity to the Bugster Virus, the Bugster Virus Origin and as the one who activated the Game Disease on him (Emu uses this ability later after being freed by converting the Game Disease into his own powers), when Emu's resolve is strengthened by any means (in this case, Parado harming his friends), he can make the Bugster Virus inside him his own by forcibly stopping the Game Disease Parado has started on him.

Gashat Creation: As Patient Zero and the progenitor of the Bugster Virus and Rider Gashats, as stated by Hiiro, he can use the Bugster Virus in him in conjunction with certain blank Gashats to create new, stronger forms for himself. This causes the Bugster Virus in him to evolve and become even stronger, which made Emu as Ex-Aid become stronger in return. Emu demonstrated this ability twice so far in the series with the creation of Mighty Brothers XX and Maximum Mighty X. He can also modify Gashats to a degree, displayed when he used his Bugster Virus to modify the Proto Bakusou Bike Gashat into the Combi Fukkatsu version.
Dual Personalities: Due to the Bugster Virus in Emu's DNA, he has two different personalities, which can be separated when using Mighty Brothers XX. This became dormant after Emu reprogrammed Parado, but was reawakened after re-injecting Parado into his body.

Parado Respawning: A side effect of this trait, ever since Parado became the Double Action Gamer Level XX R. If Parado's physical existence is terminated while not letting him dissolve into data and absorbing his core, Emu can simply absorb his remnant data to cultivate and respawn him again.

Increased Physical Strength: In at least one occasion, the spontaneous activation of Emu's Bugster Virus allows him to exert great physical strength without transforming.

Pause Bypass: This ability is also used to single-handedly destroy Cronus' Buggle Driver II with a single punch whilst time was paused, thereby cancelling the ability, and lowering Cronus' power such that he could be taken down by four Level 2 riders.
Abilities
Game Proficiency: Emu is highly adept in the field of video gaming, both in creative concept and actual practice. As a kid, he often creates game ideas that even Kuroto Dan, a genius game developer, recognized and envied. As a Kamen Rider, his creative concepts in gaming had lead to the creation of Mighty Brothers XX and Maximum Mighty X Gashats and the Save Energy Item, all arsenals that counters all of his toughest adversaries. In actual practice, even without the influence of his Bugster, Parado, and the Genius Gamer M persona, Emu is already a masterful gamer on his own with gaming skills formidable enough to see through the loopholes and weaknesses of every game and figuring out the methods of clearing them. As Genius Gamer M, Emu's skills in gaming and his battle prowesses are greatly enhanced, especially in state of emotional rage or frustration, as shown when he effectively, in separate occasions, outmaneuvered both Genm and Snipe who are both at their Level 3 forms while Emu is only on Level 2. Furthermore, if his Genius Gamer persona is 100% active, his gaming skills skyrocket to a frightening degree evidenced on how despite being only at Level 3 he managed to overpower Gatton Bugster who is at Level 30, stating that one of gaming's thrills is figuring out how to defeat stronger opponents.
Skilled Physician: With a deep passion to be a doctor, Emu worked hard to earn his medical degree and entered his first-year residency at Seito University Hospital. Despite his beginning status, he would be able to respond to dire situations, even including a new medical threat like the Bugster virus. During this time he also pursued a surgical residency and had a rough start due to not just because of his slow performance, but his grief over Kiriya Kujo's death, but would eventually able to assist Hiiro Kagami in major surgeries like his surgery on Taiga Hanaya & Madoka Hoshi. Hiiro, a master surgeon, would often compliment Emu on his growing performance as a doctor.
High Interpersonal Skill: Despite his clumsiness, Emu's kindness has allowed him to connect with all of his patients. This also extends to other Riders, showing how his influence allow them to cooperate properly. It is also worth noting that during their battle against Cronus, the absence of Emu and his inability to transform resulted in their defeat and the confiscation of three Gamer Drivers.
Weaknesses
Parado: Since Parado is the Bugster created from Emu, like most Bugsters, Parado can possess Emu and take over his consciousness with no effort. Parado can also activate the virus within Emu at will, making Emu suffer similar symptoms to any other infected patient. However, Parado can't possess Emu when he transforms into Ex-Aid Double Action Gamer Level XX (as they split into Level XX L and R), or when Parado is inside a Game Area created from a Level 0 Gashat (Proto Mighty Action X Origin). Ever since Emu reconciled with Parado and the two of them decided to work together, Parado's existence no longer poses a threat to Emu's physical health. Despite this, if either one of them were to be killed, the other will still lose their transformation ability.
Levels
Equipment
Devices
Kamen Rider Ex-Aid
Akarider
Weapons
Vehicles
Legend Rider Devices
"Kamen Ride: Ex-Aid! Mighty Jump! Mighty Kick! Mighty Mighty Action X!"
―DX Neodecadriver Transformation announcement
With the Ex-Aid Rider Card, Decade would presumably transform into Kamen Rider Ex-Aid's Action Gamer Level 2.
"Kamen Ride: Ex-Aid! Muteki! Kagayake, Ryusei no Gotoku! Ougon no Saikyou Gamer! Hyper Muteki Ex-Aid!"
―DX Neodecadriver Transformation announcement
Final KamenRide: Ex-Aid Muteki Gamer: This card can be used in Decade's Neodecadriver to transform into Ex-Aid Muteki Gamer.
"Kaigan! Heisei Rider! (Modified 1 transformation noise) Aratana Kousei! Kore wa Heisei! (Energy warble)"
―Transformation announcement with Ghost Driver
"Tengan! Ghost! Mega Ulord!"
―Transformation announcement with Mega Ulorder
The Ex-Aid Ghost Eyecon (エグゼイドゴースト眼魂, Eguzeido Gōsuto Aikon) is a unique Legend Rider Eyecon based on Kamen Rider Ex-Aid, with its primary user being Kamen Rider Ghost. It shows the number R18 on its Startup Time setting, Ex-Aid Action Gamer Level 2's face on its Transformation Time setting, and Ex-Aid's symbol on its Move Invocation Time setting.
In the Ghost Driver, it summons the Ex-Aid Ghost (エグゼイドゴースト, Eguzeido Gōsuto) to transform Ghost into Ex-Aid Damashii, which grants him the abilities of Kamen Rider Ex-Aid.
This Eyecon first appeared in the final episode of Ghost, manifesting from a green colored Ex-Aid medal.
A special Mighty Action X Rider Gashat (Memorial Finish Ver.) (マイティアクションXガシャット (メモリアルフィニッシユVer.), Maiti Akushon Ekusu Gashatto Memoriaru Finisshu Ver.) was released in 2017.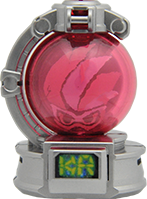 The Ex-Aid Kyutama

(エグゼイドキュータマ, Eguzeido Kyūtama, lit. Ex-Aid Nine Ball) was among the Kyutama collected by Shou Ronpo

under unexplained circumstances. It allowed the Kyurangers

to summon Kamen Rider Ex-Aid to assist them. 「Space.7: Take Back the Birthday!」
Doctor Fullbottle (

ドクターフルボトル

,

Dokutā Furubotoru

): Used with the Game Fullbottle to access Ex-Aid Form.
Game Fullbottle (

ゲームフルボトル

,

Gēmu Furubotoru

): Used with the Doctor Fullbottle to access Ex-Aid Form.
LevelUpping Ex-Aid Progrisekey (レベルアッピングエグゼイドプログライズキー, Reberuappingu Eguzeido Puroguraizu Kī): Based on Kamen Rider Ex-Aid, this Progrisekey's ability is "Game".[50]
"Ex-Aid Iryou Nisshi!"
―Activation announcement
"Toaru yamai kara hitobito o sukuu tame tensai gēmā ga tachiagatta.

Translation: A certain genius gamer has risen to save people from a certain illness. (

とある病から人々を救うため天才ゲーマーが立ち上がった

)"
―Story announcement.
The Ex-Aid Iryou Nisshi Wonder Ride Book (エグゼイド医療日誌ワンダーライドブック, Eguzeido Iryō Nisshi Wandā Raido Bukku, lit. "Ex-Aid Medical Treatment Log Wonder Ride Book") is based on Kamen Rider Ex-Aid and his forms. The book's name is shortened to "Ex-Aid" in the Swordriver's announcements.
Relationships
Allies
Parado/Kamen Rider Para-DX: Parado took an interest in Emu. He at first mocked Emu that life is like a game and once humans die, it's game over for them (they can't come back). However, upon seeing Emu's determination to save lives, Parado gives him a blank Gashat, wanting to observe his fate. After Emu created the Mighty Brothers XX Gashat, Parado said that Emu is really exciting. Parado starts insisting on fighting with Emu after Kamen Rider Chronicle had started, but Emu ignored him since he was more focused on saving people. Having become fed up with Emu's Hippocratic Oath preventing their fight, Parado reveals that he's actually Emu's 'M' Personality and also his manifested Bugster all along. Regardless of the connection between each other, Emu hates Parado because of how he is willing to take lives, Bugster, and humans alike. When suggesting they should team up, he would always refuse. Emu, however, depends on Parado's continued existence because as long as Parado remains alive, Emu retains his ability to transform into Ex-Aid and utilize Hyper Muteki. After their final confrontation, that leads to Parado's supposed death, Emu made him understand the value of losing a life which leads to begging forgiveness to the former for all the lives he took, Emu struggling to forgive him have finally accepted Parado as a part of himself. Each other made the promise to fight together for protecting lives, but on the same occasion Emu swore to Parado, that they will make up for his sins together. After their reconciliation, it is shown that when they fight together against Cronus, Poppy notes that their "Hearts are connected", which proves to be correct to the way that both have a genuine care for the other's safety. Emu was devastated when Parado chose to sacrifice himself to destroy Gamedeus. But he was very relieved to see a part of the Game Virus was in Emu, allowing Parado to survive.
Genm Corp.

Kuroto Dan/Kamen Rider Genm: When Emu was a child, he was a fan of the games that Kuroto had developed. Even as Emu joined CR later as an adult, he still had great trust in Kuroto, unaware that Kuroto was his nemesis Genm, right until Kuroto reveals his true motives of collecting data to complete the ultimate game. Emu's hostility towards Kuroto later deepens once he learns that Kuroto had killed Kiriya. However, even after all the sins that Kuroto has committed, Emu feels that killing Kuroto would not seem right as he would rather have Kuroto live to repay for the evil deeds he has done. This is especially shown when Emu decides to take Kuroto into CR when Kuroto was infected with the Bugster virus, even when Kuroto was already apprehended by the Ministry of Health. After seeing Kuroto suffer his tragic Game Over, Emu would later cry for Kuroto while alone. Eventually he no longer has remorse towards Kuroto anymore when both meet again in Kuroto's impossible game world for his resurrection to continue his ambition, just as Parado warned Emu before, whether dead or alive, Kuroto has always been a complete monster whom never knows when to quit his evil ambition towards humans and Bugsters alike. When Kuroto is later revived, though Emu does not forgive him, he gives Kuroto the chance to make up for his sins. Because of his cooperation with CR in defeating Kamen Rider Chronicle, Emu began to slowly trust him again, even in pivotal fights.
Ministry of Health

Kyotaro Hinata: Emu highly respects Kyotaro, to the point of debt-like respect because Kyotaro was the one who saved his life 16 years ago. In return, Kyotaro helps Emu by giving him some advice regarding his Doctor idealism.
Enemies
Genm Corp.

Masamune Dan/Kamen Rider Cronus: Emu and Masamune have met each other through unknown means since 2000 and during Emu's special surgery led by Kyotaro when Emu was a patient zero. Once Emu learned that Masamune was framed by Kuroto for a Zero Day back in 2011, Kiriya's death and Kuroto spills Emu's secret being a Patient Zero, Emu wants to know more from Masamune and promises to put Kuroto in custody. While avenging Masamune's reputation, Emu failed to arrest Kuroto when Parado kills him. Following Kuroto's revival as Bugster, he now has to work alongside him to limit the continuing damage of both Parado's actions and Kamen Rider Chronicle's infections to further protect Masamune's reputation. However, it was revealed that Masamune was orchestrating events to eventually become Kamen Rider Cronus, revealing his true, villainous personality. Masamune is also the 'other' Patient Zero of the Bugster virus, thus allowing Masamune to use Gashats to transform. Emu is willing to stop the Chronicle at all costs, even going to talk Masamune out of it. After that failed, he is willing to stop Cronus by force.
Graphite: Emu has been seen as Graphite's number one nemesis as Emu is the only Kamen Rider who is able to take care of most Bugsters easily. Especially, when Graphite infects his idol, Kyotaro Hinata. Ultimately, Emu destroyed Graphite with the help of his fellow Doctor Riders.
Behind the Scenes
Portrayal
Emu Hojo is portrayed by Hiroki Iijima (飯島 寛騎, Iijima Hiroki). As a child, Emu is portrayed by Rai Takahashi (髙橋 來, Takahashi Rai). As Kamen Rider Ex-Aid, his suit actor is Satoshi Fujita (藤田 慧, Fujita Satoshi) in Level 1 & X, Seiji Takaiwa (高岩 成二, Takaiwa Seiji) in Level 2, 3, 5 & XX R, [51] and Jun Watanabe (渡辺 淳, Watanabe Jun) in Level XX L.[52] His sub for Level XX L is Takuma Komori (小森 拓真, Komori Takuma). When Level XX R is possessed by Parado, he is voiced by Shouma Kai (甲斐 翔真, Kai Shōma).
Rider No.
As the leading rider protagonist of Kamen Rider Ex-Aid, Ex-Aid is labelled Kamen Rider #33 (仮面ライダー33号, Kamen Raidā Sanjūsangō) and Heisei Rider #18 (平成ライダー18号, Heisei Raidā Jūhachigō).
Etymology
Emu's given name is likely derived from the Japanese word for "smile" (

笑む

,

Emu

), because of his goal to make his patient's smile. His surname, Hojo, is a pun on the Japanese word for "assistance" (

補助

,

Hojo

), reflecting his job as a doctor.

His first name may possibly be derived from the word "emulator" (a gaming program based on game consoles), the meaning of which is made clear when the connection between him and Parado is revealed, as Emu serves as the "emulator" for Parado through the Genius Gamer M personality.
The name "Hojo" was also inspired by Karen Hojo, a character from the Idolm@ster series of rhythm/simulation video games, though Karen's surname is written with different Kanji. This reference was apparently slipped into the series by head writer Yuya Takahashi, himself an Idolm@ster fan.

Emu's first name is a homonym of M, which is his name of Genius Gamer identity.
The name Ex-Aid is a portmanteau word from Extreme and Aid. According to Kamen Rider Build in True Ending, he describes Ex-Aid as a Kamen Rider who goes through extreme lengths to provide aid to his patients or in short, "Extreme-Aid".
Notes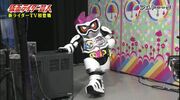 Chronologically, Ex-Aid's first appearance is on a Japanese talk-show named Ame Ta-lk (Aug 4th, 2016). Introduced by the show's special guest Shun Nishime (Takeru Tenkuji), Ex-Aid appeared behind the staff and performed a short burlesque, which shocked the other guests of the show.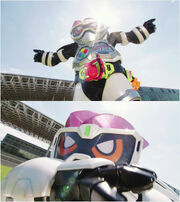 When triggering Level 2, he announces "Dai Henshin!" (lit. "Great Transformation"), similar to the transformation call of Keisuke Jin when he directly transforms into Kamen Rider X after gaining the Mercury Circuit.
Before inserting his Rider Gashat for the Finishing Attack, Emu occasionally blows into it first, a reference to the common practice of gamers during the retro days where they had to blow into their video game cartridges whenever they malfunctioned due to dust on the connectors.
Emu is confirmed to be 24 years old in his character description in Toei's official website for the series. In a blood sample analysis made by Taiga in episode 14, Emu's blood type is AB positive.
Yuya Takahashi, the head screenwriter of Ex-Aid, is a fan of the character Karen Hojo from the Idolm@ster game series, which inspired him to write in a kind-hearted older sister for Emu that was ultimately scrapped in the final cut.
Appearances
References