"Transform... Stronger!"
―Transformation call
The Electrer (エレクトラー, Erekutorā) is Stronger's transformation belt which is powered by electricity.
Unlike previous models which required wind energy to activate, The Electrer is activated by Shigeru removing his gloves and rubbing the coils on his cybernetic hands together creating a static charge. The electrical energy from the charge then activates the belt and transforms him into Kamen Rider Stronger. In certain cases, Stronger can also transform when he absorbs a surge of electricity.
Notes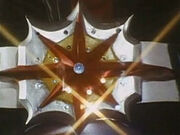 Not counting Riderman and Kamen Rider Amazon, whose belts were not utilized in their transformations, Stronger's belt was the first Transformation belt in the series to use no moving parts, a practice that would not be repeated until Kamen Rider ZX years later.
Appearances
Community content is available under
CC-BY-SA
unless otherwise noted.