Wiki Targeted (Entertainment)
Play Sound
Eisuke Tomari (泊 英介, Tomari Eisuke) was a police detective of the Tokyo Metropolitan Police Department and Shinnosuke Tomari's late father.
History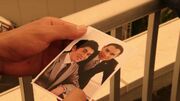 Eisuke was a devoted police officer who had loved his job. He was also a colleague and friend of Jun Honganji, who would watch over Eisuke's son Shinnosuke when he became a police officer. 12 years prior to the series, Eisuke found out that there was someone who was secretly controlling the police forces, and eventually uncovered Soichi Makage's true identity as Roidmude 001. 001 tried to use his memory alteration ability on him, but failed, and had to fight Eisuke as a last resort to silence him. It was this moment that gave Freeze the emotion of humiliation, and was the key to his eventual evolution into the Freeze Roidmude.
Later, Eisuke bore witness to a bank robbery incident, and was presumably killed by one of the robbers, Itsuro Negishi, while trying a to protect a little girl from being shot. However, suspicious circumstances surrounding the incident caused his death to be shrouded in mystery, due to the fact that all of the people involved in the incident (except for the little girl) had their memories altered by 001, who was also present at that scene.
It was then revealed that the true murderer of Eisuke was actually his colleague Mitsuhide Nira. Nira was also present during the incident, hiding behind a wall. He knocked out one of the robbers, took his gun and aimed it at Negishi, however he chose to shoot Eisuke instead, due to having developed a jealousy for Eisuke during their time as colleagues. Who Claimed the Life of Eisuke Tomari?
Post morterm
The real thing happened in the robbery event was later shrouded from almost everyone's memories until Shinnosuke gets justice for his father by exposing his murderer on television. Sometime after the Roidmudes' destruction and Neo-Shade's disbandment, Shinnosuke receives a promotion to the First Division and follows Eisuke's footstep as a top detective.
Family
Personality
Eisuke loved his job, and his ethics made him popular within the force. His heart of justice is proved when he saves a girl from being shot during a bank robbery on his day off, giving up his own life in the process.
Behind the Scenes
Portrayal
Eisuke Tomari is portrayed by Tareyanagi (たれやなぎ, Tareyanagi).
Appearances
Community content is available under
CC-BY-SA
unless otherwise noted.