In 2010, Eiji Hino (火野 映司, Hino Eiji) was Kamen Rider OOO (仮面ライダーOOO(オーズ), Kamen Raidā Ōzu), until the creation of Another OOO erased the Rider's history.
History
Another OOO
Due to the alterations to the timeline, Eiji Hino is now a politician of the National Diet of Japan. He is taken hostage within the Dan Foundation's headquarters by Kuroto Dan, who becomes Another OOO by Time Jacker Heure. He has a red-colored feather piece, as a nod to his Greeed ally Ankh in the original timeline. He later encounters Hina Izumi, an employee of the Foundation, after she is imprisoned as well for questioning King Kuroto Dan's authority.

Forms
After Eiji inserts three Core Medals into the OOO Driver, he scans them with the O Scanner, and then holds the O-Scanner up to his chest, he transforms into Kamen Rider OOO. Like Kamen Rider Double before him, OOO has multiple combinations of forms he can access referred to as Combos (コンボ, Konbo).
Tatoba Combo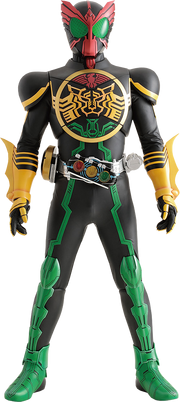 "Taka! Tora! Batta! Ta-to-ba! Tatoba, Ta-to-ba!"
―Transformation announcement
Statistics:
Height: 194 cm.
Weight: 86 kg.
Ability Perimeters:
Punching power: 4.5 t.
Kicking power: 12 t.
Maximum jump height: 190 m.
Maximum running speed: 100 m. per 4.5 sec.
Tatoba Combo (タトバコンボ, Tatoba Konbo), also known as the Multi Combo (複数コンボ, Fukusū Konbo), is the default combination of OOO accessed using the Taka, Tora, & Batta Core Medals.
In this form, OOO is armed with the Tora Claw gauntlets, and can transform his legs into Batta Legs to reach enemies that are out of his reach, such as ones that can fly. This combo is also the most balanced in speed and power.
This Combo's Scanning Charge finisher is the Tatoba Kick (タトバキック, Tatoba Kikku), where after jumping high up through the Batta Legs, OOO descends with a drop kick through the three rings that are formed, which are in the primary colors of the Taka, Tora, and Batta Medals which surround him in auras depending on the Core Medals. When passing through the red ring representing the Taka Medal, he is surrounded in a red veil with wings, the yellow ring representing the Tora Medal gives an aura with claws, while the green ring representing the Batta Medal gives an aura with legs.
Tatoba Combo's ending theme is entitled "Regret nothing ~Tighten Up~".
Equipment
Devices
OOO Driver: Transformation belt
O Scanner: A device that scans the medals
O Medals

Core Medals: Allow OOO to use Combos
Cell Medals: Uses for weapons and the Ride Vendor
Weapons
Behind the scenes
Portrayal
Eiji Hino is portrayed by Shu Watanabe (渡部 秀, Watanabe Shū).
Notes
To be added.
Appearances
Main article: Eiji Hino/Appearances
Community content is available under
CC-BY-SA
unless otherwise noted.