Eiji Akaso (赤楚 衛二, Akaso Eiji) is a Japanese actor and model who portrayed Hiroki Nagase in the second season of Kamen Rider Amazons and Ryuga Banjou in Kamen Rider Build.
Akaso was briefly a member of the male music group BOYS AND MEN, a group that former Gaim-star Yutaka Kobayashi is a prominent member of.
Biography
Akaso began his modeling career in his teens under the stage name Mamoru Akaso. In 2010, Akaso was a member of BOYS AND MEN, but left later on.
Filmography
TV
Film
Video
Commercial
Notes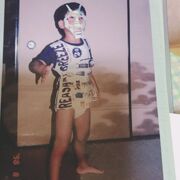 In a Kamen Rider Build press conference, he said that his favorite rider is Kamen Rider Kuuga and his grandfather bought him a Kuuga transformation belt on his birthday.
With his guest appearance in Kamen Rider Zi-O, he is the first Rider actor to have been in three consecutive Heisei productions in a row, with his first appearance in the franchise as Hiroki Nagase in Season 2 of Kamen Rider Amazons in April of 2017. After the finale of Amazons, he was cast in Kamen Rider Build as as Ryuga Banjou, where the show aired from September 2017 to the end of August of 2018. He would later reprise his role as Ryuga in Zi-O.
Akaso has bought Figuarts of Cross-Z and Cross-Z Charge.[1]
External links
References