Wiki Targeted (Entertainment)
Play Sound
"Eden Driver!"
―Activation announcement
"Progrise! (Progrisekey's transformation announcement)"
―Transformation announcement
"(Progrisekey prefix) Impact!"
―Standard finisher announcement
"(Bit/Byte/Kilo/Mega/Giga/Tera) Rise!"
―Progrisekey empowerment announcement
"(Progrisekey prefix) (Bit/Byte/Kilo/Mega/Giga/Tera) Impact!"
―Standard finisher announcement
"Error Rise!"
―Announcement when attempting to transform without authorizing
The Transformation Belt Eden Driver (変身ベルト エデンドライバー, Henshin Beruto Eden Doraibā), is the transformation device used by Kamen Rider Eden and later Kamen Rider Lucifer. Like both the Hiden Zero-Two Driver and Zetsumetsu Driver, it is a modified and upgraded variant of the Hiden Zero-One Driver. The Future of Each
Design
to be added
Functionality
Transformation
Eden/Lucifer has to press the Authorization Trigger of the unit to authorize the belt, next press the Eden Zetsumerise Key to make it automatically open and then insert it to the belt.
Finisher
Main article: Finisher (Zero-One)
To activate a finisher, Eden/Lucifer presses the Progrisekey again.
For a boosted attack, Eden/Lucifer holds another Progrisekey near the Authoriser before pressing on the Key in the belt. He can do this up to 6 times with the resulting boosts being as follows:
1x: Bit
2x: Byte
3x: Kilo
4x: Mega
5x: Giga
6x: Tera
After the Progrisekey is pressed or authorized to make a Bit - Tera Attack and then pressed, the Eden Driver activates an Impact attack.
Users (chronological order)
| | | | |
| --- | --- | --- | --- |
| User | Kamen Rider | Episode Obtained | Description |
| Rihito Isshiki/"S" | Kamen Rider Eden | The Future of Each | After Azu gave a copy of Hiden Zero-One Driver to S, he used the Eden Zetsumerisekey to transform it into the Eden Driver. His driver was later stolen by Behru. |
| Behru | Kamen Rider Lucifer | Kamen Rider Zero-One: REAL×TIME | Behru turned on S by shooting his leader, as the Eden Driver and Eden Zetsumerisekey falls to the ground, Behru picks up and transforms into Kamen Rider Lucifer with it. It is presumably destroyed by Zero-One and Zero-Two. |
Kamen Riders
Notes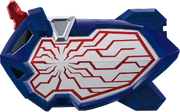 The Eden Driver is the third transformation Device to be based on the design of the Hiden Zero-One Driver, with the first two being the Hiden Zero-Two Driver and Zetsumetsu Driver.

Similar to the Zetsumetsu Driver, the Eden Unit does not attach into the left slot of the Zero-One Driver, meaning the Driver retains the same sounds as the Zero-One Driver.
Appearances
References
Community content is available under
CC-BY-SA
unless otherwise noted.