The Ecto Ray is a very powerful heat laser that can only be summoned by using the powers of Super Gold. It emits a very accurate and harsh shot on any foe.
Notes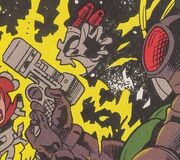 This is Masked Rider's only weapon that is not a sword.
In Masked Rider (Marvel) Issue 1, Masked Rider is seen wielding the Ecto Ray in his default form. It appears noticeably different in design to its on-screen appearance.
See also
Community content is available under
CC-BY-SA
unless otherwise noted.