Doctor Mochizuki (望月博士, Mochizuki Hakase) is a scientist and a father of Hiroshi Mochizuki who created Kamen Rider ZO and Neonoid. He dreamed of creating the "perfect lifeform" but failed. 
The Masked Rider: Kamen Rider ZO
Through his appearance in ZO, Doctor Mochizuki is featured in The Masked Rider: Kamen Rider ZO.
Behind the scenes
Portrayal
Doctor Mochizuki was portrayed by a singer Isao Sasaki (佐々木 功, Sasaki Isao). In The Masked Rider: Kamen Rider ZO, he is dubbed by Truitt Blassingham.
Notes
From the novel, Dr. Mochizuki's real name is Toshiro Mochizuki (

望月 敏郎

Mochizuki Toshirō

).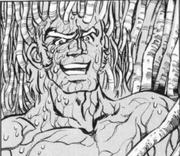 In the movie, Dr. Mochizuki had regrets for what he has done since he saw the evil nature of the Neonoid, while in the manga he was satisfied and becoming one with Doras to evolve him in the same form when Doras absorbed ZO.



90's Movie Trilogy
Kamen Riders
Shin Kazamatsuri - Masaru Aso - Kouji Segawa
Gear
Z-Bringer - J-Spirit - J-Crosser
Allies
Shin: Ai Asuka - Daimon Kazamatsuri - Takuya Yuuki - Shiin Kazamatsuri - Sarah Fukamachi
ZO: Hiroshi Mochizuki - Seikichi Mochizuki - Doctor Mochizuki - Reiko - Kuroda - Nishimura - Miyazaki
J: Kana Kimura - Earth Spirits - Berry
Enemies
Foundation (Shin): Iwao Himuro - Goushima - Giichi Onizuka
Neo Organisms (ZO): Doras - Koumori Man - Kumo Woman
Fog (J): Fog Mother - Agito - Zu - Garai
View • [Edit]
Community content is available under
CC-BY-SA
unless otherwise noted.