Do-or-Die! Ready for Infiltration! (決死!覚悟の潜入!, Kesshi! Kakugo no sen'nyū!) is the twenty-seventh episode of Kamen Rider Ghost. It features the debut of the Deep Specter Eyecon and the last appearance of Adonis.
Synopsis
Takeru and Alain have returned to the Gamma World. The former returns to save Makoto while the latter is set on finding answers. Takeru, under the impression that they both had the same objective in mind, loses sight of Alain. What are his true intentions? Meanwhile, Akari, Onari, and Kanon can't do anything but wait. Akari continues trying to break the code of the Monolith while Onari teaches Cubi more about humans. Igor, on his side, continues with his plan. Adel has witnessed the birth of a new threat from the Praying Room...
Plot
to be added
Cast
Guest Cast
Suit Actors
Ghost Eyecons
Eyecon Used:
Damashii Used:
Ghosts summoned through Eyecon Driver G:
Errors
Notes
Closing Screen Ghost Eyecon
Count at episode end

Takeru's days of life remaining: 61
Eyecons in Ghost's Possession: 13
Eyecons in Specter's Possession: 0
Eyecons in Necrom's Possession: 2
Eyecons connected: 9 (Ryoma, Musashi, Robin, Himiko, Newton, Benkei, Nobunaga, Edison, Goemon)

This episode's title is rather similar to Gaim's The Do-or-Die Tower Break-In Strategy!, and appears to have a similar story of breaking into the stronghold base of the series' villains.
This is the only time Ghost doesn't assume any Ghost Driver-related forms.

It is also the only time Takeru doesn't wear the Ghost Driver.

This is the first time Takeru summons the Gan Gun Saber from the Eyecon Driver G.
As of this episode, Alain calls Takeru by his first name instead of his full name.
DVD/Blu-ray releases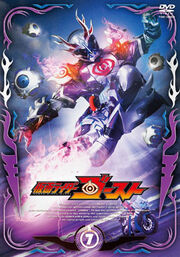 Kamen Rider Ghost Volume 7 features episodes 25-28: Disaster! The Red Sky!, Conflict! The Terms of Resolution!, Do-or-Die! Ready for Infiltration! and Bursting! Power of the Depths!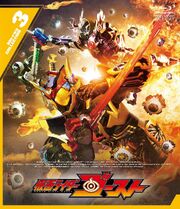 Blu-ray Collection 3 comes with 13 episodes.

External Links
References
Community content is available under
CC-BY-SA
unless otherwise noted.