Wiki Targeted (Entertainment)
Play Sound
Death Imagin (デスイマジン, Desu Imajin): The Death Imagin was the leading force of Kai's Imagin army, created by using Kai's all remaining memories, it is serves as an integral part of Kai itself. And if the Death Imagin was destroyed, Kai and his Imagin army would dissolve into sand. The Death Imagin wielded a scythe as his weapon, though he overpowered both Den-O Liner Form and Zeronos Zero Form, the Death Imagin is eventually destroyed by Den-O Sword Form and the combined energies of all the good Imagin as well as Zeronos, dissolving Kai and all of the Imagin that he had made contracts with earlier, into sand as a result.
Notes
Behind the scenes
Portrayal
Death Imagin is voiced by Hiroshi Yanaka (家中 宏, Yanaka Hiroshi)), who also previsouly voiced Arch Orphnoch in Kamen Rider 555.
Concept Art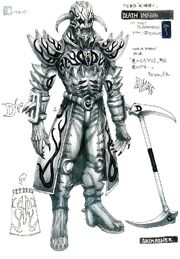 Death Imagin was designed by Yasushi Nirasawa (韮沢 靖, Nirasawa Yasushi).

Notes