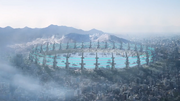 Daybreak Town (デイブレイクタウン, Deibureikutaun) is a destroyed town in Kamen Rider Zero-One. The water surrounding it contains the Ark and it serves as the base of MetsubouJinrai.net.
History
In 2007, 12 years before Korenosuke Hiden's death, an incident caused by MetsubouJinrai.net led to the uncontrolled rampage of most of the Humagears in Daybreak Town. To prevent these Humagears to escape the vicinity of Daybreak, Satoshi Sakurai shut down the gates of the Humagear Factory and detonating all Humagears within Daybreak, which resulted in his death due to him still being in the central control room of the factory.
The incident would later be known as the Daybreak Town Accident, with Satoshi being blamed until Aruto, Isamu, and Anna recovered a recording of Satoshi's final hours. The Bus Guide Saw It! Anna's Truth
During the Workplace Competition between Hiden Intelligence & ZAIA Enterprise Japan, a proposal was made to rebuild the city and a referendum campaign would be held between to vote on the issue of whether Humagears should be accepted into society or not.
After the war between Humans & Humagears was ended, A.I.M.S. use Daybreak Town as their main Headquarters. The Future of Each
Companies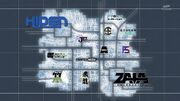 JEE.net
Bell A Co., Ltd
Future Co., Ltd
Aimy Corporation
Fly Second Corporation
Frontier Media
Hibiki Data Wave
Take Innovation
Hiryu System Technology
System Engineer Co., Ltd
Locations
School
Hiden Intelligence First Humagear Factory
Ark launch site
Notes
References
Community content is available under
CC-BY-SA
unless otherwise noted.