The Dai Mazines (ダイマジーン, Daimajīn) are giant mechas controlled by Kamen Rider Ohma Zi-O to rule the world since Oma's Day.
In Kamen Rider Zi-O: Over Quartzer, several Dai Mazines emerged as a result of the Quartzer's attempt to erase the Heisei era. They would be crippled after Woz tore the Ohma Advent Calendar and were ultimately destroyed by Kamen Rider Zi-O OhmaForm and some of the Legend Riders' giant allies.
Height: 3870 m.
Weight: 280,500 t.
History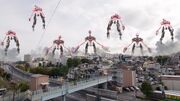 Notes
To be added.
Appearances
Community content is available under
CC-BY-SA
unless otherwise noted.