Cyclops (サイクロプス, Saikuropusuis) was Shunpei's inner Phantom which tried to makes its way to the real world by smashing his Gate's Underworld. Cyclops was a very strong Phantom, which gave both Wizard and Wizardragon a hard time. He was armed with claws ideal for swipes and scaling buildings and was equipped with a spiked club. Cyclops was the first Phantom to be defeated by Wizard's Strike End attack.
Profile
Episodes: 1
Destroyed by: Kamen Rider Wizard Flame Style's Strike End
Mythological Basis: Cyclops
Height:10.75 m
Weight:630 kg
Behind the scenes
Conception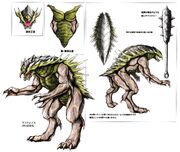 Cyclops was designed by Hiroshi Maruyama, who designed all of the Phantoms in Kamen Rider Wizard.
External links
Community content is available under
CC-BY-SA
unless otherwise noted.