Wiki Targeted (Entertainment)
Play Sound
Crust Imagin (クラストイマジン, Kurasuto Imajin) was an evil Imagin that appeared in Kamen Rider Den-O.
History
The Crust Imagin wields a boomerang-like sword and uses seaweed-like tendrils for weapons. When Daiki wishes to be back on his soccer team, the Crust fulfills this wish by hospitalizing the other members. He then travels to the past and begins attacking the soccer stadium. When destroyed by Den-O Rod Form, the Crust Imagin becomes Gigandeath Hades and is then destroyed by DenLiner Isurugi.
Video Game appearances
Kamen Rider Break Joker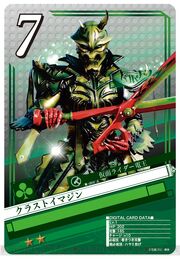 Crust Imagin appears as a playable character with other Riders and monsters in Kamen Rider Break Joker.

Forms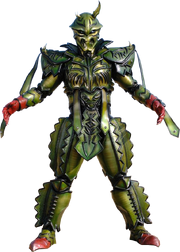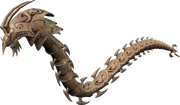 Gigandeath Hades (ギガンデスハデス, Gigandesu Hadesu) is an aquatic Gigandeath, the eel-like Hades combines the elements of various sea creatures and is able to fly, swim, and spew fire balls from its mouth.
Myth/legend: Leviathan
Height: 21800 cm
Weight: 1605 kg
Behind the scenes
Portrayal
Crust Imagin is voiced by Kyousei Tsukui (津久井 教生, Tsukui Kyōsei), who later voiced Mogura-Roid in Ressha Sentai ToQger Vs. Kamen Rider Gaim Spring Vacation Combining Special

.
Concept Art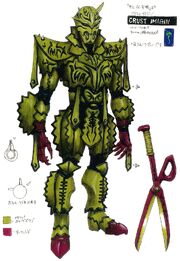 Crust Imagin was designed by Yasushi Nirasawa (韮沢 靖, Nirasawa Yasushi).

Notes