The Crisis Empire (クライシス帝国, Kuraishisu Teikoku) was an alien empire, ruled by the emperor of the same name, whose invasion of Earth was opposed by Kohtaro Minami.
Bio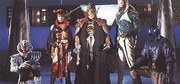 The Crisis Empire are group of aliens who attempt to invade Earth. They always attempt to justify their invasion and their plans to exterminate the human race. They also claimed that their home planet is being sucked into a black hole. Since they think that humans do not really care about the Earth, the Crisis Empire thinks it is right for them to take over Earth.

World of Black RX
The Crisis Empire also exists in the A.R. World of Black RX, where it is fought by a alternate Kamen Rider Black RX. This Crisis Empire also possess an army of Chap foot soldiers. Having already recruited the Gorgom cult from the World of Black,Dai-Shocker's Apollogeist arrived in this world summoning Gorgom's Sai Mutant to convince Strange Demon Robot Shvarian, who sees himself as the ultimate machine in his branch, to join Dai-Shocker. He originally turned down Apollogeist's offer to join Dai-Shocker until he sees his power first hand. Black RX teamed up up with the A.R. Kamen Rider Black from the World of Black, helping Decade and his friends stop Dai-Shocker. Shvarian was destroyed by Decade Complete Form with the aid of Agito Shining Form as Apollogeist fled to another A.R. World. RX! Dai-Shocker Attack Black × Black RX
General Jark of the Crisis Empire served as one of Dai-Shocker's commanders as the organization, based in the World of Decade, began its invasion of the A.R. Worlds. Jark led a Dai-Shocker platoon pursuing Diend and Natsumi Hikari as Decade arrived, intent on fighting Dai-Shocker and saving his friends, Jark was then killed by Diend. Kamen Rider Decade: All Riders vs. Dai-Shocker
Jark reappeared as part of the new Dai-Shocker assembled by Tsukasa to wipe out the Super Sentai, ensuring the survival of the Kamen Riders. After Dai-Shocker's alliance with Dai-Zangyack is revealed, Jark is once again defeated along with Shadow Moon by the combined forces of Kamen Rider Black and the Hikari Sentai Maskman

. Kamen Rider × Super Sentai: Super Hero Taisen
Shocker Greeed
In an alternate timeline caused by Ankh leaving a O-Medal behind in the year 1971, Shocker achieved its goal of dominion of Japan with the Shocker Greeed. Crisis Empire, represented by General Jark, was among the various organizations that forms a partnership with Shocker. OOO, Den-O, All Riders: Let's Go Kamen Riders

Badan Empire
Both General Jark and Shvarian were among the resurrected villains part of the Badan Empire revival which fought the 15 Heisei Riders and 15 Showa Riders. Heisei Rider vs. Showa Rider: Kamen Rider Taisen feat. Super Sentai
Super Hero Taisen GP
To be added Super Hero Taisen GP: Kamen Rider 3
Membership
Among the members of the Crisis Empire are:
Emperor Crisis (42, 46 & 47): The true leader of the empire who is not seen but mentioned several times throughout the series. His voice was first heard where Gedorian eventually appeased his wrath. He is later seen in the shadows when General Jark begged for power. He eventually offered Black RX the chance to replace General Jark and become the new right hand or even rule the Earth. When refused, he summons his host body Dasmader to finish Black RX. He appears as a giant, ugly alien head in the finale after the death of his host body Dasmader. He was destroyed by RX's Revolcane. It is speculated that he is the Great Leader responsible for the formation of the previous evil organizations as he claims that it won't be his last appearance. Upon his death, his planet is also destroyed because it was linked to his life force. He is voiced by Naya Goro, the same voice that was used for previous Great Leader incarnations. Used for "Lavasect" in Saban's Masked Rider.
General Jark (1-46): The military leader of the empire wearing a gold face mask and a black cape. He was initially leading the attacks until Crisis arrived. Towards the end of the series, he was forcefully transformed by Crisis into a stronger warrior called Jark Midler to kill Black RX. In the process, Jark Midler easily murdered the Sahara parents and defeated V3 and Riderman while X and Amazon rescued the Sahara children from his grasp. When he was in the middle of battle, the Sahara children tried to kill him but Black RX as Roborider shielded the children and transformed into Biorider. He was inevitably killed by Black RX in a long mortal combat who used the Revolcane on him. Regressed to his normal form and near death, he proclaimed Crisis was too powerful even for Black RX. Used for "Count Dregon" and "Dregonator" in Saban's Masked Rider.
Intelligence Staff Officer Maribaron (1-24 & 27-47): The sorceress of the State, a human-looking officer in black and red armor with feelings for Jark. She uses the yellow feather on her helmet as a weapon or to send messages. She can also use a laser whip and breathe fire. Her monsters are Supernatural-Based. In one event, she revived the spirits of 10 used monsters when Kohtaro was believed to be dead to finish off the other riders. She also appeared to have actually cared for her fellow commanders, when she was saddened by their deaths. She was eventually shocked to learn that Dasmader was Grand Lord Crisis' mobile body. She was killed by Crisis when she objected on his decision to have Black RX join them. Used for "Nefaria" in Saban's Masked Rider.
Naval Commander Bosgun (1-8, 10-16 & 18-44): A tall man dressed in a blue-green naval coat and white tights who wields a jagged sword and dagger. He wears a white helmet with a red visor and a tiny face on his forehead, which seems to be his actual face. He is in charge of the Man-Beast/Mutant Unit. He once plotted to take over General Jark but his plans were foiled when one of his swords was destroyed by General Jark himself upon discovering his treachery when he lost to Black RX twice. He died fighting Black RX when he was stabbed by the Riboclane Sword during the arrival of Granzarias. Used for "Doubleface" in Saban's Masked Rider.
Armored Captain Gatezone (1-8, 10-15, 18-25 & 27-43): A blue robotic biker in a leather jacket, slack, and one red eye on his face. In charge of Robot Unit, he took to fight Black RX occasionally. He is armed with a blaster and a powerful motorcycle. He died fighting Black RX while attempting a suicide bomb attack, with only his head remaining before it was shattered by his own laser beams reflected by Black RX. Used for "Cyclopter" in Saban's Masked Rider.
Fanged Captain Gedorian (1-15, 18-25 & 27-42): A small, unusual creature who is in charge of the Alien Lifeforms Unit. He is constantly hopping about and annoying everyone else. He is the most cowardly and is quick to ditch a battle before it's even over. He was soon targeted by Dasmader, Gatezone and Bosgun when Grand Lord Crisis was about to destroy them all. Afterwards, he soon gave his life to ensure the others avoided Crisis' wrath when he transferred his life energy into Gedoll Ridoll before his monster died at Black RX's hands. Used for "Gork" in Saban's Masked Rider.
Colonel Dasmader (28-30 & 33-47): An inspector sent by Grand Lord Crisis at the middle of the series. The others hate the way he does his job being arrogant and everything. He was almost killed by both General Jark and Black RX. He later leads Gatezone and Bosgun in the attempt to kill Gedorian to appease Grand Lord Crisis' anger. In episode 46, Maribaron discovers that he is somewhat a puppet of Grand Lord Crisis and a mobile body. In episode 47, he was summoned when Black RX refused Grand Lord Crisis' order. He served as Grand Lord Crisis' second body which was revealed upon his demise.
Chief Cabinet Secretary Robo Chakram (1, 2, 4, 5, 8, 12-15, 21, 37 & 47): A small robot that announces Jark's arrival before his subordinates and transmits messages from Crisis himself. He was destroyed by Kamen Rider Black RX before the final battle with Dasmader who was already possessed by Grand Lord Crisis. Used as "Fact" in Saban's Masked Rider.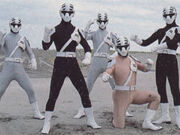 Chaps: The Crisis Empire's foot soldiers with hockey mask-like faces. They come in three colors: gray, brown and black. They later wear capes. The last of them were finished by the original 10 Kamen Riders before Black RX battled Dasmader. Used as "Commandoids" in Saban's Masked Rider.
Kaiman Senshi
Main article: Kaiman Senshi
The monsters used by the Crisis Empire are referred to Kaiman Senshi which translates to "Demon Warriors." Each one belongs to the known Crisis Empire Units: The Supernatural unit, the Robot unit, the Man-Beast/Mutant unit, and the Alien Lifeform unit. Here are those monsters:
This is the unit used by Colonel Maribaron:
This is the unit led by Captain Gatenzone:
This is the unit led by Naval Commander Bosgan:
This is the unit led by Captain Gedorian:
Others
Strongest Monster Gran Zairus (44 & 45): A bird-like monster which was the Grand Lord Crisis' best soldier and worked with Bosgan when summoned by Lord Crisis. While the 10 veteran Kamen Rider team fought the Chaps, Black RX went one-on-one with Bosgan and killed him. Turning his attention to Gran Zairus, Black RX became Biorider and destroyed the monster from the inside out. For a time, the 10 veteran Kamen Riders thought that Black RX had been killed, but Biorider resurfaced and explained that he bailed out in time before destroying the Spirit World demons. Was used for "Bruticon" in Saban's Masked Rider.
Spirit World Inhumanoid Army (45): When Kamen Rider Black RX was believed to be dead after the battle against Gran Zarius, Maribaron revived the spirits of Skullma, Metaheavy, Zunojin, Gynaninpo, Gynakamakil, the lead Culculten, Elgitron and Antront to kill the other 10 Kamen Riders. Because they are dead spirits, they are all a grayish-white in color. Gynaninp's spirit impersonated Kamen Rider 1. All of them were destroyed by Biorider.
Behind the scenes
The Crisis Empire served as the evil organization of Kamen Rider Black RX.
Appearances
See Also
External links
Community content is available under
CC-BY-SA
unless otherwise noted.