Crank In! Memory of Hiromi! (クランクイン!メモリー・オブ・ヒロミー!, Kurankuin! Memorī Obu Hiromī!) is the twenty-ninth episode of Kamen Rider Revice. It features the debut of the Gifftarians (TRUE) and the full reveal of Giff's true form.
Synopsis
Giff should have been revived, but he stays completely silent. Ikki defeats Orteca in a battle to the death and finally separates with Vice. Thus, the Igarashi family returns to their normal daily lives.
Then a rumor begins to spread, "Hiromi is alive." Ikki and Daiji visit him, but he doesn't remember a thing. He seems to be suffering from amnesia.
A depressed trio of Igarashi siblings decide to make a movie on Hiromi's life on the suggestion of Ikki. In order to wake him up, filming on this movie has begun!!
Plot
to be added
Cast
Guest Cast
Suit Actors
Forms and Collectibles Used
Stamp Used:

Revi

Barid Rex, Volcano, Thunder Gale

Form Used:
Notes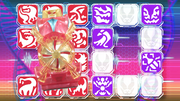 Closing Screen

Kamen Riders: Revice
Vistamps: Thunder Gale

Count at episode end

Vistamps in Revi's possession: Rex, Eagle, Mammoth, Megalodon, Ptera, Lion, Kong, Kamakiri, Brachio, Neo Batta, Kangaroo, Barid Rex, Volcano, Rolling, Thunder Gale
Vistamps in Live's possession: Bat, Jackal, Holy Wing
Vistamps in Jeanne's possession: Cobra, Kujaku, Turtle
Vistamps in Demons' possession: Spider, Batta, Mogura, Condor, Scorpion
Vistamps in Fenix's possession: White Leo, Quetzalcoatlus
Vistamps in unknown possession: Kabuto, Giff Junior
Proto Vistamps in Fenix's possession: Cheetah, Koala, Elephant, Shark
Proto Vistamps in Aguilera's possession: Queen Bee
Proto Vistamps in unknown possession: Planarian, Sabertiger, Chameleon, Wolf, Daiouika, Anomalocaris

This episode aired on the 51st anniversary of the Kamen Rider Series.
This episode is largely a clip show.
The events of DEAR GAGA take place immediately before the start of this episode, as footage from said special appears via a flashback.
The "No Illegal Upload!" gag is a reference to Japanese Anti-Piracy Ads that are used to discourage people from filming clips or whole films from theaters to upload on the web.
References
External links