The Combat-Roids (コンバットロイド Konbatto Roido) are the Badan Empire's cyborg foot soldiers.
Character HistoryEdit
Birth of the 10th! Kamen Riders All Together!!Edit
Birth of the 10th! Kamen Riders All Together!!
Kamen Rider TaisenEdit
The Combat-Roids return as the foot soldiers of the Underground Empire Badan. Ressha Sentai ToQger Vs. Kamen Rider Gaim Spring Vacation Combining Special In addition, combatmen from other evil organizations (Shocker, Destron, and the Chaps of the Crisis Empire) served as secondary foot soldiers. They were all defeated by the 15 Heisei Riders and 15 Showa Riders when they united to take down Badan. Heisei Rider vs. Showa Rider: Kamen Rider Taisen feat. Super Sentai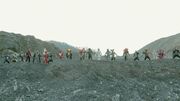 The Combat-Roids served as a secondary foot soldier force for Shocker in the altered timeline created by the History Modifying Machine. Super Hero Taisen GP: Kamen Rider 3

Video game appearancesEdit
Kamen Rider: Battride War GenesisEdit
Combat-Roids appear as minions in the video game Kamen Rider: Battride War Genesis.
AppearancesEdit