Clone Hell Bro's (クローンヘルブロス, Kurōn Heru Burosu) is a creation of Nariaki Utsumi in his research regarding possibilities of creating the Clone Smashes.
Character History
Short Life
He was created by Nariaki Utsumi and battled various Kamen Rider holograms, including Build RabbitTank Sparkling, Cross-Z Charge and Build Hazard. Being a clone himself, Clone Hell Bros didn't have human emotions and never felt any pain. Utsumi, unsure is his creation were ready to face off against real Kamen Riders and not their holograms, decided to use the Clone as a foe for Kamen Rider Build SameBike Form. Eventually, this clone was defeated by Sento Kiryu. Kamen Rider Build: Raising the Hazard Level ~7 Best Matches~: Final Chapter
Legacy
Data obtained from his battles with both holograms and real Kamen Riders were used by Utsumi to create Clone Smashes. Surging Magma!

Forms
Hell Bro's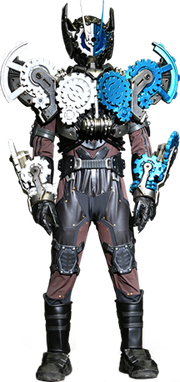 Statistics
Ability Perimeters:
Hell Bro's (ヘルブロス, Heru Burosu) is the fusion of Engine Bro's and Remocon Bro's, transformed into by inserting the Gear Engine or Gear Remocon into the Nebulasteam Gun, then removing it and inserting the other gear before pulling the trigger.
As Hell Bro's is a fusion of both Kaisers, Hell Bro's stats are higher than even Kamen Rider Rogue, with speed being similar to Build's Hazard Forms and average jumping power.
Nebulasteam Gun finisher:

Funky Drive (

ファンキードライブ

Fankī Doraibu

):

Gear Remocon: Clone Hell Bro's shoots two energy gears at the enemy.

Funky Attack (

ファンキーアタック

Fankī Atakku

):

Cobra: Hell Bro's shoots an energy cobra projection followed by three energy projections of gears. The cobra first attacks the enemy by itself before it and all of the gears attack together in quick succession.
Equipment
Devices
Behind the Scenes
Portrayal
Clone Hell Bro's's suit actor is Yuji Nakata (

中田 裕士

Nakata Yuji

).
Appearances
References
Community content is available under
CC-BY-SA
unless otherwise noted.