In a timeline where Drive doesn't exist, Chase (チェイス, Cheisu) did not ally himself with humanity, instead fighting alongside the other Roidmudes as Mashin Chaser (魔進チェイサー, Mashin Cheisā, lit. "Advance Demon Chaser").
Profile
History
2019: Vanishing Watches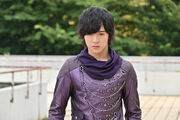 In 2019, Chase appears as Mashin Chaser, declaring himself the enemy of all Kamen Riders and attacking Geiz Myokoin and Woz. Rather than being one of Another Decade's summoned Dark Riders, he is the original Chase himself, having been revived from Sougo Tokiwa obtaining the Drive Ridewatch. Due to the destruction of said Ridewatch however, the Roidmudes were brought back into existence, with Chase converted into their ranks. Geiz manages to stun Chase by pointing out the logical paradox in his words (he can't be the enemy of Kamen Riders if he comes from a world where Riders don't exist), then says that history has been altered and reminds him of the existence of Go Shijima, which causes Chase to faintly remember his sacrifice against Gold Drive. 2019: Vanishing Watches 

2068: Ohma
Just when Tsukuyomi was nearly attacked by a Roidmude, Mashin Chaser suddenly reappears to save her. Immediately afterwards, his transformation is canceled, with Chase reeling in confusion from his actions. Woz explains to him of his true origins as a Kamen Rider, aggravating Chase into attacking him as Mashin Chaser again. Amidst their battle, Woz is summoned by Sougo, leaving Chase alone with Tsukuyomi. Tsukuyomi pleads Chase to stop his rampage, stating that he should have a conscience as well. Despite Chase's denial, he finds himself unable to harm her. Swartz then appears in front of them, saying that he will personally finish off his little sister. Witnessing Swartz's action compels Chase to stop him, appalled by such cruelty. Outmatched as Mashin Chaser, Chase is mortally wounded, with Geiz appearing too late to save him. Holding Chase's damaged body, Geiz tells him that his friend is working to revive him, while also stating that they are his friends as well. Glad to hear these words, Chase expresses his admiration for humans before dissipating in a flash of light.
Personality
Due to the alteration of time, Chase lost his memory as Kamen Rider Proto-Drive and Chaser, instead believing himself to be a foe of all Kamen Rider. Once Geiz pointed out the flaw behind his overall logic however, Chase began to remember his previous life in Kamen Rider Drive, growing confused with himself.
Eventually, disgusted with Swartz's inhumane actions, Chase rebelled against him, believing that such cruelty is unacceptable. Near his second demise, Chase fully regained his appreciation towards humanity, being grateful to Geiz for his kindness.
Mashin Chaser
While Chase uses the Break Gunner to transform into his battle form, unlike the Roidmudes who require Viral Cores as it comprises their body, Chase can use Viral Cores to augment Mashin Chaser's power further. This power-up is known as Tune Chasers (武装チェイサー, Busō Cheisā, lit. "Armed Chaser") and each Tune Chaser have their own weapons powered by the E-Circular (E-サーキュラー, Ī-Sākyurā) materializing from the Circular Dynamics (サーキュラーダイナミクス, Sākyurā Dainamikusu) on his back. Whenever he executes a Full Break (フルブレイク, Furu Bureiku) finishing blow, the silver pipes on his Night Hide Wear (ナイトハイドウェア, Naito Haido Uea) suit called the G-Junction (G-ジャンクション, Ji-Jankushon) empower the attacks made.
Equipment
Core Driviars: Kamen Rider Protodrive/(Mashin) Chaser's power source
Core Driviar-0: Protodrive/Mashin Chaser's power source, a prototype of the Core Driviars
Core Driviar-ONE: Kamen Rider Chaser's power source, which enable him to create Super Heavy Acceleration based on his Roidmude form's upgrade
Break Gunner: Transformation device and personal weapon.
Weapons
E-Circular: Mashin Chaser's tire in his Tune Chaser forms, unfolding into an animal-based weapon.
Fang Spidey: Tune Chaser Spider's fang-based weapon via the Chaser Spider Viral Core
Tail Whipper: Tune Chaser Cobra's tail-based weapon via the Chaser Cobra Viral Core
Behind the scenes
Portrayal
Chase is portrayed by Taiko Katono (上遠野 太洸, Katōno Taikō). As Mashin Chaser, his suit actor is Yasuhiko Imai (今井 靖彦, Imai Yasuhiko).
Notes
Notably, Chase is the last Legend Rider to guest star in Kamen Rider Zi-O, albeit neither appearing in his Rider Form nor having his Ridewatch created.
When considering how an Another Rider is created (via distorting time and corrupting an individual with selfish desires) Chase can be considered as their antithesis, since he was turned into a member of Swartz's force by the Drive Ridewatch's effects, yet ultimately used his powers as Mashin Chaser to save Tsukuyomi in an act of heroism.

This is fitting when one remembers the original Double Riders, both being given great power by an evil force but choosing to fight for justice, something which Chase ended up doing as well.

Chase is the third Legend Rider to die in Kamen Rider Zi-O, following Michal Minato and Tsukasa Kadoya.

However, he is the second one to face permanent death, since Tsukasa was revived.
Appearances
External Links
References
Community content is available under
CC-BY-SA
unless otherwise noted.