In a timeline where Drive doesn't exist, Chase (チェイス, Cheisu) never re-aligned with humanity, leaving him never becoming Kamen Rider Chaser and remaining as Mashin Chaser (魔進チェイサー, Mashin Cheisā, lit. "Advance Demon Chaser").
Profile
History
2019: Vanishing Watches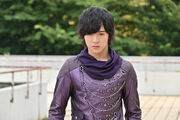 In 2019, an alternate version of Chase appears as Mashin Chaser, declaring himself the enemy of all Kamen Riders and attacking Geiz Myokoin and Woz. Rather than being one of Another Decade's summoned Dark Riders, he seemingly comes from the world created by Sougo Tokiwa obtaining the Drive Ridewatch, in which the Roidmudes existed but the Kamen Riders who oppose them did not. Geiz manages to stun Chase by pointing out the logical paradox in his words (he can't be the enemy of Kamen Riders if he comes from a world where Riders don't exist), then says that history has been altered and reminds him of the existence of Go Shijima, which causes Chase to remember his original sacrifice against Gold Drive. 2019: Vanishing Watches 

2068: Ohma Time
Personality
To be added. 
Mashin Chaser
While Chase uses the Break Gunner to transform into his battle form, unlike the Roidmudes who require Viral Cores as it comprises their body, Chase can use Viral Cores to augment Mashin Chaser's power further. This power-up is known as Tune Chasers (武装チェイサー, Busō Cheisā, lit. "Armed Chaser") and each Tune Chaser have their own weapons powered by the E-Circular (E-サーキュラー, Ī-Sākyurā) materializing from the Circular Dynamics (サーキュラーダイナミクス, Sākyurā Dainamikusu) on his back. Whenever he executes a Full Break (フルブレイク, Furu Bureiku) finishing blow, the silver pipes on his Night Hide Wear (ナイトハイドウェア, Naito Haido Uea) suit called the G-Junction (G-ジャンクション, Ji-Jankushon) empower the attacks made.
Equipment
Core Driviars: Kamen Rider Protodrive/(Mashin) Chaser's power source

Core Driviar-0: Protodrive/Mashin Chaser's power source, a prototype of the Core Driviars
Core Driviar-ONE: Kamen Rider Chaser's power source, which enable him to create Super Heavy Acceleration based on his Roidmude form's upgrade
Weapons
Mashin Chaser

E-Circular: Mashin Chaser's tire in his Tune Chaser forms, unfolding into an animal-based weapon.

Fang Spidey: Tune Chaser Spider's fang-based weapon via the Chaser Spider Viral Core
Tail Whipper: Tune Chaser Cobra's tail-based weapon via the Chaser Cobra Viral Core
Behind the scenes
Portrayal
Chase is portrayed by Taiko Katono (上遠野 太洸, Katōno Taikō). As Mashin Chaser, his suit actor is Yasuhiko Imai (今井 靖彦, Imai Yasuhiko).
Notes
Chase is the third Legend Rider to die in Kamen Rider Zi-O, following Michal Minato and Tsukasa Kadoya.

However, he is the second one to face permanent death, since Tsukasa was revived.
Appearances
External Links
References
Community content is available under
CC-BY-SA
unless otherwise noted.