Wiki Targeted (Entertainment)
Play Sound
| | |
| --- | --- |
| | WARNING: This episode contains scenes of blood, bloodshed, and murder. Viewer discretion is advised! |
Chapter 40: Shining Friendship, the Three Swordsmen. (輝く友情、三剣士。, Kagayaku Yūjō, San Kenshi.) is the fortieth episode of Kamen Rider Saber. It features the debut of Kamen Rider Featuring Saber, the return of Kento as Kamen Rider Espada, the revelation of Luna's true origins, and the death of Isaac.
Synopsis
Master Logos is once again brought down by the power of the Sword of Kings, Xross Saber, but the Omni Force Wonder Ride Book in his hand is said to have the power to control all of the Wonder Ride Books. The first victims of that power were the Shindai siblings as Omni Force interferes with Ryoga's Wonder Ride Book, forcing Durendal to attack Reika. Next, Master Logos targets Luna, the being who connects the worlds who is wandering around the Wonder World. Tassel desperately searches for Luna, but the devilish hand of Master Logos attacks Luna out of nowhere. Meanwhile, in the real world, Touma, Rintaro, and Kento stand in front of Master Logos who is targeting Luna. However, the trio is unmatched by the power of the Omni Force.
Plot
The chapter opens with Tassel narrating what Touma had done before as he ventures the Wonder World in search of Luna. Meanwhile, in the other part of Wonder World, Luna looks around in confusion.
In the Megid's lair, Isaac plans to capture Luna to complete the Omni Force Wonder Ride Book. He transformed into Solomon and then leaves to exact revenge on the swordsmen. In Southern Base, Ryoga and Reika check on the situation as they vow to defeat Isaac and return the base to normal. However, before they leave, Isaac makes his presence known to the siblings. As they prepared to transform, Isaac used the power of Omni Force to summon a red fog that he aims at Ryoga, putting him under his control. He then ordered Ryoga to kill Reika, with the fully conscious Time Swordsman desperately plead his sister to run.
Back in the Northern Base, Touma is esctatic upon hearing from Yuri that Luna is in Wonder World, with Rintaro and the others expressing happiness for both him and Kento. However, they immediately realized that means Isaac will eventually found her and they must find her before he does. Yuri offers himself to go find Luna, but not before Kento handed Kurayami for his use.
Elsewhere, Isaac prepares to capture Luna by using Omni Force Book to open a portal into Wonder World. His hand passed through the flying Tassel, who expresses concern. Sophia immediately sensed that Isaac is using the power of Omni Force, but at the same time, a smoke signal from Reika arrived to request aid in helping Ryoga. The swordsmen then splits into two groups, with Touma, Rintaro and Kento taking on Isaac while Ryo and Tetsuo head to Southern Base.
Within Southern Base, Reika as Sabela desperately fights her brother and pleads him to stop. Despite successfully restraining Ryoga, this only last momentarily as he broke free and lands a counterattack at Reika, detransforming her. Ryoga then pleads Reika to strike him down, but she is unable to do as he ordered. Fortunately, Ryo and Tetsuo arrived in time to save Reika. Seeing the two, Ryoga also pleads them to strike him down. Tetsuo then asks Ryoga to resist the control, which he succeeded as he is about to strike the defenseless Reika.
In Wonder World, Luna is currently running away from Isaac's grasp. However, she trips and is almost captured by Isaac, to the horror of both Touma and Kento. Fortunately, Yuri arrived and fend off the Evil Swordsman using both Saikou and Kurayami. He immediately jumped out from the portal to aid Touma, Rintaro and Kento. Angered by the interference, Isaac used Omni Force to take control of Yuri, granting him both Saikou and Kurayami. Pissed off at Isaac's actions, the three of them transformed into Xross Saber, Blades Tategami Hyoujuusenki and Espada Golden Alangina. Using their finishers, the trio managed to force Isaac out of his transformation. But he immediately take control of both Rintaro and Kento.
Using their own willpower, Rintaro, Kento and Yuri managed to resist Isaac's control over them. Through the trio's strong bond, Xross Saber is loaned with Blades' Lion Senki book and Espada's Lamp do Alangina book to transform into Featuring Saber and finish off Solomon for good, shattering the Omni Force Wonder Ride Book using his finisher.
Within the Southern Base, Ryoga is finally freed and detransformed as Reika comes to her brother's aid. Tetsuo immediately notes that Touma had completed his task, which Ryo agrees. Coming to his senses, Ryoga thanked Ryo and Tetsuo for helping free him, which they gladly accepted.
Successful in stopping the former Master Logos, Touma, Rintaro and Kento rendezvous as they joined their Seikens together, fulfilling their promise to each other once again as Mei joined in. Meanwhile, within the Megid's lair, Storious laughs madly as his plans are coming into motion.
A heavily injured Isaac then retreated to a cave as he weeps at the shattered Omni Force Wonder Ride Book; only for it to repair itself, causing him to state that he is immortal. He is subsequently confronted by Storious, who taunts him for his false godhood delusions. Isaac, refusing to acknowledge this, calls Storious' statement a blasphemy and orders him to kneel. This prompts Storious to kill Isaac anyway and state that the false god's story has come to an end. Storious, now donning what's left of Isaac's robe, is last seen the Omni Force Wonder Ride Book.
Cast
Guest Cast
Suit Actors
Forms and Collectibles Used
Book Used:

Xross Saber

Brave Dragon, Lion Senki, Lamp Do Alangina

Blades
Espada

Lamp Do Alangina, Needle Hedgehog, Tri Cerberus

Buster
Slash
Saikou

Kin no Buki Gin no Buki, X Sword Man

Sabela
Durendal
Solomon

Form Used:

Xross Saber

Xross Saber, Featuring Saber

Blades
Espada
Slash
Saikou

X Sword Man, Kin no Buki Gin no Buki

Sabela
Durendal
Solomon
Seiken summoned by Xross Saber
Errors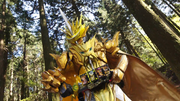 When Espada activates his finisher alongside Saber and Blades, Raimeiken Ikazuchi is not inserted all the way into the Swordriver.
Notes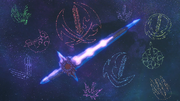 Closing Screen

Kamen Riders: Xross Saber
Wonder Ride Books: N/A
Seiken: Haouken Xross Saber

Wonder World Text Translation Page

Kamen Riders: Solomon; Xross Saber
Wonder Ride Books: Omni Force; Brave Dragon, Lion Senki, and Lamp Do Alangina
Count at episode end

Wonder Ride Books in Saber's possession: Brave Dragon, Storm Eagle, Saiyuu Journey, Dragonic Knight, Primitive Dragon, Elemental Dragon, Emotional Dragon, Diagospeedy, Book Gate
Wonder Ride Books in Blades' possession: Lion Senki, Peter Fantasista, Tenkuu no Pegasus, King Lion Daisenki, Tategami Hyoujuusenki, Book Gate
Wonder Ride Books in Espada's possession: Lamp do Alangina, Needle Hedgehog, Tri-Cerberus, Jaaku Dragon, Jaou Dragon
Wonder Ride Books in Buster's possession: Genbu Shinwa, Jackun to Domamenoki
Wonder Ride Books in Kenzan's possession: Sarutobi Ninjaden, Kobuta 3Kyoudai
Wonder Ride Books in Slash's possession: Hanselnuts to Gretel, Bremen no Rock Band
Wonder Ride Books in Saikou's possession: Kin no Buki Gin no Buki, X Swordman
Wonder Ride Books in Sabela's possession: Konchuu Daihyakka
Wonder Ride Books in Durendal's possession: Ocean History
Wonder Ride Books in Storious' possession: Omni Force
Wonder Ride Books in Desast's possession: Eternal Phoenix
Wonder Ride Books in unknown possession: King of Arthur

Chronologically speaking, this episode marks the second time Espada has transformed into Espada since giving Ikazuchi up, as his first actual return was featured in the Special Chapter episode that takes place before this episode.
External links
References