Wiki Targeted (Entertainment)
Play Sound
Chapter 39: Hey Swordsmen, Follow the Path You Believe in. (剣士よ、信じる道を行け。, Kenshi yo, Shinjiru Michi o Ike.) is the thirty-ninth episode of Kamen Rider Saber. It features the debut of Kamen Rider Crimson Saber, and the return of Tassel, Luna, and the Charybdis Megid since their last appearances. It also features Kento rejoining Touma's team.
Synopsis
With the power of the new Seiken that Touma has acquired, all the books created by Master Logos have disappeared, and the sections of the vanished cities have also been restored. Although they all opposed Master Logos however, the Shindai siblings, Ren, and Kento still haven't chosen to side with Touma and the others. On the other hand, Master Logos senses the power derived from that mythical Seiken created by Touma and Luna, and continues to advance his plan more rapidly. Was the creation of this Seiken forged from the emotions of the swordsmen tied to Touma exactly what Master Logos wanted? Not to mention that Touma wants to speak with Master Logos once again. Meanwhile, Ryouga, Reika, and Kento start to make paths of their own.
Plot
"That Master Logos really put me on a tough spot there... Took quite a while for me to put my body back together, but it seems that Touma Kamiyama saved the world from another crisis during the meantime.
And I've heard you managed to speak with your son as well. You're leaving?
Huh? The girl between worlds...!"
―Tassel
Cast
Guest Cast
Suit Actors
Forms and Collectibles Used
Book Used:

Xross Saber

Brave Dragon, Storm Eagle, Saiyuu Journey

Blades
Saikou
Sabela
Durendal
Solomon

Form Used:

Xross Saber

Xross Saber, Crimson Saber

Blades
Saikou
Sabela
Durendal
Solomon
Seiken summoned by Xross Saber
Errors
Notes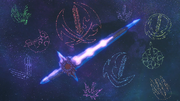 Closing Screen

Kamen Riders: Xross Saber
Wonder Ride Books: N/A
Seiken: Haouken Xross Saber

Wonder World Text Translation Page

Kamen Riders: Sabela and Durendal; Xross Saber
Wonder Ride Books: Konchuu Daihyakka and Ocean History; Brave Dragon, Storm Eagle, and Saiyuu Journey
Count at episode end

Wonder Ride Books in Saber's possession: Brave Dragon, Storm Eagle, Saiyuu Journey, Dragonic Knight, Primitive Dragon, Elemental Dragon, Emotional Dragon, Diagospeedy, Book Gate
Wonder Ride Books in Blades' possession: Lion Senki, Peter Fantasista, Tenkuu no Pegasus, King Lion Daisenki, Tategami Hyoujuusenki, Book Gate
Wonder Ride Books in Espada's possession: Lamp do Alangina, Needle Hedgehog, Tri-Cerberus, Jaaku Dragon, Jaou Dragon
Wonder Ride Books in Buster's possession: Genbu Shinwa, Jackun to Domamenoki
Wonder Ride Books in Kenzan's possession: Sarutobi Ninjaden, Kobuta 3Kyoudai
Wonder Ride Books in Slash's possession: Hanselnuts to Gretel, Bremen no Rock Band
Wonder Ride Books in Saikou's possession: Kin no Buki Gin no Buki, X Swordman
Wonder Ride Books in Sabela's possession: Konchuu Daihyakka
Wonder Ride Books in Durendal's possession: Ocean History
Wonder Ride Books in Solomon's possession: Omni Force
Wonder Ride Books in Desast's possession: Eternal Phoenix
Wonder Ride Books in Tassel's possession: Wonder World Story of Suiseiken Nagare, Wonder World Story of Raimeiken Ikazuchi, Wonder World Story of Dogouken Gekido, Wonder World Story of Fuusouken Hayate, Wonder World Story of Onjuuken Suzune
Wonder Ride Books in unknown possession: King of Arthur

This episode marks the return of Tassel's narration since episode 25.
An updated version of the opening featuring: Touma Kamiyama's team walking together, Xross Saber, and all Riders except Falchion and Solomon debuts in this episode.
External links
References