Wiki Targeted (Entertainment)
Play Sound
Chapter 35: And I, Will Become a God. (そして私は、神になる。, Soshite Watashi wa, Kami ni Naru.) is the thirty-fifth episode of Kamen Rider Saber. It features:
Synopsis
Yuri, who couldn't believe his friend faced the same fate that befell another, desperately tries to appeal to Kento. However, his efforts weren't enough, as his form vanishes in a last attempt to protect Touma. Luna appears during the battle, but she is then kidnapped by Sabela. The Seiken and Wonder Ride Books that have been stolen are arranged before the hands of Master Logos as he smiles when everything is ready. Touma faints due to his battle injuries, but he suddenly awakens only to see everyone locked in a battle against Master Logos. Ren and the others join in too, with Bahato joining in soon after, intensifying the conflict. Touma hurries towards his friends as all of the Seiken and Wonder Ride Books are amassed in one place. Just what awaits them at the end of this deadly battle?
Plot
to be added
Cast
Guest Cast
Suit Actors
Forms and Collectibles Used
Book Used:

Saber

Primitive Dragon, Elemental Dragon, Emotional Dragon

Blades
Kenzan
Calibur
Sabela
Durendal
Falchion

Form Used:

Saber

Elemental Primitive Dragon, Emotional Dragon

Blades
Kenzan
Calibur
Sabela
Durendal
Falchion
Errors
While Storious is monologuing about the conditions required to revive the Great Book, the scene cuts to a shot of Master Logos completely frozen in place as if the footage was paused despite Luna being seen moving behind him, meaning that the shot is apparently spliced together from two different takes.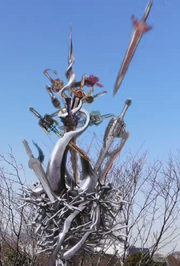 After Ren was forced out of his transformation by Falchion, the Sarutobi Ninjaden Wonder Ride Book can be seen still in the Fuusouken Hayate despite it being taken by Master Logos.

During the scene where the Kaenken Rekka is taken, the Hanselnuts to Gretel, Kin no Buki Gin no Buki, Konchuu Daihyakka and Sarutobi Ninjaden Wonder Ride Books can all be seen in their respective swords, despite having been taken by Master Logos and put on the table below.
Notes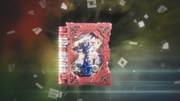 Closing Screen Wonder Ride Books

Kamen Riders: Solomon
Wonder Ride Books: Omni Force

Wonder World Text Translation Page

Kamen Riders: Saber
Wonder Ride Books: Emotional Dragon
Count at episode end

Wonder Ride Books in Saber's possession: Brave Dragon, Dragonic Knight, Primitive Dragon, Elemental Dragon, Emotional Dragon, Lamp do Alangina, Diago Speedy, Book Gate
Wonder Ride Books in Blades' possession: Lion Senki, Peter Fantasista, Tenkuu no Pegasus, King Lion Daisenki, Tategami Hyoujuu Senki, Book Gate
Wonder Ride Books in Buster's possession: Genbu Shinwa
Wonder Ride Books in Kenzan's possession: Sarutobi Ninjaden, Kobuta 3 Kyoudai
Wonder Ride Books in Slash's possession: Hanselnuts to Gretel
Wonder Ride Books in Calibur's possession: Jaaku Dragon, Jaou Dragon
Wonder Ride Books in Saikou's possession: Kin no Buki Gin no Buki, X Swordman
Wonder Ride Books in Sabela's possession: Konchuu Daihyakka
Wonder Ride Books in Durendal's possession: Ocean History
Wonder Ride Books in Tassel's possession: Wonder World Story of Suiseiken Nagare, Wonder World Story of Raimeiken Ikazuchi, Wonder World Story of Dogouken Gekido, Wonder World Story of Fuusouken Hayate, Wonder World Story of Onjuuken Suzune
Wonder Ride Books in Sword of Logos' possession: Storm Eagle, Saiyuu Journey, Needle Hedgehog, Tri-Cerberus, Jackun-to-Domamenoki, Bremen no Rock Band, Omni Force
Wonder Ride Books in unknown possession: King of Arthur

In a April 2021 Televi-Kun scan of Kamen Rider Saber, Kamen Rider Saber Emotional Dragon, for unknown reasons, had the Elemental Primitive Dragon helmet. This is likely a filming error that somehow made its way in the magazine's publication.[1]
In the scene after the commercial break, the Emotional Dragon Wonder Ride Book in the Swordriver is noticeably replaced by a much simpler prop.
While commenting on why Kento chose to continue using Ankokuken Kurayami over Raimeiken Ikazuchi despite having both swords available to him at that moment, Kento's actor, Ryo Aoki, expressed his thoughts that while Kento realized that the future he saw could be changed, he felt that he could not let go of what ultimately was his father's keepsake.[2]
External links
References
Community content is available under
CC-BY-SA
unless otherwise noted.