Wiki Targeted (Entertainment)
Play Sound
Chapter 34: Wake Up, Immortal Swordsman. (目を覚ます、不死の剣士。, Me wo Samasu, Fushi no Kenshi.) is the thirty-fourth episode of Kamen Rider Saber. It features the televised debut of Bahato/Kamen Rider Falchion after his initial appearance in Kamen Rider Saber: The Phoenix Swordsman and the Book of Ruin, his backstory with Yuri, and Luna's entrance in the real world.
Synopsis
Touma and Kento came face to face with Luna who appeared in front of Master Logos. Luna disappears suddenly, but Touma is exhilarated by the knowledge that Luna is alive, while Kento remains confused as to what occurred. Meanwhile, Master Logos opens a new forbidden tome, which contains the soul of the Immortal Swordsman himself, Bahato. "Where there are people in the world there will be those who seek power, generating endless conflict to maintain it. Eventually, everything will return to the nothingness." Bahato, Kamen Rider Falchion, leads successive attacks against the swordsmen, one after another, as Yuri tells the others all about Bahato's past. Just then, in the midst of Falchion's conflict against Calibur and Saber, Saikou is...!!
Plot
To be added.
Cast
Guest Cast
Suit Actors
Forms and Collectibles Used
Book Used:

Saber

Primitive Dragon, Elemental Dragon

Blades
Calibur
Saikou

Kin no Buki Gin no Buki, X-Swordman

Durendal
Falchion

Form Used:

Saber

Elemental Primitive Dragon

Blades
Calibur
Saikou

X Sword Man, X Sword Man Powerful, X Sword Man Wonderful

Durendal
Falchion
Errors
When Bahato inserts the Eternal Phoenix Wonder Ride Book into the Haken Bladriver, the book makes the story announcement sound rather than the insertion sound.
Notes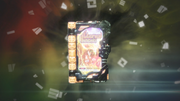 Closing Screen Wonder Ride Books

Kamen Riders: Falchion
Wonder Ride Books: Eternal Phoenix

Wonder World Text Translation Page

Kamen Riders: Falchion
Wonder Ride Books: Eternal Phoenix
Count at episode end

Wonder Ride Books in Saber's possession: Brave Dragon, Dragonic Knight, Primitive Dragon, Elemental Dragon, Diago Speedy, Book Gate
Wonder Ride Books in Blades' possession: Lion Senki, Peter Fantasista, Tenkuu no Pegasus, King Lion Daisenki, Tategami Hyoujuu Senki, Book Gate
Wonder Ride Books in Kenzan's possession: Sarutobi Ninjaden, Kobuta 3 Kyoudai
Wonder Ride Books in Calibur's possession: Jaaku Dragon, Jaou Dragon
Wonder Ride Books in Sabela's possession: Konchuu Daihyakka
Wonder Ride Books in Durendal's possession: Ocean History
Wonder Ride Books in Falchion's possession: Eternal Phoenix
Wonder Ride Books in Tassel's possession: Wonder World Story of Suiseiken Nagare, Wonder World Story of Raimeiken Ikazuchi, Wonder World Story of Dogouken Gekido, Wonder World Story of Fuusouken Hayate, Wonder World Story of Onjuuken Suzune
Wonder Ride Books in Sword of Logos' possession: King of Arthur, Storm Eagle, Saiyuu Journey, Lamp do Alangina, Needle Hedgehog, Tri-Cerberus, Jackun-to-Domamenoki, Genbu Shinwa, Bremen no Rock Band, Hanselnuts to Gretel, Kin no Buki Gin no Buki, X-Swordman

The Unnamed Swordsman who appears in the flashback is portrayed by Yohei Fujita, who previously serves as the suit actor for both Heart Roidmude and Iron Roidmude from Kamen Rider Drive.[1]
This episode features the return of Saikou X Sword Man Wonderful since its debut in Episode 22.

This episode is also the second time Saikou uses all three of his X Sword Man forms, the first also being Episode 22.
External links
References
Community content is available under
CC-BY-SA
unless otherwise noted.