Wiki Targeted (Entertainment)
Play Sound
The Chameleon Fangire (カメレオンファンガイア, Kamereon Fangaia) posed as the clothing salesman Yamashita in 1986 and used his clothing store Luxur to track down his female prey. His true name was The Married Couple Hidden in the Salt Crystal Lattice (塩の結晶格子に潜む夫妻, Shio no Kesshō Kōshi ni Hisomu Fusai) and he was from the Lizard Class (リザードクラス, Rizādo Kurasu). In his Fangire form, he is capable of camouflage, rending him almost invisible. In one incident, he encountered Dogga and was forced to flee for his life. Yamashita was later exposed when he fell for a trap set up by Yuri Aso and Otoya Kurenai, going into hiding.
In 2008, the Chameleon Fangire resumes his method through Casuar, managing to elude both Ixa and Kiva before either can kill him. He later attacks Mio Suzuki, whose true nature he realized before being attacked by Kiva. Though he manages to catch Kiva offguard with invisibility, Kiva uses the Dogga Form's True Eye to pinpoint his location and shatter him.

Statistics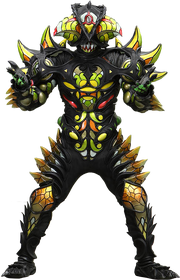 Height: 215 cm
Weight: 132 kg
Behind the Scenes
Concept Art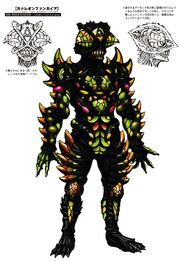 Chameleon Fangire was designed by Tamotsu Shinohara (篠原 保, Shinohara Tamotsu).

Notes