ZAIA Enterprise (ZAIAエンタープライズ, ZAIA Entāpuraizu) is a multinational technology conglomerate with offices based around the world.
Overview
They were founded at some point and opened a branch in Japan, with Gai Amatsu serving as its CEO. The Japanese office is the main benefactor for A.I.M.S. and is responsible alongiside Hiden Intelligence for the creation of Daybreak Town [The Bus Guide Saw It! Anna's Truth]. It was shown that ZAIA Enterprise already has various branches throughout the world. [It Is I, the President and a Kamen Rider]
Known Employees
Members
Known Company Branches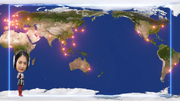 ZAIA Enterprise already has various branches throughout the world.
Asia Branch:

India
Indonesia
Iran
Israel
Malaysia
Philippines
Saudi Arabia
South Korea
Taiwan
Thailand
Turkey
UAE
Various Arab countries & regions

Africa Branch:
Australasia Branch:
Europe Branch:

Austria
Belarus
Belgium
France
Ireland
Italy
Lithuania
Norway
Poland
Russia
Slovenia
Switzerland
United Kingdom
Various European countries & regions

North America Branch:

Canada
Mexico
United States

Boston, Massachusetts
Chicago, Illinois
Los Angeles, California
New York City, New York
San Diego, California

South America Branch:
Behind the scenes
Etymology
The word "ZAIA" comes from the Greek meaning "Life". When the name "ZAIA" is put together with the name of the Ark, it sounds like the Japanese word for "sins" (罪悪, Zaiaku), hinting at ZAIA Enterprise's machinations behind the Ark turning to evil.
Appearances
Trending pages
All items (36)