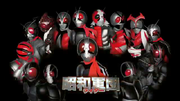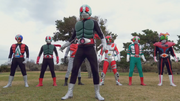 Shōwa-era Riders are Kamen Riders from the Shōwa Period of Japan, which took place from 1926 to 1989.
All Showa Era series had the involvement of the Kamen Rider Series' creator, Shotaro Ishinomori. Even after the Shōwa Period ended officially, fans and Toei refer to series or movies involving Ishinomori as a part of the Shōwa Period. This is due to the fact that Kamen Rider is mainly a series, and even Kamen Rider Kuuga, the first Heisei series, had Ishinomori involvement.
Riders are classified by Era according to when their respective series aired in real life, rather than the setting of the series. Thus, Riders such as Kamen Rider Ixa, despite appearing during the Showa Era within their series, are not considered Showa Era Riders.
Main Kamen Riders
Cross-Period Riders
Chronological List of Showa Riders
This is a complete list of Kamen Riders, as well as characters with Kamen Rider suits, but not recognized as Riders, in the Neo-Heisei era. For a numbered list of all "official" riders, see List of Kamen Riders.
Kamen Rider
TV Series
Manga
Novel
Games
Concept
Kamen Rider V3
TV Series
Manga
S.I.C. Hero Saga
Kamen Rider X
TV Series
Concept
Kamen Rider Amazon
TV Series
Concept
Kamen Rider Stronger
TV Series
Games
Concept
Kamen Rider (Skyrider)
TV Series
Manga
Magazine Stories
Concept
Kamen Rider Super-1
TV Series
Concept
Kamen Rider ZX
TV Special
Manga
Concept
Kamen Rider Black
TV Series
Manga
Concept
Kamen Rider Black RX
TV Series
Manga
S.I.C. Hero Saga
Concept
Shin Kamen Rider
Movies
S.I.C. Hero Saga
Concept
Kamen Rider ZO
Movies
Stageshows
Concept
Kamen Rider J
Movies
Novel
Fog Rider -

Ooishi Daioji
Concept
Cross-Period
Movies
Web Series
Stageshows
Legend Rider Devices
Trending pages
All items (62)