Shocker (ショッカー, Shokkā) is the original evil organization which was formed by the mysterious Great Leader. In an attempt to create the ultimate warriors, they were responsible for the rise of the very first Kamen Riders 1 and 2, whom defected and became the heroes who would ultimately lead to the fall of Shocker.
In Kamen Rider The First, the name Shocker is an acronym for Sacred Hegemony Of Cycle Kindred Evolutionary Realm. In Shin Kamen Rider, the name Shocker is also an acronym, this time standing for Sustainable Happiness Organization with Computational Knowledge Embedded Remodeling.[1]
Overview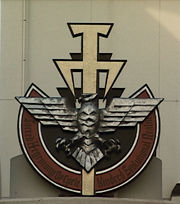 Shocker was a terrorist organization that planned on ruling the world (in the original manga is shown that Shocker had some influences over the governments of the world), with virtually all of its members modified in some way. The founders had mostly Nazi ties, with the Kamen Rider Spirits manga making references to the group's support by the Badan Empire.
Shocker's scientists performed surgical alterations that gave the subject superhuman fighting abilities. Even the most basic Shocker Combatman was tougher, stronger and faster than the average human civilian. The most powerful of their forces were the Kaijin, modified humans who were combined with animal DNA and human cybernetics to create living weapons.
Ruthless and merciless, Shocker would often kidnap prominent scientists and force them to work for the organization, then kill them when their usefulness was at an end (or if they attempted to escape). However, eventually the decision to kidnap and modify the young college prodigy Takeshi Hongo proved to be their undoing. Trying to modify him into a grasshopper-human hybrid, he was intended to be another of Shocker's powerful cyborg warriors, but he escaped and began to oppose them as Kamen Rider #1. A later attempt to create a second, more powerful Kamen Rider backfired when the intended victim, Hayato Ichimonji, was rescued by the original Rider before he was brainwashed and became known as Kamen Rider #2. The pair became known as the Double Riders, who managed to put an end to Shocker. Frustrated with its failures, Shocker's Great Leader allied himself with the organization Geldam, creating Gel Shocker and ordered the execution of every unworthy Shocker member, from soldiers to scientists.
Shuriken Sentai Ninninger Vs. Kamen Rider Drive Spring Vacation One-Hour Combining Special

reveals that the original Shocker still has remnants operating in the present. Although their plan to use the History Modifying Machine to conquer the world eventually ends up in failure, the organization itself isn't destroyed.
In the movie Kamen Rider 1, and its tie in with Kamen Rider Ghost, Shocker was retconned to still retain a lot of power internationally, with only their presence in Japan being heavily reduced. Takeshi Hongo himself still fights its presence around the world, returning to Japan only when learning about Shocker's attempt to regain power there.
In OOO, Den-O, All Riders: Let's Go Kamen Riders, Shocker, although with a membership and leadership covering Gel Shocker members from the original TV series, obtained a Core Medal and modified it into the Shocker Medal. Though they were originally unable to use it, the appearance of the Greeed Ankh in their time enabled the organization to obtain one of his Cell Medals and create the Shocker Greeed. This altered time so that Shocker defeated the Double Riders and managed to conquer of Japan and eventually the world, setting up a union with many of the other organizations that originally emerged after Shocker's destruction.

Later incarnations
After Shocker was originally defeated, it continued to resurface in numerous forms.
Related Organization
Membership
Great Leader of Shocker (

ショッカー首領

,

Shokkā Shuryō

): The high ruler of the organization and main antagonist of the series. He appears for the first time in a short video footage shown in episode 33, although his appearance there is mostly hidden by shadows. He talks with his followers through speakers on Shocker's emblems in the multiple outposts. The Great Leader is a cruel being who does not have qualms in sacrificing his minions during moments of crisis or failure. In the movie OOO, Den-O, All Riders: Let's Go Kamen Riders, due to a time traveling accident, the Great Leader became the ruler of the world thanks to the Shocker Greed, a kaijin created from a medal lost by Ankh back in the age of Kamen Rider Ichigo and Kamen Rider Nigo which was presumably prevented later on.
Shocker Generals (Japan branch)

Colonel Zol/Wolf Man (

ゾル大佐/狼男

,

Zoru Taisa/Ōkami Otoko

, 26-39, Rider vs. Shocker & V3 27 & 28) (a.k.a. Golden Wolf Man (

黄金狼男

,

Ōgon Ōkami Otoko

)): From Shocker's German branch, his true form was a wolf monster. He was also a disguise specialist, able to mimic Taki's appearance almost perfectly using only make up during his debut. His personal mark, worn by the soldiers of his own Shocker outpost and used in his official correspondence, was the Shocker emblem, but with the bird's head replaced by a wolf's.(Kamen Rider Episode 39) He confronted Kamen Rider 2 himself in episode 39 and after a lengthy fight was toppled off a cliff by Kamen Rider #2's Rider Punch, destroying him. Golden Wolf Man briefly appeared in Kamen Rider vs. Shocker among the members of the resurrected monster army. In Kamen Rider V3, episode 27, Colonel Zol was resurrected alongside the other 3 great Shocker and Gel Shocker commanders from the original TV series by Destron. He ambitioned to become a Destron commander, replacing Doctor G, but his ambitions did not last long. In episode 28, after Kamen Rider V3 escaped from Destron's base, a self destruction sequence was activated, and Colonel Zol was unable to escape, dying again with it. Narutaki from Kamen Rider Decade took on Colonel Zol's identity and became a Super Shocker commander in Movie War 2010, but did not have the Wolf Man form of the original.
Dr. Shinigami/Ika Devil (

死神博士/イカデビル

,

Shinigami Hakase/Ikadebiru

, 40-52, Kamen Rider vs. Shocker, 61, 63, 68, V3 27 & 28, Decade: All Riders vs Great-Shocker, & OOO, Den-O All Riders: Let's Go Kamen Riders): From Shocker's branch in Switzerland, he took over Japan's command after Zol's death until Jigoku Taishi appeared. However, he returned to Japan in episode 61, working together with Jigoku Taishi and also attempting his own plans. He had a cold and calculating behavior. In episode 68, he captured Tobee Tachibana to help training him for his battle with Kamen Rider #1, but that only resulted in Tachibana learning about his weakness. Discarding his cape when he faced Hongo for the last time, Shinigami assumed the form of Ika Devil to fight Rider #1 with his tentacle whip, while Ichimonji was held off by the Shocker Combatmen. With Tobee's guidance, Rider #1 managed to overpower Ika Devil and weaken him with a Rider Chop before sending Ika Devil falling to his death with his Rider Kirimomi Shoot. Ika Devil tried to rise once more, only to fall down and explode. Dr. Shinigami was resurrected by Destron in Kamen Rider V3, episode 27, and speculated about how he had been brought back to replace Doctor G, only to learn that he was there just for a new operation. Shortly afterwards, in episode 28, he died when Destron's base accidentally self destructed. In Kamen Rider Decade: All Riders vs. Dai-Shocker, a new version of Dr. Shinigami appeared, under the guise of Eijiro Hikari as a Dai-Shocker commander. Like the original, he transformed into Ika Devil to fight, but was defeated by the Kamen Riders Decade, Diend, Faiz, Blade, Den-O and Kiva fighting together with four Final Form Rides at once. He did not die, just seemingly going back to Eijiro and losing his Shinigami memories. In spite of his different appearance, his official profiles originally just gave him the story of the Shinigami from the original Kamen Rider series as his backstory. However, in Movie War 2010, the true nature of the new Shinigami was revealed as something else. Eijiro returned as Super Professor Shinigami, a Super Shocker commander, in Movie War 2010, with an appearance identical to his former Shinigami identity, aside from an extra ring. After he was hit inside the Super Crisis Fortress, a Gaia Memory carrying the name ShinigamiHakase fell from him and broke, revealing that Eijiro was actually controlled by a Gaia Memory based on Earth's memories of the original Dr. Shinigami.
Jigoku Taishi/Garagaranda (

地獄大使/ガラガランダ

,

Jigoku Taishi/Garagaranda

, 53-79, Rider vs. Jigoku Taishi, V3 27 & 28, Decade: All Riders vs Great-Shocker, OOO & Den-O, All Riders: Let's Go Kamen Riders): Summoned from Shocker's branch in West Coast USA, he took command of the organization in Japan. His true name was Damon according to Kamen Rider Spirits. He used a whip as his weapon. In episode 79, after capturing the Riders' friends, he called Hongo out as he assumed his monster form, able to burrow underground and use his whip arm as a weapon. Rider #1 battled Garagaranda while Taki freed Tachibana and the others, managing to use his Rider Kick on the monster. Reverting to his normal mode, Hell cursed the Riders and screamed to Shocker's perseverance before he died, exploding. Afterwards, the Great Leader destroyed the original Shocker. In spite of his failure, Jigoku Taishi was resurrected by Destron in Kamen Rider V3 episode 27. In episode 28, his sneaky behavior ended up leading to the prisoner V3 capturing him and escaping from the Destron base. Soon afterwards, Jigoku Taishi returned to the base, only to die in its self-destruction. In Kamen Rider ZX, Kurayami Taishi, Jigoku Taishi's brother, appeared as a Badan Empire leader. In Kamen Rider Decade: All Riders vs. Dai-Shocker, an Jigoku Taishi with black armor and Dai-Shocker belt, rather than the original silver suit appeared as a Great-Shocker commander. This Jigoku Taishi, although having a different looking human form, had a Garagaranda form identical to the original's, complete with Shocker emblem on his belt. His official backstory is just the original Jigoku Taishi's story, up to his first death at the hands of Rider #1.[2] This Jigoku Taishi fought as Garagaranda against the Riders in All Riders vs. Dai-Shocker, but his tentacles were cut and he was stunned by Kamen Riders Black RX and Kabuto. Using that opportunity, Rider #1 and Rider #2 attacked. He's destroyed by Kamen Rider #1's and Kamen Rider #2's Rider Double Kick. Like in the original series, this Hell screamed to Dai-Shocker's perseverance before he died, exploding.

International branch commanders: Leaders of Shocker's branches overseas appear in episode 67.
Lower commanders:
Shocker Combatmen (

ショッカー戦闘員

,

Shokkā Sentōin

) - Black uniformed grunts, some of which have skeleton markings on their torsos. They are normally easily defeated by the Riders, often without even needing to transform. Their trademark is a high pitched scream. Despite being brainwashed to be loyal to Shocker, it seems that some of them still had a bit of humanity left in them as shown when they tried to ask for help to the Kamen Rider Squad when attacked by Ganikoumoru. They also appear in the Kamen Rider Decade series and movies, along with the upcoming Let's Go Kamen Riders movie. Episodes 27 and 28 of Kamen Rider OOO (which were incidentally the 999th and 1,000th Kamen Rider episodes) featured a former Shocker grunt who for some reason managed to survive throughout the ages, whose desire to beat the Kamen Riders was used by Kazari to create the Ikajaguar Yummy. The grunt's desire for strength in numbers allowed the Yummy to duplicate itself into a small army of various Showa-era grunts, but he became disillusioned upon discovering that these were merely made of medals.
Big Machine (

ビッグマシン

,

Biggu Mashin

): He appears only in Ishinomori's original Kamen Rider manga. Big Machine is a high-ranking member of Shocker who leads a plan involving in using a super computer to brainwash the population of the city. He slightly resembles the Starmen from Earthbound.
Shocker Rider (

ショッカーライダー

,

Shokkā Raidā

): The Shocker Riders originally appeared in Shotaro Ishinomori's manga. There were 12 of them instead of the 6 created by Gel Shocker that later appeared in the TV series. Hayato Ichimonji was one of them. In the TV show, in episode 15, Hayato had a brief flashback about his capture by Shocker. A Shocker surgeon told him that he'd become a cyborg to fight against the Kamen Rider. Afterwards, Hayato mentioned that he was saved by Kamen Rider #1, but the specific circumstances of that event are not clear.
Shocker Kaijin
Colonel Zol's Kaijin
Dr. Shinigami's Kaijin
Jigoku Taishi's Kaijin
Shocker Kaijin (Kamen Rider versus Shocker)
Zanjioh (

ザンジオー

,

Zanjiō

, Rider vs. Shocker, 66, Rider vs. Jigoku Taishi, Kamen Rider: Seigi No keifu & Movie War 2010) - A salamander monster. He was the leader of Shocker's operation to acquire an artificial gravity device. He had great combat potential, fire breathing abilities and was also able to turn into foam to move through small spaces. He captured Tamami, daughter of the leader researcher of the gravity device, and attempted to steal the formula hidden inside a Teddy Bear. He was tracked down and destroyed by Kamen Rider #1 and Kamen Rider #2's Rider Double Kick. He was eventually revived by sacrifices from Jigoku Taishi in episode 66 of the TV series, going on to work under Kamikirikid. In that role, Zanjioh easily lost to the improved Kamen Rider #1. He was destroyed by Kamen Rider #1's Rider Crash, thrown into Harinezras. Zanjioh would return to life yet again in Kamen Rider vs. Jigoku Taishi. Zanjioh led a group of other revived Kaijin in another ambush against Takeshi Hongo and Taki. He fought against Kamen Rider #1 for a while, standing in a stalemate, only to reveal that his forces were just a distraction while Shocker prepared their new weapon. Kamen Rider #1 left without finishing his battle with him. Years later, Zanjioh would appear in yet another Kamen Rider movie, Movie War 2010, as a minor Super Shocker member. He was part of Super Shocker's forces in the final battle, surviving even up to Doras' arrival and siding with it alongside other Kaijin. However, he was destroyed by Kamen Rider Ryuki (Shinji Tatsumi)'s surprise Dragon Rider Kick.
Revived Kaijin - Jigoku Valley's Kaijin Army
Revived Kaijin - Jigoku Valley's ambush Kaijin Army
The following Kaijin appeared as members of the Kaijin Army, even announcing their names. However, after the initial ambush failed, they left and did not return later.
Shocker Kaijin (Kamen Rider versus Jigoku Taishi)
Kamikirikid - He attempts to defeat Kamen Rider #1, but fails. Later, he fails to notice that Shocker's new weapon has been sabotaged, destroying Shocker's base. He attempts to fight Kamen Rider #1 afterwards, but is destroyed by Kamen Rider #1's Rider Kick.
Revived Kaijin
Others
Membership (Kamen Rider the First/Kamen Rider the Next)
Shocker Inhumanoids
While the first four are based on the Inhumanoids in the 1st Kamen Rider series, the last two are based on the Inhumanoids of Destron.
Membership (Let's Go Kamen Riders)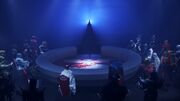 In this version of the organization, the Gel Shocker members were part of the original Shocker, before its destruction. In addition, due to a time paradox caused by Ankh leaving an O-Medal behind in the events of OOO, Den-O, All Riders: Let's Go Kamen Riders, Shocker achieved its goal of world dominion with the Shocker Greeed (ショッカーグリード, Shokkā Gurīdo) and formed a league unitying members from various other organizations.
Great Leader of Shocker: the Grand master of the team and Shockers original leader. In the final fight, he became Rock Great Leader, killing all of his remaining generals in the process and stating to destroy the world with his mere existence. He was destroyed by the All-Rider Break, performed by all riders who gathered to face him.
General Black (

ブラック将軍

,

Burakku Shōgun

): Shocker's main commander in Let's Go Kamen Riders, and commander of Gel Shocker in the normal timeline, who can become the hybrid Inhumanoid Hilchameleon. One of his subordinates finds a Cell Medal Ankh dropped in their time, reverse engineering it to create the Shocker Greed and alter time so that Shocker would defeat the Kamen Riders. Destroyed by Kamen Rider OOO.
Shocker's Kaijin
Allied Commanders
Members from various other organizations that existed independently from Shocker made an alliance to follow Shocker to fulfill their goals in Let's Go Kamen Riders' altered timeline. In spite of that, their organizations still were shown to exist individually, and they were just serving their own interests, several of them even expressing desire to end that alliance.
Allied Kaijin
Various monsters from other organizations which aligned themselves with Shocker in Let's Go Kamen Riders' altered timeline.
Membership (Super Hero Taisen: GP Kamen Rider 3)
The original Shocker organization is revealed to still be operating in secret many years after their supposed destruction. Continuing a project created by the deceased Dr. Dee, thanks to a Roidmude, who uses Dr. Dee's remains to copy his memories and mind, Shocker finalizes the History Modifying Machine. Shocker works alongside several Roidmudes and makes an alliance with the Kibaoni Army Corps

. Eventually, they use the completed History Modifying Machine to recreate the world in 2015, changing history to one where Rider 1 and 2 are defeated briefly after the Great Leader's first loss, allowing Shocker to achieve world domination.
Leadership
Great Leader of Shocker: Shocker's original leader and the grand master of the entire organization. Many years after the original Shocker's destruction, the Great Leader would assume his mantle of being the Great Leader of Shocker once more as any and all of the aforementioned organization's surviving remnants would put together a plan where they would utilize the History Modifying Machine in order to achieve their dreams of world domination. First appearing as a belt that was worn by Roidmude 089, a Spider Type Roidmude who had become a member of Shocker and had taken on the form of Dr Dee, a deceased scientist who had served both Shocker and Gel-Shocker before his untimely demise, it was revealed in the movie itself that he had implanted his essence into the History Modifying Machine. During the final battle against Kamen Rider Drive and his fellow Kamen Riders, he had transformed the machine itself into the Rider Robo. In the end, he was eventually destroyed by Kamen Rider Drive with some unexpected help from the Sentai team, Shuriken Sentai Ninninger. However, the machine itself did not just house his essence but it was also synchronized with Takumi Inui's feelings of grief towards the friends that he had lost in his yearlong conflict against Smart Brain which not only made Takumi himself unknowingly serve as the source of Shocker's time loops but it had also turned the Great Leader's physical appearance into that of Takumi Inui as well as also giving the Great Leader the ability to transform into Kamen Rider Faiz via the Signal Legend Faiz bike along with himself being able to use the Faiz Axel Watch as an activation switch for Shocker's time loops. Thankfully, in the final confrontation between the Kamen Riders against the Great Leader himself, the real Takumi had managed to land a powerful shot that had successfully destroyed the Faiz Axel Watch during another activation process which had, in turn, finally defeated the Great Leader himself along with putting an end to Shocker's nefarious scheme for good albeit at the cost of Takumi himself sacrificing his existence due to the now permanently destroyed History Modifying Machine no longer keeping him alive.
General Black: A commander of Gel-Shocker in the original timeline who has the ability to turn himself into the hybrid leech/chameleon monster known as Hilchameleon, he was previously destroyed by both Kamen Rider 1 and Kamen Rider 2. Many years later, after his defeat at the hands of the Double Riders, he was resurrected back to life and served as a high-ranking member of the original Shocker along with participating in their latest scheme which involved utilizing a prototype of the History Modifying Machine in order to fulfill Shocker's nefarious goals for world domination. During the final battle between the three way alliance of Shocker, the Roidmudes and the Kibaoni Army Corps against the Ninningers, Kamen Rider Drive and Kamen Rider Mach, he alongside Kame Bazooka had fought against Kamen Rider Mach. After Kame Bazooka had been destroyed in the aforementioned fight, he had made a hasty retreat while vowing that Shocker will reign surpreme. Then, once Shocker's plans of altering history in order to achieve their insidious dreams of world domination had been put into action, he had continued his service as a member of Shocker with himself now serving as the aforementioned organization's main commander. He had played a role in luring Kamen Rider Zeronos into a trap that is set by the Great Leader himself but during the final battle, he was destroyed by Kamen Rider Dead Heat Mach's Full Throttle. Unfortunately, surviving remnants of Shocker had managed to recover still functioning components of the History Modifying Machine and had activated the machine itself which would trap the world itself in a time loop that is under the aforementioned organization's control that had, in turn, resurrected him back to life as well as giving him the ability to bring himself back to life over and over again as long as the History Modifying Machine is still operational. Thankfully, in the final time loop before the machine itself was permanently destroyed by the Kamen Riders, he was destroyed for the final time by Kamen Rider Faiz's Sparkle Cut.
Shocker Kaijin
Air Force
Shocker Riders
Having remodeled the racer Kyoichiro Kuroi into Kamen Rider 3, once Shocker has him change the course of history by defeating the Double Riders, they see that the subsequent Riders that emerged would be defeated and brainwashed into Shocker Riders. Only a few Riders were able to remain independent such as Black, Faiz, Zeronos and Mach. Drive, originally loyal to Shocker, was convinced by Kotaro, Kiriko Shijima, and Jun Honganji to oppose the organization. The BOARD Riders, Garren, Leangle, Chalice, and Blade, later decided to join the resistance after betraying the rebel Riders. All the other Riders are freed from their brainwashing by Riders 1 and 2 when they are revived.
Recovering the History Modifying Machine after history is restored, Shocker creates the robotic Kamen Rider 4. They also recruit four additional Riders.
Allied Executives
Allied Monsters
Kamen Rider Ghost: Special Event
Membership (Kamen Rider 1)
Shocker still exists internationally and aims to rebuild its power base in Japan 45 years following Takeshi Hongo's first remodelling surgery, with the original Kamen Rider still fighting them across the world. Their plot is to revive their fallen executive, Jigoku Taishi, an ambition troubled by the emergence of a new organization, Nova Shocker, established and led by a former Shocker member, the cyborg Urga.
Membership (Chou Super Hero Taisen)
Two Shocker affiliated armies would appear in the Game World with both armies consisting of past adversaries to both either the Kamen Riders and/or Super Sentai.
Originally the bonus stage of Chou Super Hero Taisen, it was actually a plan that was created by the aforementioned video game's creator, Eight Kirino, to merge both the Game World and the real world with each other due to Eight himself being unable to find anything in the real world interesting.
Kuroto Dan's Shocker Army
During the events of Kamen Sentai Gorider, Kuroto Dan had created an army that consists of several iterations of previously defeated adversaries of the Kamen Riders that are either members of Shocker or members of organizations that are in someway related to Shocker. All comprising members of the army itself have the ability to resurrect themselves back to life over and over again regardless of how many times they had been defeated by the Kamen Riders that Kuroto himself had gathered as part of his nefarious scheme to resurrect himself back to life.
However, once the Game World had been destroyed by Kazuma Kenzaki's powers as a Joker Undead, the army itself was assembled one last time under the leadership of both Kamen Rider Genm Zombie Gamer and Totema before the aforementioned army was subsequently wiped out for the final time by both Kamen Rider Ex-Aid Maximum Gamer Level 99 and the second Kamen Sentai Gorider.
Kuroto Dan/Kamen Rider Genm - Creator and Leader
Totema - Second-in-command
| | |
| --- | --- |
| Shocker Rider No.1 | Unnamed demon |
| Shocker Rider No.2 | Unnamed demon |
| Kamen Rider Ouja | Unnamed demon |
| Kamen Rider Eternal | Unnamed demon |
| Kamen Rider Sorcerer | Unnamed demon |
| Kamen Rider Duke | Unnamed demon |
| Kamen Rider 4 | Unnamed demon |
| Kamen Rider Barlckxs | Unnamed demon |
Gallery
Video game appearances
Kamen Rider Club
Shocker appears in Kamen Rider Club, with a succession of villains, including those from Gel Shocker, being fought by six Kamen Riders: 1, 2, V3, X, Amazon, and Stronger.
Kamen Rider on Super Famicom
Riders 1 and 2 fight through a succession of Shocker monsters in the Super Famicom Kamen Rider game.
Kamen Rider on PlayStation
Shocker in the PlayStation Kamen Rider video game.
In the "Kamen Rider Story" the player must defeat the evil Shocker organization to restore the peace by battling against 6 combatmen before fighting against Shocker kaijin, if the kaijin or player's health is 50% or less, the game automatically switches the position of the player on the screen. If all Shocker and Gel Shocker kaijin are defeated, the player will immediately fight against Great Leader without fighting combatmen or switching around.
In "Shocker Story" players play as Shocker kaijin which must defeat enemy Shocker kaijin. If player successfully passes the 8th round,the player's Shocker kaijin turns into Saikyō Kaijin (最強怪人) which is stronger and has a different appearance from the original form. The player can then upgrade punching power, kicking power or both or can summon 6 Combatmen to aid them. the player then must defeat Kamen Rider 1 before facing Kamen Rider 2.
Legend Rider Devices
Behind the scenes
The very first "evil organization", Shocker featured throughout the original Kamen Rider television series and manga, and to this day survives through various succeeding organizations and revivals in the Kamen Rider Series.
Conception
Shocker's place as the evil organization was established as early as the initial conception of Kamen Rider, when the series was known as Maskman K (マスクマンK, Masukuman K). At that time, however, it was expected that the evil organization would be replaced periodically.
In the following proposal entitled Kamen Angel (仮面天使, Kamen Tenshi, Masked Angel), a vicious businessman named Daizo Ishigami (石神 大造, Ishigami Daizō) was the villain. However, Shocker was again set as the villains when the proposal was renamed to Cross Kamen (十字仮面, Jūji Kamen, Cross Mask), though the character of Daizo Ishigami remained as Kurodo Kurobaru (クロード黒原, Kurobaru Kurōdo). By the time of Masaru Igami's draft script of The Eerie Man Spider (怪奇蜘蛛男, Kaiki Kumo Otoko), the concept of a cyborg being the vanguard of the organization was established.
In the proposal Kamen Rider Skullman (仮面ライダースカルマン, Kamen Raidā Sukaruman, Masked Rider Skullman), derived from the Skullman manga, the idea of an evil organization whose leader was shrouded by a veil of darkness and did not physically appear was settled, leading to the finished work.[3]
Appearances
External links
References
Trending pages
All items (86)