Shocker (ショッカー, Shokkā) is the original evil organization which was formed by the mysterious Great Leader. In an attempt to create the ultimate warriors, they were responsible for the rise of the very first Kamen Riders 1 and 2, whom defected and became the heroes who would ultimately lead to the fall of Shocker.
In Kamen Rider The First, the name Shocker is an acronym for Sacred Hegemony Of Cycle Kindred Evolutionary Realm.
Overview
Shocker was a terrorist organization that planned on ruling the world (in the original manga is shown that Shocker had some influences over the governments of the world), with virtually all of its members modified in some way. The founders had mostly Nazi ties, with the Kamen Rider Spirits manga making references to the group's support by the Badan Empire.
Shocker's scientists performed surgical alterations that gave the subject superhuman fighting abilities. Even the most basic Shocker soldier was tougher, stronger and faster than the average human civilian. The most powerful of their forces were the Kaijin, modified humans who were combined with animal DNA and human cybernetics to create living weapons.
Ruthless and merciless, Shocker would often kidnap prominent scientists and force them to work for the organization, then kill them when their usefulness was at an end (or if they attempted to escape). However, eventually the decision to kidnap and modify the young college prodigy Takeshi Hongo proved to be their undoing. Trying to modify him into a grasshopper-human hybrid, he was intended to be another of Shocker's powerful cyborg warriors, but he escaped and began to oppose them as Kamen Rider #1. A later attempt to create a second, more powerful Kamen Rider backfired when the intended victim, Hayato Ichimonji, was rescued by the original Rider before he was brainwashed and became known as Kamen Rider #2. The pair became known as the Double Riders, who managed to put an end to Shocker. Frustrated with its failures, Shocker's Great Leader allied himself with the organization Geldam, creating Gel Shocker and ordered the execution of every unworthy Shocker member, from soldiers to scientists.
Shuriken Sentai Ninninger Vs. Kamen Rider Drive Spring Vacation One-Hour Combining Special

reveals that the original Shocker still has remnants operating in the present. Although their plan to use the History Modifying Machine to conquer the world eventually ends up in failure, the organization itself isn't destroyed.
In the movie Kamen Rider 1, and its tie in with Kamen Rider Ghost, Shocker was retconned to still retain a lot of power internationally, with only their presence in Japan being heavily reduced. Takeshi Hongo himself still fights its presence around the world, returning to Japan only when learning about Shocker's attempt to regain power there.
In OOO, Den-O, All Riders: Let's Go Kamen Riders, Shocker, although with a membership and leadership covering Gel Shocker members from the original TV series, obtained a Core Medal and modified it into the Shocker Medal. Though they were originally unable to use it, the appearance of the Greeed Ankh in their time enabled the organization to obtain one of his Cell Medals and create the Shocker Greeed. This altered time so that Shocker defeated the Double Riders and managed to conquer of Japan and eventually the world, setting up a union with many of the other organizations that originally emerged after Shocker's destruction.

Later incarnations
After Shocker was originally defeated, it continued to resurface in numerous forms.
Related Organization
G.O.D. - The leader Dr. Noroi was once a member of Shocker. He formed G.O.D. after the destruction of Gel Shocker. Son of Zeus
Geddon - The Great Leader was said to be responsible for the creation of the organization. Membership of Shocker exclusively in OOO, Den-O, All Riders: Let's Go Kamen Riders.
Delza Army (World of Stronger) - The A.R. counterparts of Delza Army, led by Great Leader of Delza Army. World of Stronger However, it is not a member or implying any relationship with Shocker.
Jin Dogma - The leader Marshal Demon has the same origin as Great Leader, the Dark-Nebula B-26.
Gorgom - Members of Shocker exclusively in OOO, Den-O, All Riders: Let's Go Kamen Riders.
Crisis Empire - Members of Shocker exclusively in OOO, Den-O, All Riders: Let's Go Kamen Riders. The leader Emperor Crisis was said to be an incarnation of the Great Leader, but yet to be confirmed. Tokusatsu Bouken Katsugeki Super Hero Retsuden
Murder Empire - Led by Creation King, this organization recruited all villains in Showa up to Crisis Empire (except Great Leader and Emperor Crisis). Space 11: Kamen Rider Galaxy Great Decisive Battle
Shocker-Zangyack Alliance - Alliance of Dai-Shocker and Dai-Zangyack, led by Doktor G and Rider Hunter Silva. Kamen Rider × Super Sentai: Super Hero Taisen
Membership
Shocker Kaijin
Oberst Zol's Kaijin
Doctor Death's Kaijin
Ambassador Hell's Kaijin
Shocker Kaijin (Kamen Rider versus Shocker)
Zanjioh (

ザンジオー

Zanjiō

, Rider vs. Shocker, 66, Rider vs. Ambassador Hell, Kamen Rider: Seigi No keifu & Movie War 2010) - A salamander monster. He was the leader of Shocker's operation to acquire an artificial gravity device. He had great combat potential, fire breathing abilities and was also able to turn into foam to move through small spaces. He captured Tamami, daughter of the leader researcher of the gravity device, and attempted to steal the formula hidden inside a Teddy Bear. He was tracked down and destroyed by Kamen Rider #1 and Kamen Rider #2's Rider Double Kick. He was eventually revived by sacrifices from Ambassador Hell in episode 66 of the TV series, going on to work under Kamikirikid. In that role, Zanjioh easily lost to the improved Kamen Rider #1. He was destroyed by Kamen Rider #1's Rider Crash, thrown into Harinezuras. Zanjioh would return to life yet again in Kamen Rider vs. Ambassador Hell. Zanjioh led a group of other revived Kaijin in another ambush against Takeshi Hongo and Taki. He fought against Kamen Rider #1 for a while, standing in a stalemate, only to reveal that his forces were just a distraction while Shocker prepared their new weapon. Kamen Rider #1 left without finishing his battle with him. Years later, Zanjioh would appear in yet another Kamen Rider movie, Movie War 2010, as a minor Super Shocker member. He was part of Super Shocker's forces in the final battle, surviving even up to Doras' arrival and siding with it alongside other Kaijin. However, he was destroyed by Kamen Rider Ryuki (Shinji Tatsumi)'s surprise Dragon Rider Kick.
Revived Kaijin - Jigoku Valley's Kaijin Army
Revived Kaijin - Jigoku Valley's ambush Kaijin Army
The following Kaijin appeared as members of the Kaijin Army, even announcing their names. However, after the initial ambush failed, they left and did not return later.
Shocker Kaijin (Kamen Rider versus Ambassador Hell)
Kamikirikid - He attempts to defeat Kamen Rider #1, but fails. Later, he fails to notice that Shocker's new weapon has been sabotaged, destroying Shocker's base. He attempts to fight Kamen Rider #1 afterwards, but is destroyed by Kamen Rider #1's Rider Kick.
Revived Kaijin
Others
Membership (Kamen Rider the First/Kamen Rider the Next)
Shocker Inhumanoids
While the first four are based on the Inhumanoids in the 1st Kamen Rider series, the last two are based on the Inhumanoids of Destron.
Membership (Let's Go Kamen Riders)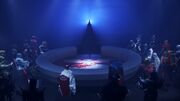 In this version of the organization, the Gel Shocker members were part of the original Shocker, before its destruction. In addition, due to a time paradox caused by Ankh leaving an O-Medal behind in the events of OOO, Den-O, All Riders: Let's Go Kamen Riders, Shocker achieved its goal of world dominion with the Shocker Greeed (ショッカーグリード, Shokkā Gurīdo) and formed a league unitying members from various other organizations.
Great Leader of Shocker: the Grand master of the team and Shockers original leader. In the final fight, he became Rock Great Leader, killing all of his remaining generals in the process and stating to destroy the world with his mere existence. He was destroyed by the All-Rider Break, performed by all riders who gathered to face him.
General Black (

ブラック将軍

Burakku Shōgun

): Shocker's main commander in Let's Go Kamen Riders, and commander of Gel Shocker in the normal timeline, who can become the hybrid Inhumanoid Hiruchameleon. One of his subordinates finds a Cell Medal Ankh dropped in their time, reverse engineering it to create the Shocker Greed and alter time so that Shocker would defeat the Kamen Riders. Destroyed by Kamen Rider OOO.
Shocker's Kaijin
Allied Commanders
Members from various other organizations that existed independently from Shocker made an alliance to follow Shocker to fulfill their goals in Let's Go Kamen Riders' altered timeline. In spite of that, their organizations still were shown to exist individually, and they were just serving their own interests, several of them even expressing desire to end that alliance.
Allied Kaijin
Various monsters from other organizations which aligned themselves with Shocker in Let's Go Kamen Riders' altered timeline.
Membership (Super Hero Taisen: GP Kamen Rider 3)
The original Shocker organization is revealed to still be operating in secret many years after their supposed destruction. Continuing a project created by the deceased Doctor D, thanks to a Roidmude, who uses Doctor D's remains to copy his memories and mind, Shocker finalizes the History Modifying Machine. Shocker works alongside several Roidmudes and makes an alliance with the Kibaoni Army Corps

. Eventually, they use the completed History Modifying Machine to recreate the world in 2015, changing history to one where Rider 1 and 2 are defeated briefly after the Great Leader's first loss, allowing Shocker to achieve world domination.
Leadership
Shocker Kaijin
Air Force
Shocker Riders
Having remodeled the racer Kyoichiro Kuroi into Kamen Rider 3, once Shocker has him change the course of history by defeating the Double Riders, they see that the subsequent Riders that emerged would be defeated and brainwashed into Shocker Riders. Only a few Riders were able to remain independent such as Black, Faiz, Zeronos and Mach. Drive, originally loyal to Shocker, was convinced by Kotaro, Kiriko Shijima, and Jun Honganji to oppose the organization. The BOARD Riders, Garren, Leangle, Chalice, and Blade, later decided to join the resistance after betraying the rebel Riders. All the other Riders are freed from their brainwashing by Riders 1 and 2 when they are revived.
Recovering the History Modifying Machine after history is restored, Shocker creates the robotic Kamen Rider 4. They also recruit four additional Riders.
Allied Executives
Allied Monsters
Kamen Rider Ghost: Special Event
Membership (Kamen Rider 1)
Shocker still exists internationally and aims to rebuild its power base in Japan 45 years following Takeshi Hongo's first remodelling surgery, with the original Kamen Rider still fighting them across the world. Their plot is to revive their fallen executive, Ambassador Hell, an ambition troubled by the emergence of a new organization, Nova Shocker, established and led by a former Shocker member, the cyborg Urga.
Membership (Chou Super Hero Taisen)
Shocker appears in the Game World with an army of past adversaries to both the Kamen Riders and Super Sentai.
Gallery
Video game appearances
Kamen Rider Club
Shocker appears in Kamen Rider Club, with a succession of villains, including those from Gel Shocker, being fought by six Kamen Riders: 1, 2, V3, X, Amazon, and Stronger.
Kamen Rider on Super Famicom
Riders 1 and 2 fight through a succession of Shocker monsters in the Super Famicom Kamen Rider game.
Kamen Rider on PlayStation
Shocker in the PlayStation Kamen Rider video game.
In the "Kamen Rider Story" the player must defeat the evil Shocker organization to restore the peace by battling against 6 combatmen before fighting against Shocker kaijin, if the kaijin or player's health is 50% or less, the game automatically switches the position of the player on the screen. If all Shocker and Gel Shocker kaijin are defeated, the player will immediately fight against Great Leader without fighting combatmen or switching around.
In "Shocker Story" players play as Shocker kaijin which must defeat enemy Shocker kaijin. If player successfully passes the 8th round,the player's Shocker kaijin turns into Saikyō Kaijin (最強怪人) which is stronger and has a different appearance from the original form. The player can then upgrade punching power, kicking power or both or can summon 6 Combatmen to aid them. the player then must defeat Kamen Rider 1 before facing Kamen Rider 2.
Legend Rider Devices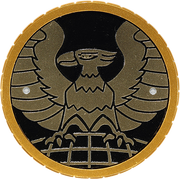 Shocker Medal (ショッカーメダル, Shokkā Medaru): The Shocker Medal is the Shocker-themed Core Medal used to create the Shocker Greeed, appearing in Let's Go Kamen Riders, created from a Cell Medal, which arms OOO with the Shocker Legs (ショッカーレッグ, Shokkā Reggu), which the appearance is similar to the Condor Legs. The Shocker Medal only appears in Let's Go Kamen Riders, as the Imagin Medal, alongside the Shocker Medal, dissolve at the end of the film after the timeline was restored. In the S.I.C. Hero Saga story Kamen Rider OOO: OOZ, the Shocker Medal is used in the creation of Shocker OOO, a Kamen Rider/Greeed hybrid where the medal is used as the Washi Head's black lenses that are used for sight instead of legs.
Shocker Lockseed (ショッカーロックシード, Shokkā Rokkushīdo): Allows the user to transform into Shocker Arms, bearing the likeness of a Shocker Combatman. The core image depicts the Shocker belt worn by lower members of Shocker while the lid backside image is a small group of Shocker Combatmen. Gaim/Kurokage/Bujin Gaim/Kamuro-styled Lockseed.
Transformation: Shocker Arms: Jigoku no gundan on Parade! Eeee! (

ショッカーアームズ・地獄の軍団、オンパレード!イー!

Shokkā Āmuzu - Jigoku no Gundan, On Parēdo! Ī!

, Lit. "Hellish Army on Parade")

Squash: Japan will be ours! Eeee! (

日本征服するぞ! イー!

Nihon seifuku suru zo! Ī!

)
Au Lait: The world will be ours! Eeee, Eeee! (

世界征服するぞ! イー、イー!

Sekai seifuku suru zo! Ī, Ī!

)
Sparking: The universe will be ours! Eeee, Eeee, Eeee! (

宇宙征服するぞ! イー、イー、イー!

Uchū seifuku suru zo! Ī, Ī, Ī!

)
Behind the scenes
The very first "evil organization", Shocker featured throughout the original Kamen Rider television series and manga, and to this day survives through various succeeding organizations and revivals in the Kamen Rider Series.
Conception
Shocker's place as the evil organization was established as early as the initial conception of Kamen Rider, when the series was known as Maskman K (マスクマンK, Masukuman K). At that time, however, it was expected that the evil organization would be replaced periodically.
In the following proposal entitled Kamen Angel (仮面天使, Kamen Tenshi, Masked Angel), a vicious businessman named Daizo Ishigami (石神 大造, Ishigami Daizō) was the villain. However, Shocker was again set as the villains when the proposal was renamed to Cross Kamen (十字仮面, Jūji Kamen, Cross Mask), though the character of Daizo Ishigami remained as Kurodo Kurobaru (クロード黒原, Kurobaru Kurōdo). By the time of Masaru Igami's draft script of The Mysterious Spider Man (怪奇蜘蛛男, Kaiki Kumo Otoko), the concept of a cyborg being the vanguard of the organization was established.
In the proposal Kamen Rider Skullman (仮面ライダースカルマン, Kamen Raidā Sukaruman, Masked Rider Skullman), derived from the Skullman manga, the idea of an evil organization whose leader was shrouded by a veil of darkness and did not physically appear was settled, leading to the finished work.[2]
Appearances
External links
References
Trending pages
All items (92)
Community content is available under
CC-BY-SA
unless otherwise noted.