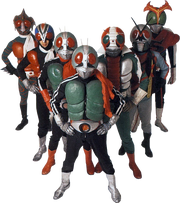 The Seven Legendary Riders (七人伝説のライダー, Shichi-nin Densetsu no Raidā), also known as The Glorious Seven (栄光の七人, Eikō no Shichi-nin) are the first seven Kamen Riders: Takeshi Hongo/Kamen Rider 1, Hayato Ichimonji/Kamen Rider 2, Shiro Kazami/Kamen Rider V3, Joji Yuki/Riderman, Keisuke Jin/Kamen Rider X, Daisuke Yamamoto/Kamen Rider Amazon, and Shigeru Jo/Kamen Rider Stronger. Mentored by Tobei Tachibana, each fought against Shocker and its successors, protecting the innocent from harm.
The seven Riders were first united during Kamen Rider Stronger. They also appeared as a group a few times in Kamen Rider (Skyrider), often shown operating separately from the Eighth Rider, Skyrider. It was only in Movie War Mega Max, however, a crossover movie between Kamen Rider Fourze and Kamen Rider OOO, that the group reappeared, separate from later Riders, and was referenced with a proper name by other characters.
The Seven Legendary Riders later appear again as a group in Super Hero Taisen where they take on Captain Marvelous (Gokai Red), although by the time of the final battle against Dai-Shocker and Dai-Zangyack, they're mixed with the various other Riders and Super Sentai heroes.
History
Kamen Rider Stronger
New members of the Delzer Army went to Japan from various points of the world to defeat Stronger and take over the country, but alongside them came various Riders who had been fighting against them in other points of the world. The first one was Shiro Kazami/Kamen Rider V3, who quickly joined Stronger in his battle, defeating Marshal Machine and forcing him to retreat.「The Man Who Returned! The Name is V3!!」
Soon after, Daisuke Yamamoto/Kamen Rider Amazon, and Keisuke Jin/Kamen Rider X arrived as well, helping Stronger fight Armored Knight and Comannder Jishaku. 「Three Riders Vs. The Powerful Delzer Army!」
Afterwards, Stronger met Joji Yuki, Riderman, initially as a foe, but quickly becoming allies after V3 clears the misunderstanding between each other. V3 and Riderman leave and face the Delzer Army troops who destroyed a dam, with Riderman facing Armored Knight and V3 taking on Commander Jishaku. However, Riderman is easily defeated and V3 is caught into a trap and swallowed by a fissure.「Riders Captured! Long Live Delzer!!」
After narrowly defeating General Shadow, Stronger is captured by Marshal Machine, Commander Jishaku, and Armored Knight. However, the Double Riders reappear to rescue Stronger, to their foes" surprise. Regrouping, Takeshi Hongo and Hayato Ichimonji attempt to save V3 and Riderman as well, assisting Stronger in his battle against the Delzer Army's top lieutenants. 「Appearance! Riders 1, 2!!」
Amazon and X return, revealing that they had disappeared to rescue V3 and Riderman. With all 7 Riders together, they defeat Marshal Machine and other remaining Delzer army members, marching off to fight against the organization's leader. During the battle, they learn that he was the Great Leader himself, having orchestrated Shocker, Gel Shocker, Destron, G.O.D, Gedon, and Black Satan from the shadows. His new body proving too powerful to face head on, the Seven Legendary Riders combine their powers and go into his body. There, they find a giant alien brain who self-destructs himself in an attempt to kill all seven Riders. Fortunately however, they all escape successfully, to Tachibana Tobei's relief. Afterwards, each Rider disappears on their Rider Machine, continuing their mission as protectors of justice. 「Goodbye! The Glorious Seven Riders!」
Some time later, Tobei Tachibana took some children to a Kamen Rider roadshow, wanting them to know about their heroics. Just as he was reminiscing about all the adventures he had with- Ichigō, Nigō, V3, Riderman, X, Amazon, Stronger and Tackle- the first seven Riders gradually show up to greet him in their human guises, unrecognized by the crowds. When it's revealed that the kaijin onstage were 'real', not actors, the Riders transformed to save the day, uniting their power to stop the Great General Darkness and his minions. 「All Together! Seven Kamen Riders」
Skyrider
Several years after the defeat of the Delzer Army, the organization Neo Shocker moves ahead with terrorist attacks in various points of the world to push ahead their world domination plans. The seven Riders spread around the world to fight against the new threat. Eventually, Stronger returns to Japan, following reinforcements sent by Neo Shocker to take over the country. Arriving there, Stronger meets and observes a new Rider there with interest, Hiroshi Tsukuba, who had been using the name "Kamen Rider", but was called "Skyrider" by Stronger. Stronger rescues Skyrider when he gets to his limit, and tells him about the seven Riders fighting around the world. Stronger trains Skyrider and, together, they fight and stop Neo Shocker's operation. Afterwards, Stronger leaves Japan again to join up with the other Riders, while Skyrider remains there protecting it from Neo Shocker's future plans. 「Two Kamen Riders, Who is Another?」「Enter Stronger; Two Riders vs. Two Formidable Monsters」
Neo Shocker gathered an army of Second Generation Cyborgs in Japan, led by Gurand Bazarmy, known as the Strongest Cyborg on Earth, and also planned to launch a direct offensive with an experimental tank, the Varithium Cannon, led by Hirubiran. To save Japan, the seven Riders returned to Japan together and, alongside Skyrider, destroyed the experimental Varithium Cannon. However, they were soon challenged by Gurand Bazarmy and his troops. 「Tank and Kaijin the Second Generation Corps, Full Force of Eight Riders」
The seven Riders spread around Japan to fight against various attacks from Neo Shocker. However, Gurand Bazarmy stood in their way, moving with great speed between locations and making them unable to stop Neo Shocker's plans. However, V3 and Stronger together managed to fight Bazarmy to a standstill and rescue an unconscious Skyrider. While he recovered, the Riders decided to give Skyrider a special training to defeat Gurand Bazarmy. V3 makes the proposal to Tsukuba Hiroshi, who accepts to put his life on the line to become stronger.
After Skyrider's training was finished and he powered up, all Riders left to face Neo Shocker again. Skyrider faced Gurand Bazarmy, while the Legendary Seven fought against Neo Shocker's Second Generation Cyborgs troops and crushed them. After the battle was over, the Seven Riders left Japan again, to fight Neo Shocker all over the world, while Skyrider remained to protect Japan. 「Eight Riders' Great Training of Friendship」
Attending the call of Stronger and Rider 2, who had located Neo Shocker's main base, in Japan, Rider 1, V3, Riderman and Amazon return from various countries around the world joining up as the Seven Legendary Riders again. Rider 1 takes leadership of the group, and they head to Neo Shocker's underwater base, only to be faced with a giant dragon, the Great Leader of Neo Shocker himself. The attacks of all Riders prove to be infective against the Great Leader, however, Stronger and Rider 2 motivate the others to continue fighting and they hold on long enough for Skyrider to arrive. Skyrider stuns the Great Leader by shooting his foot with a bowgun he stole from a Neo Shocker member, and, using the opportunity, all Seven Legendary Riders hit the Great Leader with their Rider Kicks, knocking down the giant. However, he was still alive, and decides to detonate the Oxygen Destruction Bomb, which would destroy Earth's atmosphere completely. The eight Riders combine their powers and use Skyrider's Sailing Jump together, holding the Great Leader inside an energy barrier that contains the explosion's blast. However, all eight Riders seemingly perishing alongside it. 「Farewell, Hiroshi Tsukuba! Eight Heroes Forever....」
After that battle, all eight Riders would reappear fighting against the Dogma Kingdom a few months later, with Skyrider becoming part of their group. Later, Super-1 and ZX also joined them. So, for years, that final battle against Neo Shocker marked the last time the Legendary Seven Riders fought as a group separately from later Riders.
Movie War Mega Max
A meteor shower hit various points of Earth, bringing with it time anomalies, monsters and the interest of the shadowy organization Foundation X.
Kamen Rider 1 appears during the prologue, battling the forces of Foundation X alongside Kamen Rider 2 in Europe. Kamen Rider V3 and Riderman head to a meteor landing site in the Mediterranean islands, where they find a large army of Pseudo Yummies, fighting against them alongside Riderman. Kamen Rider X and Amazon head to a meteor landing site in the South America, where they find a large army of Stardust Ninja Dustard, fighting against them alongside Amazon. In the Middle East, holding off all three grunt types, Stronger fails to stop Foundation X from retrieving the SOLU.
Afterwards, all Seven Legendary Riders infiltrated a Foundation X secret airport to stop Lem Kannagi, who was leading a plan to control energy sources around the globe and also their operation regarding the meteors. However, they're all taken by falling to a trap and Rider 1, 2, V3, and Riderman are sealed in Astroswitches while X rider, Amazon, and Stronger are sealed in Core Medals.
Later, Kamen Rider Fourze finds the seven sealed Riders, and with Kamen Rider OOO's help, releases all of them at once. V3 warns them that Kannagi will receive a full charge of cosmic energy if he reaches space, which would make him invincible according to Riderman, and he needs to be stopped now. Meanwhile copies of the Greeeds and Sonozaki Family Dopants approach the group, standing in their way. The Seven Riders stay behind facing them, while Fourze and OOO head to stop Lem Kannagi. Rider 1 battles the copy R Nasca, finishing it with his trademark Rider Kick. Rider 2 battles the copy Gamel, finishing it with his Rider Punch. V3 fights against a copy Claydoll Dopant and finished her off with his V3 Hanten Kick. Riderman fights against a copy Mezool and finished her off with his Rope Arm. X fights against a copy Uva and finished him off with his X Kick. Amazon fights against a copy Smilodon Dopant and finished it off with his Wild Slash. Stronger fights against a copy of the Terror Dopant and finished him off with his Stronger Electro Kick. Meanwhile, OOO and Fourze managed to stop Lem Kannagi in space. Afterwards, in a scene added to the movie's Director's Cut, the young Riders, and also another Rider from the future, Aqua, bid goodbye to each other and to the veterans, everyone parting ways afterwards. 「Kamen Rider × Kamen Rider Fourze & OOO: Movie War Mega Max」
Super Hero Taisen
The Seven Riders face Gokai Red and are seemingly killed one by one. However, it turns out that it was all a plan to fool Dai-Shocker and Dai-Zangyack. The Seven Riders, alongside many other heroes, return for the final battle against the villains. 「Kamen Rider × Super Sentai: Super Hero Taisen」
Heroes
Legend Rider Devices
Appearances
Scenes
Notes
The Seven Legendary Kamen Riders can be considered the equivalent of the Five Legendary Ultra Brothers from the Ultra Series, or even the 2 first Super Sentai that are Gorenger and J.A.K.Q..
See also
Trending pages
All items (9)