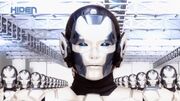 "Take off, toward a dream."
―HumaGears activation announcement.
The HumaGears (ヒューマギア, HyūmaGia) are synthetic A.I. androids developed by Hiden Intelligence.
History
The concept of HumaGears initially began as a test to see how artificial intelligence could provide useful in the medical field. Because of the impressive results shown in this field (i.e providing more accurate diagnosis and treatment than humans), the possibilities of how HumaGears can provide assistance began expanding, and now provide assistance in every aspect in everyday life. As a result, hospitals began extensively relying upon the assistance of HumaGears.
Kamen Rider: Reiwa The First Generation
Due to a time alteration, HumaGears took over Hiden Intelligence and led Humanity to the border of extinction. Izu is currently the only HumaGear to be on the side of humanity.
Workplace Competition
Main article: Workplace Competition
Overview
Appearance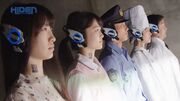 HumaGears are designed by Hiden Intelligence in order to closely mimic the traditional human appearance as possible, to the point where they become fully indistinguishable from regular humans, minus their large HumaGear Module[1] (ヒューマギアモジュール, HyūmaGia Mojūru) ear-pieces and a HumaGear Body Seal barcode somewhere on their bodies.
Rogue HumaGears known as Magia appear completely identical to regular HumaGears with the exception of their eyes and earpieces being red instead of blue. These rogue HumaGears are dangerous to society and thus become targets of A.I.M.S.
Technology
Equipped with artificial intelligence and object recognition software, HumaGears are granted the ability to recognize individuals, such as Korenosuke Hiden and Aruto Hiden, alongside being able to move on their own and generating and expressing their own thoughts. HumaGears are capable of cognitive learning and can act according to how they process their experiences, alongside being able to record what they see and replay it via holographic projection. However, they are incapable to understand wordplay, as shown with Izu, who will constantly take apart and explain Aruto's puns, and Shester, who does not understand wordplay in the slightest.
HumaGears are connected via Zea, a communication satellite orbiting Earth that allows them to perform several tasks. Specialized HumaGears, such as Medical-Type HumaGears working in hospitals, are also connected to a personal data center housed within said hospitals, where data gathered from these HumaGears can be kept on a local network. New in-training HumaGear will sport a Shoshinsha Mark (🔰) on their HumaGear Modules. 
HumaGears are also able to search for and access past memories they have gathered in their data, using desired search words akin to typing in specific queries in a search engine. HumaGear data can also be backed up and restored, though this is rendered impossible once that data is corrupted, as noted by Izu. HumaGears that are aware of the existence of the Zero-One project, such as Izu and Wazu, are unable to have any of their central memories backed up or restored due to the need to keep the aforementioned project protected and held in secret.
In the event when this is necessary, the RisePhone that comes packaged with the HumaGears also has a feature that allows the user to reset them. This action will revert the HumaGear back to the state they were in when the user signed the contract citing the terms of service. Also per to the contract, only the user is permitted to reset the HumaGear.
Singularity
Some HumaGears achieve what is called "Singularity" when they can be considered near-sentient and autonomous. At this stage, the HumaGear possesses self-awareness and is able to ask questions regarding its own existence and create directives separate from those that have been programmed into it, This quality is considered dangerous by A.I.M.S. HumaGears that are approaching Singularity are targets of MetsubouJinrai.net, who consider them candidates for transformation into Magia. Achieving Singularity is also deemed unlawful due to HumaGears at this stage operating beyond human design.
Ordering
In ordering online, a customer must read the terms of service. After going through that, they must choose the job that their ordered HumaGear will perform, and then can choose from any of three plans:
S Class Plan - A special plan that lets the customer customize their HumaGear's appearance.
A Class Plan - A standard plan that has a limited amount of customization and is balanced to suit the job the customer needs the HumaGear to perform.
HC-Hiden's Choice - A plan that Hiden Intelligence selects for the customer, using a standard base for the HumaGear and automatically adjusting it up to a certain level for the work it is going to be required to do. Physical customization will also be up to Hiden Intelligence's automated selection.
Packaging
HumaGears are normally shipped in tall cardboard boxes, with a RisePhone that has an app preinstalled to activate the HumaGear or reset it if needed in the future. 
Replacement
A replacement HumaGear is made when a HumaGear malfunctions or was broken or destroyed. A replacement order may be requested by the customer or may be done officially by Aruto if he has dealt with a known hacked HumaGear. Hiden Intelligence has a policy to ship the replacement immediately after the request has been made and will be legally held liable if it is not met within 24 hours, as long as the customer is not in violation of the Terms of Agreement and the company policy of the previous president and founder.
Specialized A.I. Laws
Because HumaGear now function and became a staple into society, laws were passed that specifically deal with HumaGear, and by extension, artificial intelligence. While the full extent of these laws are not currently explained, at least two of them read as followed:
Article 1 - An android, regardless of any reason, is forbidden from causing any harm to a human. This also extends to allowing harm to come towards a human via inaction.
Article 6 - Creation of an android that bears another person's likeness without consent is forbidden, regardless if the said likeness is of a family member. Using the likeness of a deceased person is also forbidden.

An AI Voice Program that is modeled after a deceased person but without a physical body does not violate this rule.
In the event someone is found in violation of any of these laws or is suspect of doing so, A.I.M.S is granted full authority to arrest and interrogate any violators of the Articles, alongside disposing of the violating HumaGears.
List of Known Models
The following list is categorized based on the order of job name / type name / product name.
Gallery
Notes
The HumaGears' name and concept are simillar to Humanoise from the previous season, Kamen Rider Zi-O.
The HumaGears also resemble NS-5 robots from the 2004 I, Robot film.
Being mechanical life forms with the ability to mimic human appearance, while also taking on monstrous forms to fight makes them similar to the Roidmudes from Kamen Rider Drive.

On the interesting note, all HumaGears' name are based on the main role or trait just like Roidmude. 

The laws that HumaGears follow, as noted by Izu in Episode 2, are a reference to the Three Laws of Robotics, coined by science fiction author Isaac Asimov, which has become a staple in science fiction as a whole. As per Asimov's writings, the laws are stated as followed:

1) A robot may not injure a human being or, through inaction, allow a human being to come to harm.
2) A robot must obey the orders given it by human beings except where such orders would conflict with the First Law.
3) A robot must protect its own existence as long as such protection does not conflict with the First or Second Laws.

New HumaGears sport the Shoshinsha Mark on their HumaGear Modules, a green-and-yellow V-shaped symbol normally used to indicate beginners' status for drivers in Japan.

References
Footnotes
Trending pages
All items (35)
A
B
D
E
F
G
H
I
J
K
L
M
O
S
U
W
Community content is available under
CC-BY-SA
unless otherwise noted.