Hiden Intelligence (飛電インテリジェンス, Hiden Interijensu) is a technological company based in Japan, specializing in the development of HumaGears, advanced A.I artificial humanoids that are near indistinguishable from humans.
One of their main competitors is Zaia Enterprise Japan, which in turn is part of the greater conglomerate Zaia Enterprise.
History
Hiden Intelligence was founded at some point in the past, with Korenosuke Hiden becoming the CEO.
In 2019, Korenosuke passed away and appointed his grandson Aruto Hiden as the new CEO per his dying will.
The company held several press conferences regarding the recent attacks by MetsubouJinrai.net.
Zaia Enterprise announced their intent to buy Hiden Intelligence.
Known Employees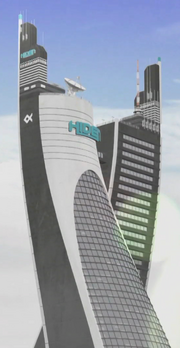 Main Building Corporate HQ
First Factory Employees
These are a list of employees who worked on Hidden Intelligence's First Factory located in Daybreak Town before it was destroyed.
Satoshi Tanaka
Daisaku Yamada
Mayumi Yoshida
Taku Teramoto
Hisasi Kumamoto
Kazyka Yosikaba
Space Development
Known Products
Trending pages
All items (29)
A
B
D
H
I
J
K
M
P
R
S
U
W
Z
Community content is available under
CC-BY-SA
unless otherwise noted.