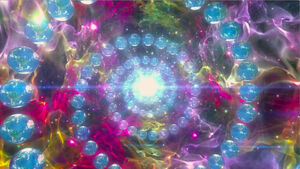 Within the franchise, Kamen Riders exist amongst various worlds within several iterations of realities known as A.R. Worlds (Another Rider's / Alternate Reality World).
Concept
The concept of the Multiverse refers to the existence of countless parallel universes that comprise of all that exists. According to Tsukasa Kadoya, the overseer of these worlds, he claims that every single Rider exists on their own separate plane, with Zi-O being the sole being capable of uniting (and unmerging) all of them.
The worlds are usually are inline in both date and time Kamen Rider Decade, though there will be differences here and there in terms of the time flow. Kamen Rider Heisei Generations FINAL: Build & Ex-Aid with Legend Riders.
Standard Worlds
Merged Worlds
World of the Rider War
World of 5 Colors

The merge of World of OOO (Decade) and World of Gaim (Decade). World of OOO

New World

The merge of World of Build (World A) and a world without Evolto (World B). Kamen Rider Build

World of Kamen Rider

The merger of all 20 Heisei Riders' main worlds (Kuuga through Zi-O). Kamen Rider Zi-O
It is unknown what should be the corresponding world for Decade as he still claiming himself not belonging to this world after the merger, although one possibility might be the World of Decade.
Similar cases
There are some "worlds" that aren't really "alternate", but do share some continuity with the real world. Examples include:
Worlds of dreams
World after death Playback
Notes
The multiverse theory is a famous concept explored in both real science and sci-fi stories, which explains that as an individual makes a decision, there exists another (parallel) universe in which they did not make that decision. While the concepts have been debated several times, several scientists are divided as to whenever the parallel universe theory exists, thus has removed its legitimacy as an actual scientific inquiry.
References
Trending pages
All items (41)
Community content is available under
CC-BY-SA
unless otherwise noted.