Burs (バース, Bāsu) was a Bus Driver-Type Humagear that was hacked by Jin and given a Zetsumerisekey to transform into the Onycho Magia (オニコマギア, Onikomagia)[1].
History
Nothing much known of this Magia, except the fact that he was a Humagear built to be a bus driver before getting hacked by Jin.
Because of the policy of Hiden Intelligence to replace a broken Humagear within 24 hours, it is possible that a replacement for Burs was made afterwards.

Magia Form
Onycho Magia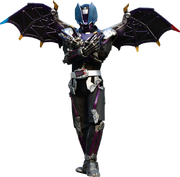 "Zetsumerise!"
―Transformation announcement
Statistics
Height: 190 cm
Weight: 104.3 kg
Burs transforms into the Onycho Magia (オニコマギア, Onikomagia) by using the Onycho Magia Zetsumerisekey in the Zetsumeriser.
Arsenal
Zytalon (

ザイタロン

Zaitaron

): The sharp talons extending from the Onycho Magia's fingers.
Abilities
Humagear Hacking: Using a method similar to transforming into a Magia, the Onycho Magia can corrupt other Humagear and transform them into Trilobite Magia by piercing them with tendrils.
Flight: The Onycho Magia is able to fly using its wings.
Fireballs: The Onycho Magia can fire balls of energy from its hands.
Needles: The Onycho Magia can shoot barrages of needles out of its body.
Appearances: Zero-One Episode 4
Equipment
Behind the Scenes
Portrayal
Etymology
The Onycho Magia's name is derived from Onychonycteris, an extinct species of bat that lived during the Eocene Period.
Notes
Burs' name is a play on the word "bus" (

バス

Basu

).
The design of the Onycho Magia's head is slightly similar to Kamen Rider New Den-O's helmet.
References
Community content is available under
CC-BY-SA
unless otherwise noted.