Doctor Strange in The Multiverse o Madness - The Loop
Play Sound
"I've got the perfect idea. TA-DA! Buddhist Priest! Of! Temple!"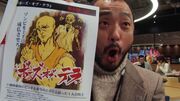 Buddhist Priest of Temple (ボーズ·オブ·テラ, Bōzu Obu Tera) is a demon hunting video game created by Tsukuru Koboshi from Genm Corp. This game was meant to be in Tsukuru's new Gashat before being replaced by Maximum Mighty X.
Game Description
This game is about a monk who has the ability to fight zombies. The player controls a monk who is armed with a wooden fish and a set of prayer beads. The wooden fish provides a basic attack which requires the player to follow a set rhythm, while the prayer beads unleash a special attack when the corresponding symbol appears on the screen for its use.
History
In wanting to find a way to defeat Kamen Rider Genm once and for all, Taiga approached Tsukuru and demanded he create a game specially for fighting immortal zombies. [Chasing the Mystery!] Tsukuru later showed the concept of his new game to Taiga and Nico, while presenting a blank silver double Gashat to be used for the game; neither they nor anyone else in earshot were impressed. Ultimately, this game was never produced, as Hiiro found data left behind by Kiriya Kujo on Reprogramming, which would later be installed into the Gashat to create Maximum Mighty X. [Engineered History!]
A game poster was seen in Genm Corp.'s office sometime after Tsukuru became the new CEO of the company. [Kamen Rider Ex-Aid: True Ending]
Tsukuru would later successfully complete development of the game. [Kamen Rider Para-DX with Poppy]
Notes
Tsukuru's inspiration of this game is very similar to Onari of the Daitenku Temple in Kamen Rider Ghost.
The Japanese word for "temple" (

テラ

,

Tera

) in the game's title can also be seen as a pun on the word "terror" (

テラー

,

Terā

), referencing the game's demon-hunting theme.
The zombie character in said visual is featured wearing a lab coat. This may be Tsukuru's own form of mockery to Kuroto.
The premise of this game bears similarity to Phantom Fighter for the NES, a game where the player play as a Taoist priest kung-fu master fighting kyonshi.
Appearances
References