"I desire to be complete."
This article is a stub, meaning it needs more info. You can improve this Kamen Rider Wiki article by expanding it.
Boot Jets
are special rocket boots that grant
Kamen Rider ZX
the power of short range flight or enhance his jumping ability. The exact limits of fuel or range of the Boot Jets are unknown, but the boots can propel ZX several feet above a city skyline towards a target.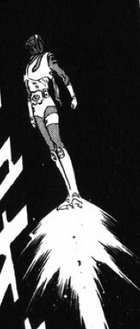 Notes
ZX's Boot Jets are an ability similar to one used by Cyborg 002/Jet Link from Cyborg 009, as he used the same form of equipment, rocket propelled boots powered by cybernetic implants, for his flight ability.
Community content is available under
CC-BY-SA
unless otherwise noted.